Big Data Course Guide: BigData is nothing but set of large and complex Datasets. It is also termed as a large volume of Data. This is used for better decisions and strategic business moves. There are various courses in Big Data among them Hadoop framework is famous. Here is the article which provides complete Information about BigDataCourse Details such as Courses, fees, Difference between Hadoop and Big data etc. Have a look at it.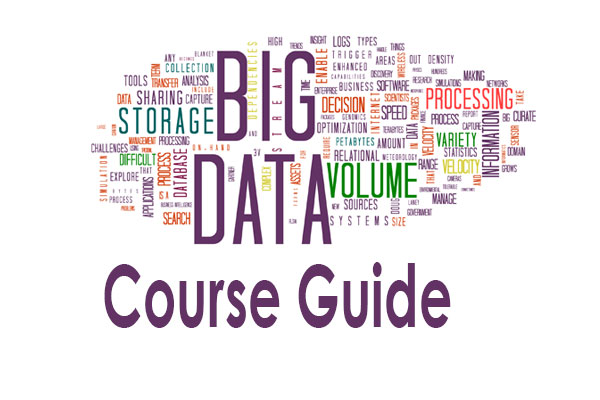 About Big Data Course
Big Data is nothing but a concept which facilitates handling many data sets. The demand for this course has been increased a lot. This is being used for various projects by Software Industries, Students Academics etc. So the Candidates for the course have increased and demand for the candidates who learned this course is also increasing. If you want jobs in software companies like TCS, Global Logic etc you can learn other courses like Java, CCNA, Dot Net etc Having these certifications helps a lot in the interview process. Here is the article which provides complete information Regarding Big data. We suggest reading the complete article before joining the course. It helps a lot.
Difference between Hadoop and Big Data
Big data is the concept of handling large volumes of Complex Data. This will be done by various Frame Works.
Hadoop is one among dozens of such Frameworks which help in handling the data. It is mainly used for Batch processing.
Courses and Specializations
For learning Big data and Hadoop, there are various Courses and Specializations. A few of them were listed here.
Big Data
Introduction to Big Data
Big Data Modelling and Management Systems.
Big Data Cloud Computing
Big Data Integration and Processing.
Big Data Analysis with Spark.
Hadoop Platform and Application Framework.
Data Mining
Graph Analytics for Big data.
One can have the complete course or can register for specific Specialization.
Also, see – CDAC Course Details, NIIT Courses, and Networking Courses.
Fees:
The Fee structure varies based upon Institutes, Faculty Experience, Material Provided etc.
It ranges from 20000/- to 40,000/- approximately.
Courses Online:
Many people choose to learn Hadoop with Online Courses due to high fees in institutes. There are best Online Training courses for Big Data and Hadoop. Some websites provide Free training. Courses Online also provide Best Materials, CDs and also Certifications. Can, listen as many times as we want.
Fees: Online Courses Fees ranges from Rs.12000 – 20000/-
Duration: 100 hrs.
Syllabus
The course Syllabus for Big Data is as follows. Also, check the SQL Interview Questions and Answers.
Module1-   What is Big Data?
Module 2 – Big Data – Beyond the Hype
Module 3 – The Big Data and Data Science
Module 4 – Big Data Use Cases
Module 5 – Processing Big Data
Career and Jobs
There is guaranteed successful career after doing Big data courses. There are many openings and Jobs for Big Data Certified candidates in Top MNC's like L&T, Cisco etc. Having these certifications is a plus point. Also, prepare for the interviews before applying to the jobs. You can check Top Interview Questions and Answers in our previous posts.
Hadoop Developer
Big Data Analyst
Architect
Administrator
Tester etc.
Top 5 Institutes in Hyderabad for Big Data
RS trainings
Naresh It
Algorithmica
Hadoop Big Data Apache Online Training | Online Hadoop Training Online
International School of Engineering (INSOFE)
Kelly technologies
Guys, this is the article regarding Big Data Course Details. Hope this article provided you the complete required information. Stay connected and Bookmark our site for more updates