CCNA Course Details: Very good news for all the IT Professionals and computer support specialists a new module of CISCO has come for you. CCNA (Cisco Certified Network Associate) is an IT Certification that an aspiring networking professional must acquire in order to add value to their IT career. CISCO offers Information technology certification from entry level to expertise stage. The CCNA certification validates a firm with the foundation of networking skills that include fundamentals like OSI Reference Model, Networking Protocols, Layer2, switching concepts its protocols, routing concepts its protocols, WAN connectivity. Thus a person who is aiming to qualify for CCNA certification should be proficient in their abilities to provide basic network installations and troubleshooting.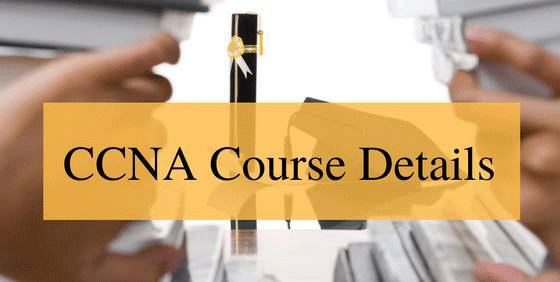 CCNA is easily one of the most valued and vouched IT verification across the globe. Till date, more than billions have qualified this certification and well placed. It benefits both the employer and employee and is eventually proven that the certification can bring about an enormous change in the career path while acquiring valuable skills all through the way.
CCNA Course Details (Training Details)
Skills and knowledge is gained through the CCNA training are valuable in the networking field as the topics covered during the training program provide the basis for all the networking topologies and protocols. The CCNA training covers all aspects of 120-200 in detail. The course also provides practical hands-on training on CISCO routers and switches, as on WAN setup is complete without Leased line/ Wireless /VSAT/DSL/etc. Telecom devices like CSU/DSU/, Telco MUX are also covered in practical setup. The training for CCNA certification is provided by senior Network/WAN engineers who have several years of filed experience.
COURSE SUMMARY: the CCNA Routing and Switching curriculum is a gateway to entry-level networking as explained earlier. The curriculum consists of 4, 70 hour courses they are
Introduction to Networks.
Routing and Switching Essentials.
Scaling Networks.
Connecting Networks.
The first 2 courses prepare you for the CISCO CCENT certification exam. All 4 courses are recommended before taking the CISCO CCNA Routing and Switching certification exam.
CCNA ELIGIBILITY CRITERIA:
Bachelor's Degree in computer science, Information science or Engineering students can proceed on with the course. By following few steps it would be easy for a candidate to get certified to this course
Achieve the entry level certification: Although CISCO CCNA doesn't have any pre requisites, the CISCO Certified Entry Network Technician (CCENT) certification is a good starting point to prepare for the more advanced CCNA certification. CCENT is obtained by passing the first part of the interconnecting CISCO Networking Devices exam. The ICND1 course and exam are also required for CCNA credentials
Prepare for CCNA exam: Exam preparation can be accomplished through self study with textbooks and practice exams, on-site classroom programs, online courses or concentrated boot campus offered through many venues, including CISCO's authorized learning partners. Individuals who have already acquired CCENT certification are only eligible to take the second part (ICND2) of the certification training and get qualified in the second level of examination to become a CCNA. Alternatively candidates with no prior certification may take a combination course and exam covering both ICND1&2 materials
Pass the Exam: CISCO certification exams may be taken at authorized test centers. Candidates can register online up to six weeks in advance. Most exams can be completed in two hours. Lab examination may last up to 8 hours. Passing grades are based on current test scores, hence required minimum mark may vary from test to test.
Become a Network Administrator/Software Developer: According to the study, specialist in computer support will have advancement opportunities to become software developers/Network administrators. The functions of these positions include coordinating a company's computer systems and maintaining servers both software and hardware.  
CONCLUSION: Opting for a CCNA certification course will have a strong impact on your networking knowledge and qualification. The exam establishes the fact that the candidate is prepared for more responsible and practical position and is well prepared for real-time eventualities. In many cases, it is even mandatory for candidates to have CCNA certification in order to apply for networking positions.
References: https://en.wikipedia.org/wiki/CCNA