Veterinary Doctors: Veterinary doctors or physicians leading successful careers in India. The demand for veterinarians is increasing continuously across the world. Veterinarians are the doctors who diagnose and treat diseases and injuries of animals. If you want to start your career as a veterinarian, this article will help you to get the complete information about the veterinary doctor career, and requirements, scope, salary, jobs and complete Veterinary Courses Details, etc.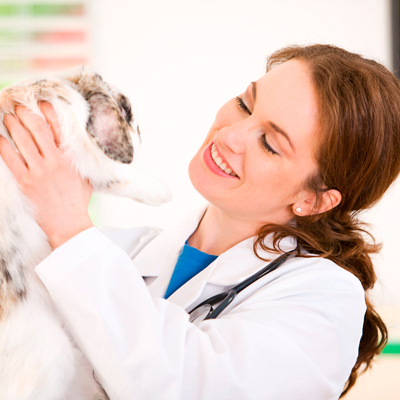 How to become a Veterinarian?
Veterinary is the branch of medicine which basically deals with the finding, curing a prevention of diseases on animals. The specialists or professionals of veterinary science are known as veterinarians or veterinary doctors. They might specialize in a type of veterinary medicine, such as a surgery, or a group of animals, such as horses, dogs, or wildlife.
Veterinarian Education:
There are a number of colleges/universities offering veterinary medicine courses for the interested candidates in India. Veterinarians must complete a Doctor of Veterinary Medicine (D.V.M) degree at an accredited colleges of veterinary medicine. A veterinary medicine program generally takes four years to complete includes classroom, laboratory, and clinical components.
For admission to veterinary institutions, students typically need to complete a bachelor's degree program with specific prerequisite coursework, including general biology, genetics, microbiology, zoology and animal nutrition among others. Admission to veterinary programs is competitive.
In veterinary medicine programs, students take courses in animal anatomy and physiology as well as disease prevention, diagnosis, and treatment. Most programs include three of classroom, clinical work, and laboratory. And students spend the final year of four years program doing clinical rotations in a veterinary medical center or hospital.
Requirements
Licenses and Registration:
Graduates of accredited programs of veterinary medicine must be licensed to practice in the field. The candidates can practice both in India and abroad also. To start practice in countries like USA and Canada, Indian Veterinary graduates go through and successfully clear the Licensing examination. In case of USA, Canada and UK, the relevant Licensing exams are Educational Commission for Foreign Veterinary Graduates (ECFVG), North American Veterinary Licensing Examination (NAVLE) and Program for the Assessment of Veterinary Education Equivalence (PAVE).
Experience:
Some veterinary medical colleges, weigh experience heavily during the admission process. Formal experience, such as previous work with professional veterinarians or scientists in clinics or some area of health science. Less formal experience such as working with animals on a farm, or in an animal shelter. Veterinary graduates can begin practice once they receive their license.
Be Certified:
To be eligible for certification in a specialty field, such as internal medicine or surgery, you must have completed either a residency or additional education, typically lasting 3 to 4 years. To sit for a specialty certification exam, veterinarians must have a certain number of years of experience in this field. Requirements vary by specialty.
What the Veterinary Doctors Do?
Veterinarians treat the injuries and illness of pets and other animals with a variety of medical equipment, including surgical tools and x-ray and ultrasound machines. They provide treatment for animals that is similar to the services a physician provides to treat humans.
The following are the examples of Veterinarians types:
Research Veterinarians: These veterinarians work in laboratories, conducting clinical research on human and animal health problems. And may perform tests on animals to identify the effects of drug therapies, and test new surgical techniques.
Food animal Veterinarians: Food animal veterinarians work with farm animals such as pigs, cattle and sheep, which are raised to be food sources. They spend much of their time at farms treating injuries against disease. And owners or managers about housing, feeding and general health practices of animals.
Equine Veterinarians: These veterinarians work with horses and diagnosed and treated the horses.
Companion animal veterinarians: These veterinary doctors treat pets and generally work in private clinics and hospitals. They diagnose and provide treatment for animal health problems, and carry out medical and surgical procedures.
Duties of Veterinary Doctor
Veterinarians care for the health of animals and public health. Duties include diagnosing patients, preforming surgery, giving vaccinations and providing health care recommendations to pet owners. We mention some duties of Veterinary Doctor as below.
Test the animals to diagnose their health problems.
Prescribe medicine
Treat and dress wounds
Operate medical equipment like x-ray machines
Perform surgery on animals
Advise animal owners about general care, medical conditions, and treatments
Work Schedule:
The Veterinary Doctor work additional hours. Some work nights or weekends, and they have to respond to emergencies outside of schedules work hours.
Job Outlook:
Veterinarians can specialize in several fields, including small animals, large animals, equine veterinary science and agricultural veterinary science. There also will be employment in areas foe veterinary doctors such as food and animal safety, where organizations work to prevent foodborne contaminations and diseases in animals, public health, where organizations work to protect the health of an entire population and disease control.
Let's see some job roles done by Veterinarians:
Animal Care and Service workers:
Animal care and service workers provide care for animals. They groom, feed and exercise pets and other nonfarm animals.
Zoologists and Wildlife Biologists:
Zoologists and wildlife biologists study the physical characteristics of animals, animal behaviors, and the impacts have on wildlife and natural habitats.
Physicians and Surgeons:
Usually the physicians and surgeons diagnose and treat for injuries. Physicians examine patients prescribe medications and perform the diagnostics tests. Surgeons operate on patients to treat injuries, like broken bones; diseases, etc.
Veterinary Technologists and Technicians:
Veterinary technologists and technicians perform medical tests under the supervision of a licensed veterinarian to assist in diagnosing the injuries and health related problems of animals.
Agricultural and food scientists:
Agricultural and food scientists improve the efficiency and safety of agricultural establishments and products by research processes.
Medical scientists:
Medical scientists conduct research aimed at improving overall human health. They often use clinical trials and other investigative methods to reach their findings.
Salary Information:
The Veterinary Doctor salary will depend on the experience, qualification of the candidate and place.
The Starting salary for the fresh veterinary doctor is approximately Rs.25k-50k per month.
After gaining the number of years of experience the candidate get around Rs.60k-70k per month.
An established veterinarian salary is approximately Rs.1 Lakh per month.