About Teaching: Teaching is one of the professions in which it helps others to acquire knowledge in various aspects through a person who is called a teacher. Teaching plays an important role in every aspect of life. It is a process in which we learn or help others to acquire knowledge in different aspects. It may be either formal or informal.
Formal teaching is carried out in large educational organizations i.e. in schools, colleges or universities whereas informal is carried out in different way rather than formal teaching i.e. home-schooling, youth-workers, pastors etc.
In most countries, formal teachers are referred as paid professionals who mainly focus their profession or passion in teaching. Read out complete article and know Different Types of Teaching Jobs and its career growth.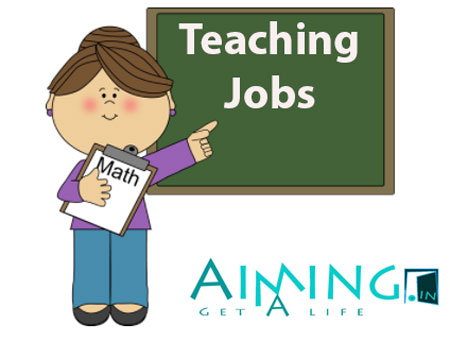 Why to become a Teacher?
Teaching is considered as a rewarding career because they are people who are able to make positive impacts that lasts for their student's lifetime. When anyone opts for the career in teaching, they should consider all the career related benefits that come when entering into the job.
Teacher Benefits
Full-time teachers are more competitive as compared to private sector jobs. Teachers either full-time or experienced may receive health-care benefits, retirement benefits and quality of tenure which provides an added measure of job security. Teachers may receive additional job security by participating in union agreements or collective bargaining.
Duties and Functions of Teachers
Teachers are the people who have a great importance from past to present. Teacher is given importance next to parents and they help the students to cultivate good habits and character through their teaching, motivation and teaching. They help the students to acquire knowledge for leading a good career through their motivation given for them in several aspects.
Teachers perform several functions or duties for making students good citizens. In this manner, teacher performs several roles to perform their duties successfully. So, let's look for various duties of the teachers.
Encourages students and acts as advisors for students.
Teachers strives hard for developing their students by cultivating good habits.
Makes the students active by running extra-curricular sports, clubs and activities.
Communicate with parents about the children's progress and advises them if necessary.
Prepares lesson-plans and teaches them in a way in which the students can be easily understandable.
Maintains discipline in classroom and prepares the students is a disciplined manner by their motivations.
Also See: Teaching Course Details
Top Teaching Careers/ Types of Teaching Jobs
There are different Types of Teaching Jobs in government sector or private sector in India which include:
| | | | |
| --- | --- | --- | --- |
| Job Title | Grade Level | Minimum Education Needed | Typical Education Achieved |
| Adult & Continuing Education Teachers | Postsecondary | Bachelor's to Master's | Master's |
| Art Teachers | K to 12 | Bachelor's to Master's | Varies by state |
| Business Teachers | 9 to 12 | Bachelor's to Master's | Bachelor's + Work Experience |
| Curriculum and Instruction Specialists | K to 12 | Master's | Master's |
| Early Childhood Educators | Birth to Grade 3 | Associate's to Bachelor's | Varies by state |
| Educational Technology Specialists | K to 12 | Master's | Master's |
| Elementary School Teachers | 1 to 5 | Bachelor's to Master's | Bachelor's |
| English Teachers | 6 to 12 | Bachelor's to Master's | Bachelor's |
| ESL Teachers | Pre-K to 12 | Bachelor's to Master's | Bachelor's |
| Foreign Language Teachers | 6 to 12 | Bachelor's to Master's | Bachelor's |
| History Teachers | 6 to 12 | Bachelor's to Master's | Bachelor's |
| Kindergarten Teachers | K | Bachelor's to Master's | Bachelor's |
| Math Teachers | 6 to 12 | Bachelor's to Master's | Bachelor's |
| Middle School Teachers | 6 to 8 | Bachelor's to Master's | Bachelor's |
| Middle School Teachers, Career/Technical Education | 6 to 8 | Bachelor's to Master's | Bachelor's + Work Experience |
| Middle School Teachers, Special Education | 6 to 8 | Bachelor's to Master's | Bachelor's |
| Music Teachers | K to 12 | Bachelor's to Master's | Bachelor's |
| Physical Education Teachers | K to 12 | Bachelor's to Master's | Bachelor's |
| Preschool Teachers | Pre-K | Associate's | Varies by state |
| Preschool Teachers, Special Education | Pre-K | Bachelor's to Master's | Bachelor's |
| Principals | Pre-K to 12 | Master's | Master's |
| Reading Specialists | K to 12 | Master's | Bachelor's |
| School Administrators | Pre-K to 12 | Master's | Master's |
| School Counselors | Pre-K to 12 | Master's | Master's |
| School Librarians | K to 12 | Master's | Master's |
| Science Teachers | 6 to 12 | Bachelor's to Master's | Bachelor's |
| Secondary School Teachers | 9 to 12 | Bachelor's to Master's | Bachelor's |
| Secondary School Teachers, Career/Technical Education | 9 to 12 | Bachelor's to Master's | Bachelor's + Work Experience |
| Secondary School Teachers, Special Education | 9 to 12 | Bachelor's to Master's | Bachelor's |
| Special Education Teachers, Kindergarten and Elementary School | K to 6 | Bachelor's to Master's | Bachelor's |
| Substitute Teachers | Pre-K to 12 | Associate's to Bachelor's | Varies by state |
| Teacher Assistant | Pre-K to 12 | Associate's | Associate's |
| Vice Principals | Pre-K to 12 | Bachelor's to Master's | Master's |
| Vocational Teachers | 6 to 12 | Bachelor's to Master's | Bachelor's + Work Experience |