New Rs 200 Note Information: The new 200 rupees demonetization notes are ready to launch in the economy. Everything is set to launch new demonetization notes. The RBI recently announced the introduction of a new Rs 200 currency note and said that it would simplify getting change for larger-denomination notes like Rs2000.  According to latest news RBI is ready to circulate these notes from selected banks and RBI offices. We can't expect to withdraw these notes from ATM's immediately. Because automated teller machine (ATM) need to be recalibrated to issue these notes. There are over 200,000 ATM's in the country and it will take some time to recalibrate those machines to issue these new demonetization Rs200 notes. Features of 200 Rupees Notes, New 200 Rs Note Identification, Dimensions and more details are provided in this article.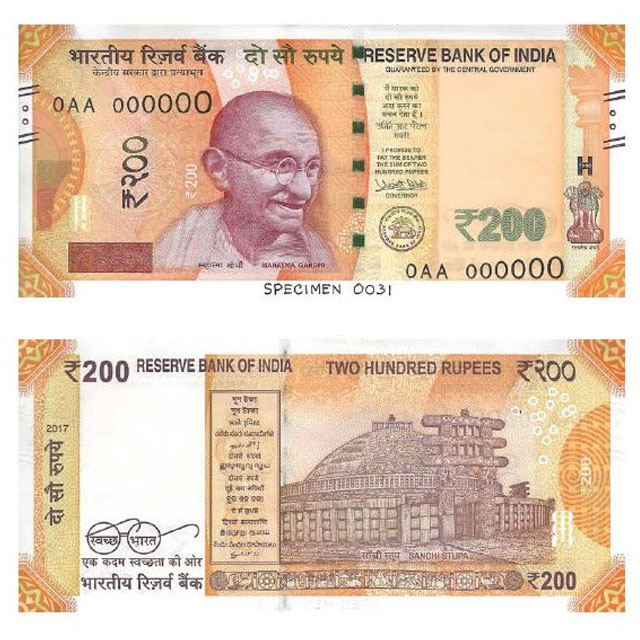 Importance
Why was it so important to have a 200-rupee note?
The Reserve Bank of India said that these two hundred rupees notes are the missing link in the Renard series of all available currency denominations. (A series of preferred numbers first proposed by French army engineer Charles Renard).
The series of currency denominations are 1, 2, 5, 10, 20, 50, 100, 200, 500, 1000 etc.
Here in India, we have 1 rupee coins, 2 rupee coins, 5 rupees notes/coins. 10 rupees, 20 rupees, 50 rupees, 100 rupee notes, 500 rupee new notes, 1000 rupees new currency notes. But Rs.200 notes are missing in the series and now with the introduction of these new two hundred demonetization notes the series will be completed.
Circulation
When will ATMs dispense the notes?
There are over 200,000 ATMs and they are not yet ready to dispense the new notes. The manufacturers of the machines need to recalibrate the machines before issuing the Rs200 notes. A typical ATM machine contains 4 cassettes each holding different currency notes up to 2000 notes each. To hold the new notes the cassette boxes needs to be adjusted based on the specifications of new currency notes like texture, thickness etc. This process will take some time and after the testing of those machines, only new notes will be issued through them.
Specifications and Features of Rs 200 Note
These new notes are available in bright yellow colour and have a motif of Sanchi stupa on the reverse depicting the cultural heritage of the country. These new two hundred rupee notes will carry the signature of Urjit Patel (RBI Governor) and Swachh Bharat logo with its slogan. Along with those features, these note has other designs, geometric patterns aligning with the overall colour scheme, both at the obverse and reverse.