Introduction about Tally: Every business either small or medium or large maintains its own records. They maintain records based on the size of the organization. Maintaining accounts is a very difficult task for every business organization and its main scope is to find the financial position of the concern. This is a compulsory and necessary act done by every business unit during the financial year. In the past, the people used to maintain business records manually. But today, due to development in technology everything is getting computerized. So maintenance of business records also became easier. Here you may see complete Tally Course Guide.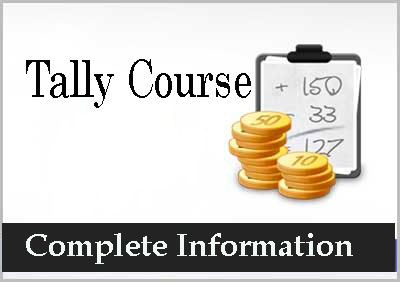 Details About Tally
Accounting Packages:
The introduction of accounting packages are helpful for storing business records easily. And now they are playing a crucial role in all business organizations. There are various accounting packages introduced for maintaining records up-to-date in every business concern easily. Each and every information regarding the business concern like import & export of goods, the tax levied on goods, units of goods sold & purchased etc can be stored easily.
Accounting Package Applications:
There are various accounting software applications for easy maintenance of records. Some of them are:             
TALLY
ZOHO BOOKS
QUICKBOOKS
ACCRUANTS
DYNAMICS etc
TALLY (POWER OF SIMPLICITY):               
Tally is an accounting software package/application which is used to store day-to-day business records. This is the first accounting software which had made to store the accounts easier.  This is the simplest source to record all the business transactions. So the caption is derived as "power of simplicity" for this package.
Versions in Tally:
The first version of this package is "Tally 3.0". Later various versions are introduced according to the changing situations in our economy. Some of the versions in this accounting package are:
Tally 3.0
Tally 3.12
Tally 4
Tally 4.5
Tally 5
Tally 6.3
Tally 7.2
Tally 8
ERP9
Features of Tally:
The features of Tally are as follows:
Maintaining Journals
Maintaining Ledgers
Maintains Subsidiary Books
Maintains Cost Sheet
Maintains Trading, Profit &Loss a/c &Balance Sheet etc.
Tally ERP9:         
This is the version introduced in almost all the business organizations for the development of the business concerns. It added new options in this software according to the changes in the economy. Recently Indian Government has introduced Goods & Services Tax (GST) by removing VAT. So according to the changes taken place, a new version may be introduced by adding a new feature or a slight may be taken place by replacing GST. Whatever the changes take place, Tally has its own recognition.
Tally Course Details
Want to learn Tally Courses? Check out the list of Tally Training Institutes in India. Get complete information about Tally Certification Courses Details.
Tally Course Duration:
The duration of this package is approximately 3 months.
Eligibility for Tally Course:
The people who completed 10+2.
Who completed their Degree with specialization in Commerce
Who have knowledge in inventory, VAT/GST, financial accounts
Who have knowledge in business accounts
Fee for Tally Course:
The Tally Course fee may be charged between Rs.3,000/- to Rs.5,000/-
Best Institutions which teach this package:
Mother Institute of Electronic Technology (MIET), Ahmedabad
Sant Gadge Baba Amaravathi University, Amaravathi
The Institute of Computer Accountants, Mumbai
National Institute of Electronics and Information Technology, Chandigarh
Dhanalakshmi Srinivasan college of Arts and Science for women, Tamilnadu etc.