Today's world is completely depended upon skill, talent, and dedication. Almost every human being on earth will have a special interest towards a particular profession that may be either art, music, dancing, photography, teaching etc. Likewise, the technology is changing according to the man's skill & passion towards a particular profession.
In this context, technology is helping man to change his future with his desired profession. Many software's with various versions are introduced to change the future of a person in his deserted way. A person of any region, state, the country can represent his passion towards his desired profession by using technology. It easy to get a job if you study Desktop Publishing (D.T.P) Course.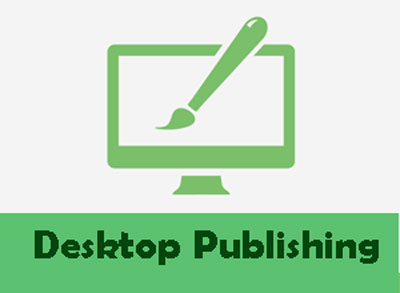 About DeskTopPublishing (D.T.P):
Desk Top Publishing (D.T.P) is a designing software used mainly for people who have their interest in art & photography. This software represents data in both text and images. A person can express his ideas or thoughts through this software. Ofcourse, there are many software's for representing our ideas in pictorial form or in tabular form, but this is one of the simplest and best means to express their ideas in simplest form. This is mostly used for publishing purposes such as creating pamphlets, promos etc which is used for representing data in a simpler form which can be easily understandable and also gives information about the main data.
Applications of Desktop Publishing:
There are various applications useful for representation of data in Desktop Publishing (D.T.P.) they are:
Adobe PageMaker
Adobe Photoshop
Adobe Frame Maker
CorelDraw
I-Studio Publisher
Banner Publisher
Microsoft Publisher etc
Adobe PageMaker: Adobe PageMaker is a graphical user interface used to represent the data in an attractive manner. This is helpful to represent the data in any form either in text, pictorial, graphical or in tabular form depending on data. This software is used to create page layouts, create flexies, banners, and wedding cards, ID cards etc in a simple and in attractive manner. The great advantage of this software is that we can perform work in any language using Anu Script Manager.
Adobe Photoshop: Adobe Photoshop is a graphic creation software used for us in many ways. It is mostly used for photographic designs. This software is mostly used by photographers to create photos in a natural way. This software is useful for design making using various graphics. This is used to create interior designs, the creation of greetings, wedding cards & albums etc.
CorelDraw: This is one of the DTP applications used to create logos, promo designs, background designs, create attractive pamphlets using various artistic objects which are helpful for any kind of people understand easily.
Banner Publisher: This application is useful for creation of banners of any type according to the desire of the people. The creation of banners helps us to collect information. These provide entertainment, information relating to different things happening around the world. We can easily design a banner in an attractive manner using this software.
Likewise, we have many sources in DTP to represent data in simple and in an attractive manner. So finally we can say that uses of DTP are very high and plays a major role in every organization.
If anyone interested in joining DTP Courses please check the complete information about Eligibility, Fee, Duration, Basic Requirements, Top Institutes, DTP Jobs, Salary Ranges, Career Opportunities and Information by the following link.
Check DTP Course Details