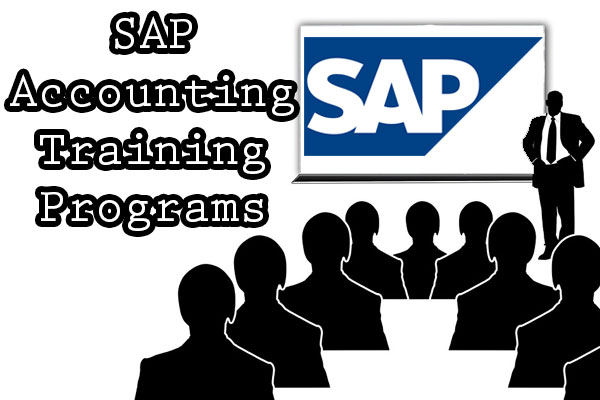 SAP certification is one of the very useful certification which enhances your career growth. But the problem is this course is very costly and a common man cannot effort the SAP Course Fees easily. That's why this course is now offered at a discounted price to the ICAI members and students for SAP Accounting Training.
What is SAP Course?
SAP means Systems Applications and Products in Data Processing. This is a very well-known course worldwide and the demand for the course is very high. There are many modules in this course; there are modules for financial, billing, data warehouses, commodity management etc. ICAI members and students can learn the Financial Accounting BS7 and Management Accounting BS7 Modules at a discounted price. In the previous posts, we wrote about Complete SAP Course Details and Module see that post also.
Importance of SAP Accounting Training for Chartered Accountants
Corporate businesses, governments and many other organizations are adopting the latest IT Technologies to streamline their business processes. Implementing the ERP's in the organization can help a lot to every organization by doing every process easy, to track everything and make better decisions.  A chartered accountant with their skills and knowledge providing the business consultancy services by implementing the ERP Solutions in the fields of accounting, businesses processes etc. So taking the SAP Accounting Training will boost your career growth.
SAP Certification Courses Recommended By ICAI
The Information Technology enabled services, particularly the ERP solutions are the trusted areas for the development of the profession. Also, there is a huge demand for these value added services in India and abroad also. So chartered accountants can take advantage of these courses to grow in these new sectors.
Though the opportunities and growth are very high, but the SAP course fee is very high. After a detailed market survey did by ICAI, identified some ERP vendors to provide the SAP Training at concessional rates.
Training Modules and SAP Accounting Course Details
There are two modules in this SAP certification program and student can choose any one of their choices. Students can get a practical insight of the Managerial Accounting and Financial Accounting modules by this SAP certification. The details of the SAP Modules are given below.
Name: SOL CONS FINANCIALS-FIN ACCOUNTING i2010
Course Contents:
SAP CERTIFIED APPLICATION ASSOCIATE – FI
SAP129 SAP NAVIGATION 2009
SM001 – INTRODUCTION TO SAP SOL MANAGER
TERP01 – SAP ERP INTRODUCTION
TERP02 – SAP ERP INTRO TO SAP NETWEAVER
TERP21 -SAP ERP INTRO TO PROCESSES IN FI
TFIN50 – FINANCIAL ACCOUNTING I_COL95
TFIN52 – FINANCIAL ACCOUNTING II_COL95
Name: SOL CONSFINANCIALS-MGMT ACCOUNTING i2010
Course Contents:
TFIN22 – MANAGEMENT ACCOUNTING II_COL95
TFIN20 – MANAGEMENT ACCOUNTING I_COL95
TERP22 -SAP ERP INTRO TO PROCESSES IN CO
TERP02 – SAP ERP INTRO TO SAP NETWEAVER
TERP01 – SAP ERP INTRODUCTION
SM001 – INTRODUCTION TO SAP SOL. MANAGER
SAP129 SAP NAVIGATION 2009
SAP CERTIFIED APPLICATION ASSOCIATE – CO
SAP ERP Course Fees and How to Join?
ICAI members and students can join the course at a discounted fee of Rs.1, 47,500/- for each course, as against Rs.1, 90,000/- charged by SAP ATC's. There is no refund for the fee once paid.
How to Join?
The candidate has to choose for which course they want to join and register for the course. The candidate has to complete the 200 hours of the course within 5 months to the date of registration. Students can choose the available training center according to their convenience. Changing the SAP Training center is not possible later.
SAP Training Centers List (E-Learning Training Centre's)
SAP Training Centre's are available across India; Candidates can choose the Centre according to their convenience. You cannot change the SAP E-Learning Training Centre's Later.
Ahmedabad, Aurangabad, Bangalore, Baroda, Bhubaneswar, Chandigarh, Chennai, Cochin, Coimbatore, Delhi, Faridabad, Ghaziabad, Goa, Guntur, Gurgaon, Guwahati, Hyderabad, Indore, Jaipur, Kolkata, Madurai, Mangalore, Mumbai, Mysore, Nagpur, Nasik, Navi Mumbai, Noida, Pune, Tirupati, Trichy, Vijayawada, Visakhapatnam, Warangal.
Download the course details as SAP Accounting Course PDF's of Financial and Management. for more information on ERP Training programs for C.A's Click here.