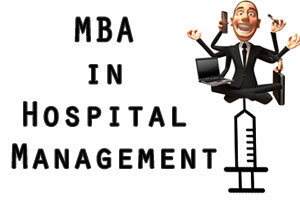 MBA in Hospital Management: MBA will be a lot useful for the persons who are working in public policy and hospital health care management. The hospitals require managerial positions. That is the reason hospital management courses are taken into masters level. This MBA course also deals with fundraising, hospital finance and physician relations. This will be essential for the persons who want to go to the health sector.
MBA in Hospital Management Course Details:
This course has course duration of 2 years. This MBA in Hospital Management course is a combination of MBA and Executive MBA program. The scope of MBA in hotel management is very high.
MBA in Hospital Management Eligibility Criteria:
The eligibility Criteria for this course depends on college and university. It's good to check the eligibility from the respective university website. Some may require under graduates and some may require graduates.
MBA in Hospital Management Scope
The importance of health care can never went down and the number of institutes offering health care is only increasing. MBA in Hospital Management scope is increasing day to day. There are more than two and a half lakhs health care institutes in India that require quality hospital administrators in India. Candidates can expect good scope in MBA in Hospital Management.
MBA in Hospital Management Through Distance Education
Many Business Schools Offer MBA in Hospital Management Distance education. The following colleges offer this course through Distance education.
Wisdom School of Management,
Suresh Gyan Vihar University- Distance Education,
Venkateshwara Open University-Mumbai,
Venkateshwara Open University-Delhi,
Venkateshwara Open University-Bangalore,
Shivani College of IT and Management,
Jaipur National University,
Sikkim Manipal University.
Also see: MBA Course Details,  Details of Diploma in Banking and Finance and Post graduate diploma courses in symbiosis.
MBA in Hospital Management Salary
According to the Bureau of Labor Statistics reports, the demand for medical and health services managers will increase by 22% by 2020. Bureau of Lobar Statistics reports also reports that the median salary in the field generally is $84,270. The top 10%, almost always with at least a master's degree, earn more than $144,000.
Difference between Hospital Management and Hospital Administration:
The difference between administration and management is like the difference between sales and marketing. Both sales and marketing are used to generate revenue for a company, but they finish that task in different ways. Sales is the face of a company that has the face to face contact with clients and marketing attempts to expand the corporate client base through advertising and other physical mediums. Marketing is also more interested in demographics than sales would be, where sales would be much more interested in revenue numbers than marketing.
The general difference between healthcare administration and healthcare management is that management runs the healthcare organization and administration handles the staffing. But within those two general areas are several sub-areas of concern that require years of intense education and experience to get right.
MBA in Hospital Management Syllabus
MBA Hospital Management subjects will be like this. Some of the subjects may change form university to university.
Semester I
Managerial Economics.
Business Environment & Law.
Research Methodology.
Accounting for Managers.
Management Concepts & Organizational Behaviour.
Semester II
Human Resources Management.
Operations Research and Management.
Financial Management.
Strategic Management.
Marketing Management.
Semester III
Patient care Management.
Hospital Architecture, Planning, And Maintenance.
Hospital Operations Management Health care Laws, Ethics And Medical Terminology.
Healthcare Environment & Management.
Semester IV
Public Health System & Outreach Programs.
Hospital Facilities Management.
Hospital Information System.
Purchase Management & Inventory Control for Hospitals.
Total Quality Management.