With the Electronic-commerce business rapidly expanding, Supply chain management have an integral role to play in this business growth process. In this Diploma in Supply Chain Management you will learn about social and political organizations, natural, industrial, human resource and financial, delivery infrastructure including logistics and information Technology (IT) and knowledge of the industrial environment.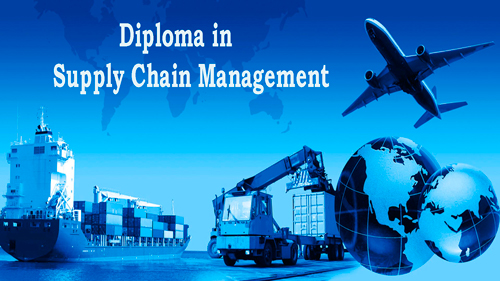 What is Supply Chain Management?
Supply chain management is the oversight of materials, information and finance as they move in one kind of process from supplier to manufacturer to wholesaler to retailer and finally to the consumer. It is the active management of supply chain activities to maximize the customer value and achieve a sustainable competitive advantage. Supply chain activities cover everything such as product development, production, sourcing and logistics and as well as the information systems needed to coordinate these activities. The number of organizations that make up the supply chain are linked together through Information flows and Physical flows. Supply chain management involves coordinating and integrating these flows both within and among companies.
Information flows:
Information flows allow the various supply chain partners to continue their long term plans, and control the day-to-day flow of goods and materials up and down the supply chain.
Physical flows:
Physical flows involve the transformation, movement, and storage of goods and materials.
Importance of Supply Chain Management
Why Supply chain management is important? Because it increases competitiveness and as well as consumer satisfaction. It plays a vital role in the firm's success. The main aim of the supply chain management is allows firm to quickly deliver the products to their destinations. SCM involves optimizing your operations to maximize both speed and effectively. Speed is the most important thing in the supply chain management because the customers sought the speed delivery of goods or materials. It is the network of business and people that work together to move raw materials into finished goods and eventually to you. They are directly or indirectly responsible for fulfilling your needs.
Diploma in Supply Chain Management Course Details
The diploma in Supply chain management is one of the online diploma course or program. This online program introduces the concepts of Supply chain management and explains their application in real time. This course explains what supply chain design and provides on how to design supply chains to give them competitive advantages over competing supply chains. Concepts of online diploma course in Supply chain management are given below.
Introduction to Principles of Management
Develop a supply chain process
Introduction to supply chain and inventory management
Duration:
The duration for this online Diploma in Supply Chain Management course is one year.
Eligibility Criteria:
The students who have completed their 10+2 examinations can apply for this course through online.
Advanced Diploma in SCM Course 
Advanced diploma in supply chain management is a diploma level logistics and supply chain management course. This SCM course provides the knowledge to the students to understand the techniques required for managing and improving integration of design, resources, processes and customer requirements.
Duration of the Course:
The duration time to complete this course is one year.
Eligibility Criteria:
Students who have successfully completed their 12th examination from a recognized Board can apply for this course.
Important Subjects:
Economic Theory
Money and Banking
Principles and Practice of Auditing
Advanced Supply Chain
Fundamentals of Accountancy
Business Organization
Investment Options & Mutual funds
Cost Accounting
Foundation in Science and Technology
Business Law
Practical Subjects:
SCM Delivery Operations- Practical
Demand Planning- Practical
SCM Sourcing Management- Practical
Fee Structure:
Generally, the fee structure is based on the location of the college and demand and time period of the course.
Admission Process:
Interested candidates can apply for this courses. The admission process is vary from one institute to another. Some reputed colleges consider the merit list of the students for admission and some others go for direct admission process.
Distance Learning:
This distance learning diploma program is ideal for the candidates already working in the field of supply chain management, logistics and transport or those running start-ups with a need for dynamic movement of goods and services. It is also provides you develop an effective supply chain management plan, provide you required knowledge to revise an existing process.
Best SCM Courses offering colleges in India:
Global School of Foreign Trade, Madurai
Indian Institute of Logistics and material Management, Udaipur
Chitkara University, Chandigarh
Sinhgad Institute of Management, Pune
GITAM School of International Business, Visakhapatnam
Jain Institute of Management and Research, Mumbai
Indian Institute of Management, Bangalore
Amity University, Noida
ITM University, Gwalior
SCM Hub International Business School, Kochi
Job Profiles:
Let's see the some of the common job profiles of Supply Chain Management students.
Supply Chain Consultant
Operations Analyst
Production Manager
Scheduling Planner
ERP Consultant
Quality Manager
Top Job Recruitment Companies
Amazon.Com
Intel
Nike
Wal-Mart Stores
Nokia
Johnson & Johnson
Samsung Electronics
Starbucks
Nestle
Lenovo
If any one interested certification courses please read SAP SCM Course Details