Hello fellow engineers!! Are you searching for Control Systems Engineering Books? Then your search ends here. To get these books you just need to follow our site. Don't waste your valuable time in searching numbers of site. aiming.in is the right place to get the book of Control Systems Engineering.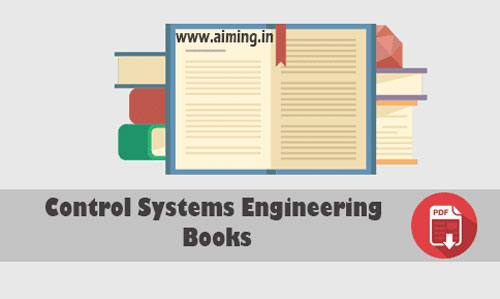 Control systems engineering or Control engineering is one of the important engineering parts of electrical engineering. It applies automatic control theory to design systems with desired behaviors in control environments.
Some of the important topics of Control System Engineering are as follows:
Introduction to Control system
Scope of Control System Engineer
Classification of Control System
Historical development of Control system
Analogues systems
Transfer function of Systems
Block diagram representation
Signal Flow Graph(SFG)
Feedback Characteristics of Control systems and sensitivity measures
The Concept of Feedback and Closed loop control
Merits of using Feedback control system
Regenerative Feedback
Control System Components
Potentiometers
DC and AC Servomotors
Tachometers
Amplidyne
Hydralulic systems
Pneumatic systems
Stepper Motors
Time Domain Performance Analysis of Linear Control Systems
Standard Test Signals
Time response of 1st order Systems
Download Control Systems Engineering Books:
We are providing the Control Systems Engineering Books is a tabular format.
| | | |
| --- | --- | --- |
| Book Name | Author | Download |
| Control Engineering Problems with Solutions |  Derek P. Atherton | Click here |
| Lectures on Stochastic Control and Nonlinear Filtering |  M. H. A. Davis | Click here |
| An Introduction to Nonlinearity in Control Systems |   Derek Atherton | Click here |
| Discrete-Event Control of Stochastic Networks: Multimodality and Regularity |  Eitan Altman, Bruno Gaujal, Arie Hordijk | Click here |
| Control Theory: From Classical to Quantum Optimal, Stochastic, and Robust Control |  M.R. James | Click here |
|  Distributed Control of Robotic Networks |  Francesco Bullo, Jorge Cortes, Sonia Martinez | Click here |
| Linear Matrix Inequalities in System and Control Theory | S. Boyd, L. El Ghaoui, E. Feron, V. Balakrishnan, | Click here |
| Linear Controller Design: Limits of Performance | Stephen Boyd, Craig Barratt | Click here |
| High-Performance Control |  T.T. Tay, I.M.Y. Mareels, J.B. Moore | Click here |
|  The Analysis of Feedback Systems |  Jan C. Willems | Click here |
| A Course in H-infinity Control Theory |  Bruce A. Francis | Click here |
| Feedback Control Theory |  John Doyle, Bruce Francis, Allen Tannenbaum | Click here |
| Constructive Nonlinear Control | R. Sepulchre, M. Jankovic, P. Kokotovic | Click here |
| Feedback Systems: An Introduction for Scientists and Engineers |  Karl J. Astrom, Richard M. Murray | Click here |
| Control in an Information Rich World |  Richard M. Murray | Click here |
These Control Systems Engineering Books aims to provide both worked examples and additional problems with answers. These books will enable the reader to develop their confidence.
The list of the books contains different topics and authors books. So you can get multiple stuff at one place. Book this page to get more Books of different Engineering branches. You can also get the Computer Engineering Course details in this webpage.
Also View: Textile Engineering, Piping Engineering