CMA Foundation Mock Test Papers: The course, Institute of Cost & Works Accountants (ICWA) is governed by Cost & Management Accountancy in India and it is recently modified or renamed as Institute of Cost & Management Accountants (CMA).
Though the names are different the content of both the courses are same i.e. both deal with cost and management accounts which deals with strategic management decisions with respect to economic activities of an organization.
There are three levels for attaining CMA Course viz. Foundation, Inter and Final. The candidates who qualify in 12th under any recognized Board with the maximum aggregate of 80% can easily attain admission into CMA Foundation and the candidates who completes this level with good score can attain admission into Inter and finally into the Final Level.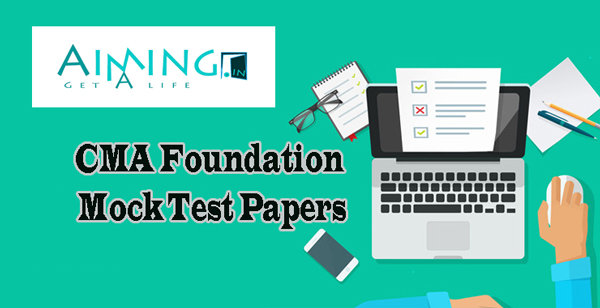 While preparing for exams, the students need the preparation to attain good score in the examination to promote to the next level.
For this, the students need to revise previous papers and mock test papers etc. Now let's look down for the mock test papers for the candidates who are willing to complete the foundation level.
Before that, let's look for the syllabus of CMA Foundation.
Syllabus of CMA Foundation
The syllabus of CMA Foundation is furnished below:
P1 – Fundamentals of Economics & Management
P2 – Fundamentals of Accounting
P3 – Fundamentals of Laws & Ethics
P4 – Fundamentals of Business Mathematics & Statistics
Now look down for the mock test papers of CMA Foundation, 2017.
CMA Foundation Mock Test Papers with Suggested Answers
Here we provide two different sets of mock test papers for practice. Click the links that are given below:
From the above links you can also get suggested answers for the CMA Foundation Mock Test Papers given by ICMAI.
So, Click on the above links and download these Mock test papers and Suggested Answers in pdf format.