Check out CS Professional Revision Test Papers for Exam Practice. Here in this article we are providing the information related to CS Professional Exam and here you can download the revision test papers of CS professional exam which are helpful for the CS professional students for the good preparation for the examination.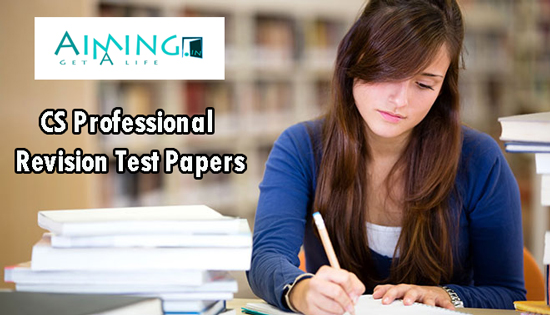 About CS Professional Exam
The students those who are pursuing CS Foundation course, it is the third level of course. Students are eligible for CS Professional after clearing the CS Executive examinations.
It is final stage of examinations on path of becoming a Company Secretary.
Revision Test Papers of CS Professional
CS Professional programme consists of three modules, they are Module – 1, Module – 2, Module – 3. There are 5 Elective subjects are also included.
Module I
Company Secretarial Practice
Drafting, Appearances and Pleadings
Module II
Financial, Treasury and Forex Management
Corporate Restructuring and Insolvency
Module III
Strategic Management, Alliances and International Trade
Advance Tax Laws and Practices
Module IV
Due Diligence and Corporate Compliance Management
Governance, Business Ethics and Sustainability
Elective Subjects
Banking Law and Practice
Capital, Commodity, and Capital Market
Insurance Law and Practice
Intellectual Laws
International Business Laws and Practices
Also Download: CS Study Material
Uses of Revision Test Papers
Let's view some important uses of CS Professional Revision Test Papers.
These revision test papers give an idea about the popular questions that are likely to be included in test.
These also help in understanding the style of the exam papers.
Revision test papers along with the solutions are sure shot way to the success and these help in completing the CS Professional actual exam in first attempt.
By practicing the test papers you can achieve the speed as well as accuracy while solving the question paper.
These are provide general overview in which manner examination questions can be answered and also standard of the answers expected from students in the examination.
The Revision Test Papers contains a variety of questions based on different sections of the syllabus and solution thereof.
These test papers provide an opportunities for a student to find all their latest notifications and amendments which are related to the examination at a one place.
Download the CS Professional Revision Test Papers
Here you can download the CS Professional revision test papers. For downloading the test papers you have to click on given below links.
Advanced Company Law and Practice
Secretarial Audit, Compliance Management, and Due Diligence
Corporate Resturcting, Valuation and Insolvency
Information Technology and Systems Audit
Financial, Treasury and Forex Management
Ethics, Governance and Sustainability
Drafting, Appearances and Pleadings
From the above links you can also get suggested answers for the CS Professional revision test papers. So, Click on the above links and download these CS RTP and Suggested Answers in pdf format.