CCIE (Cisco Certified Internetwork Expert) is the most advanced level of networking certification available from Cisco Systems. CCIE certifies the skills required of expert-level network engineers to plan, operate and troubleshoot complex, converged network infrastructure.
This certification is the most prestigious Cisco certification and is recognized all over the world as the best networking certification. If you want any more info about CCIE Certification Details like Prerequisites, Exam, Cost, Validity, Jobs, Salary, etc. please scroll down the page.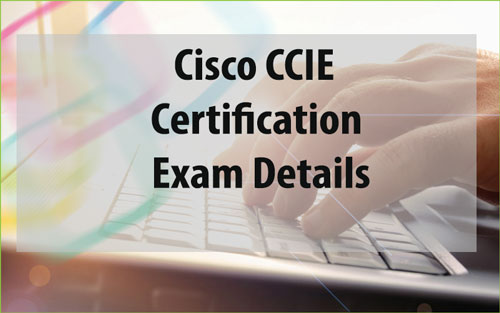 About CCIE Certification
The Full Form of CCIE is Cisco Certified Internetwork Expert remains one of the most coveted networking certifications available. There are 6 CCIE certification specializations available, each corresponding to a Cisco certification path: Routing and Switching, Collaboration, Data Center, Security, Service Provider and Wireless. In the year 2016, Cisco added an evolving technologies section to the CCIE exams, covering such strategic operations as programmability, internet of things and cloud computing. This certification is highly demanded in and outside India but in Australia, USA and UK is top market for this certification.
Course Summary:
Introductory Practice Lab (Gentle Introduction)
Full Practice Lab 24/7
OSPF Specific Labs
IRB and Spanning Tree
Catalyst 3550 Features
Frame Relay advanced features NAT
HSRP, VRRP and GLBP including enhanced tracking capabilities
DHCP
SNMP features
System Logging
Custom Queuing
Priority Queuing
Class Based Weighted Fair Queuing
Class Based Shaping
Class Based Policing
Generic Traffic Shaping
RSVP
PIM Dense-Mode
Terminal settings
Command and user levels
Reflexive Access Lists
GRE Tunnelling
Required Exams:
Each CCIE certification path requires a written and lab exam.
Written exam scores are valid upto 18 months.
Lab exams must be attempted within 18 months of the written exam.
Candidates must retake the written exam if they do not pass the lab exam within 3 years.
CCIE Prerequisites for Certification:
There are no formal prerequisites for CCIE certification.
CCIE Exam Costs
Written exams are $400.
Lab exams are $1,600 for each attempt.
See: Demand Draft (DD) Details
Validity:
CCIE Certifications remain valid for two years. This Cisco CCIE Certification is accepted worldwide as the most prestigious networking certification in the industry. Network Engineers holding an active CCIE certification are recognized for their expert network engineering skills and mastery of Cisco products and solutions.
Common Job Roles are
Senior Network Engineers
Senior Network Security Engineers
Service Provider Network Engineers
Sr. Service Provider Networking Professional
WLAN Engineers
Senior Networking Professionals.
Average Salary
According to a U.S. survey, the average CCIE earns $110,000 to $175,000 a year.
For more updates keep stay on our site www.aiming.in. Book Mark our site by pressing ctrl+d.