Big data technology is one of the sought and demanding field throughout the world. To establish the best career in this field, there are number of big data courses are available for you. Are you looking for more information about big data courses, details, and certification and training details etc, let's read this article.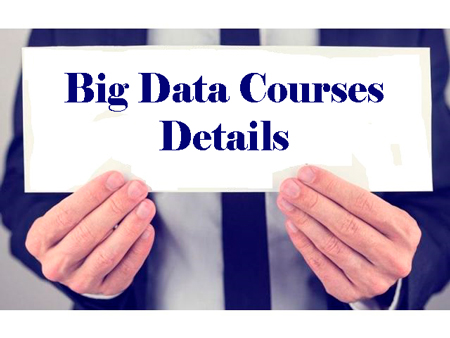 About Big Data
Big data is a term used to describe the collection of data in huge size both the structured and unstructured. It includes challenges like data storage, data analysis, capturing of data, search, transfer, sharing, updating, visualization and information privacy. Big data analysis lead to strategic business moves and better decisions of the business.
Big Data Analytics
Big data analytics is the process of collecting, organizing, and analyzing the big sets of data to find the useful information. More effective marketing, best customer service, new revenue opportunities and competitive advantages are some of the benefits that we can get through big data analytics process.
Big Data Hadoop
Big data hadoop is programing framework to sorting the data and running the applications of commodity hardware. It deals with the High capital investment, query building programs etc. It is a savior of the big data field.
Big Data Courses List
Online Certification Courses of Big Data:
There are various big data courses are available for those who want to build their career in big data field. Some online certification courses are providing for you below.
Introduction to Big Data
Big Data Modeling and Management Systems
Big Data Analysis with Scala and Spark
Big Data- Capstone Project
Big Data, Cloud Computing & CND Emerging Technologies
Big Data Integration and Processing
Hadoop Platform and Application Frame Work
Data Science
Managing Big Data With MySQL
Big Data Analyst Courses:
These courses are helpful for the interested candidates to develop themselves as big data working professionals because these courses include every aspect which helps the candidate to become as a professional of this data base field.
Jigsaw Big Data Analytics:
It is one of the globally recognized certification course of big data. It includes the following topics.
Overview of Big Data, Hadoop and Map Reduce
Data Extraction Tool and Cloudera Distributions
Data Warehousing using PIG and HIVE
2. Apache Storm:
It deals with the real time processing processes with the big data. This course including topics is given below.
Introduction to Big Data and Real Time Big Data Processing
Introduction to Apache Storm
Storm Installation and Configuration
3. Cassandra:
In this program, you can learn how to use Cassandra for dealing properly Big Data on a perfect distributed system. Important topics of this program are as follows.
Introduction to Cassandra
Architecture of Cassandra
Installation and Configuration of Cassandra
4. Apache Spark:
Through this program, you can learn the basics of big data processing framework. Here we mention some important topics of this program below.
Why Spark
Internals of Spark
Spark Architecture
5. MongoDB:
This course useful to the learners to learn about to create a scalable and effective database by using the fundamentals of MongoDB.
Indexing and Aggregation
Replication and Sharding
Cluster Administration
Course Duration:
The duration of this courses is 18 months.
Big Data Hadoop Online Training Course:
Big data Hadoop is an industry recognized Big Data certification training course and it is a combination of the training courses in, Hadoop analytics, Hadoop testing, Hadoop administrator and Hadoop developer etc.
Who Should Take this Course?
Graduates, undergraduates are interested to learn the latest Big Data technology can take this Big Data Hadoop Certification online training.
Programming Developers and System Administrators, Experienced working professionals and Project manager can pursue this course
The Architects and Testing Professionals can take this course.
What you will learn in this Course?
Anyone can learn Spark, Spark RDD, Graphx, and MLlib writing Spark applications.
Hadoop testing applications using MR Unit and other automation tools.
Master fundamentals of Hadoop 2.7 and YARN and write applications using them.
The learners practice real-life projects using Hadoop and Apache Spark.
Career Scope:
Many types of industries hire the big data professionals, they are manufacturing, IT, scientific and technical services, finance, Insurance, and retail. The demand for big data working professionals increasing in present and future also. Some common job profiles of big data professionals are listed below.
Big Data Engineer
Big Data Analyst
Analytics Associate
Big Data Analytics Business Consultant
Big Data Solution Architect
Metrics and Analytics Specialist
See complete Big Data Course Details From Here