B.Ed Course Details: Bachelor of Education Details which includes Eligibility, duration, Syllabus and List of Colleges etc. Full form of B.Ed is Bachelor of Education and those who are looking for Latest B.Ed Admission Notifications 2017 in India can read this article for getting information.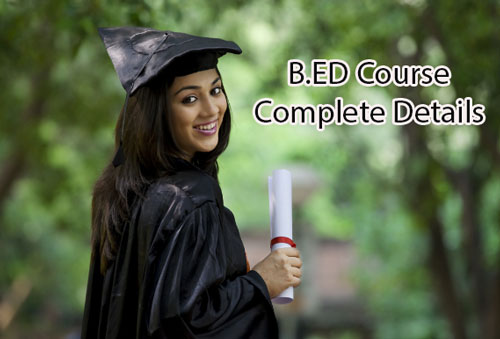 The B.Ed Admission Process shall be done on the basis of the score obtained in the entrance test conducted by Indira Gandhi National Open University (IGNOU) all over India. Every year IGNOU organized the B.Ed Entrance Test for admission to this program in the month of September or October. Mentioned here is Top BEd Colleges List in District Wise as well as State Wise.  B Ed Course Fees structure is as follows:
B.Ed Course Details of Fees
All candidates taking admission to this BEd course need to pay the total fee of Rs 20,000/- for the entire programme. Candidates who want to take admission to the Bachelor of Education are advised not to pay the fee along with the filled-in application form. They will get a separate communication about their admission and payment of fee. The fee should be paid only by way of Demand Draft (DD) drawn in favour of IGNOU payable at the city where your Regional Centre is situated.
Duration of B.Ed Courses:
The duration for the Bachelor of Education course is for 2 years as per the new rules. The course is also offered by many open universities and the duration through distance learning is for minimum 2 years and maximum 5 years.
Aim of BEd Program:
The main aim of B.Ed course is to developing the understanding and competencies required by teachers for effective teaching-learning process. It provides opportunities of sharing experiences gained by teachers along with it provides knowledge and develops in them an understanding of areas such as Educational Evaluation, School Management etc. It is available in both English and Hindi medium.
B Ed Course Eligibility
Students with at least 50% marks either in the Bachelor's Degree or in the Master's Degree in Sciences/ Social Sciences/ Commerce/Humanity, Bachelor's in Engineering or Technology with specialization in Science and Mathematics with 55% marks or any other qualification equivalent qualification.
 The following categories are eligible to be the students of B.Ed (ODL):
Trained in-service teachers in elementary education or
Candidates who have completed a NCTE recognized teacher education programme through face-to-face mode.
The reservation and relaxation in marks for SC/ST/OBC (Non creamy layer)/PWD and other categories shall be as per the rules of the Central/State Govt, whichever is applicable
Note: For SC/ST and other categories of candidates, there shall be relaxation of 5% marks if any, as per Govt. of India Rules.
B Ed Admission Process
B.Ed. stands for Bachelor of Education. It is an undergraduate academic course. Earlier it was known as Bachelor of Training (BT). It is a course offered for those who are interested in pursuing career in teaching field. Those who are interested in teaching jobs need to check the B EdCourseDetails from here. The Bachelor of Education degree course is mandatory for teaching in higher primary schools & high schools. While students from arts stream are trained to teach subjects like history, geography, civics, and languages. The students from science stream are trained to teach mathematics, chemistry, physics, and biology. After BEd, students can pursue Master in Education (M.Ed.) from a university that is approved to provide such a course. National Council for Teacher Education (NCTE) is statutory body which regulates courses in teaching in India. The following are the subjects or topics studied in BEd. The B.Ed Admission Process clearly explained below on this page.
The student who wants to apply for B.Ed admission will be required to submit the filled application with self attested copy of documents as specified in Entrance-cum-Admission Form. The original documents are to be submitted later after receiving offer letter for admission. Students need to send the duly filled application form along with DD to the address specified in notification by registered post or speed post.
Subjects studied in Bachelor of Education B.Ed
Education, Culture and Human Values
Educational Evaluation and Assessment
Educational Psychology
Guidance and Counselling
Holistic Education
Philosophy of Education
BEd Colleges List
Recently IGNOU has announced notification for BEd admission for which written examination will be conducted on 23rd October 2016. Admission Form University wise obtainable on online. Central Institute of Education, Department of Education, Lady Irwin College, BHU, LDIMS, MVCOE, Delhi University, Mumbai University, Kolkata University, AGTC and JNVU, MLSU universities are available online. Students of graduates those who desire to get teaching jobs they may apply for this notification. Now all are in search of B Ed Course Details and top most BEd Colleges List throughout the Internet.
State wise Universities list for BEd Courses
https://drive.google.com/file/d/0By5qPgbHdghOT0dPVEc3NnNJams/view?usp=sharing
Also see: Bachelor of Education Syllabus
https://drive.google.com/file/d/0By5qPgbHdghOcV9GUFd5Y1lKdU0/view?usp=sharing
B.Ed. Course Jobs:
Teacher.
Administrator.
Assistant Dean.
Content Writer.
Counsellor.
Education Researcher.
Instructor.
Librarian.
Military Trainer.
Principle.
Syllabus Designer.
Average Salary after B.Ed in Private & Govt Sector
While compared to Government Schools, private schools are paying a handsome amount to their teaching staff to retain the highly efficient teaching staff. The approximate figures of salary pay given in below tabular form.
| | | |
| --- | --- | --- |
| Level | Private School | Government School |
| Experienced Level | Rs 15,000/-  to Rs 40,000/- per month | Rs 25,000/- to Rs 40,000/- per month |
| Entering Level | Rs 5,000/- per month | Rs 12,000/- per month |