ABOUT THE BOOK: The Girl on the Train Book written by Paula Hawkins and it was published on 13th and 15th January 2015 in the United States and the United Kingdom Respectively.
Riverhead books were the publisher for the book in the US and Doubleday for the UK.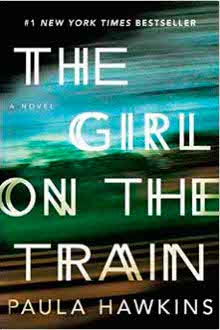 This book won the Goodreads Choice awards in 2015 under the category of mystery and thriller. Here we provided the detailed Summary & Study Guide as well as analysis to help you understand the book. The detailed summary and review also contains topics for Discussion on The Girl on the Train Book by Paula Hawkins.
The Girl on the Train Book by Paula Hawkins Details
Name of the Book: The Girl on the Train Book
Publish Date: 13th and 15th January 2015
Author: Paula Hawkins
Published by: Riverhead books
Price:   ? 250.00
Pages: 336
ISBN: ISBN 978-1-59463-366-9
In March 2015, The Girl on the Train Book was sold over 1 million copies and followed by 1.5 million copies in April at the United Kingdom, whereas in the United States it has been sold out more than 3 million copies.
This book was translated into France, Germany, Indonesian, Italy, Poland, Portugal, Spain, Turkey, Traditional Chinese, Vietnamese, Romanian, Bangla, Hebrew
Translated by Corinne Daniel lot, Christoph Gohler, Inggrid Nimpoeno, B. Porteri, Jan Krasko, José Joao Letria, Aleix Montoto, Aslihan Kuzucan, Wang Xinxin, Huyen Vu, Ionela Chirila, Kishor Pasha Imon, and Hadasa Handler respectively.
The story of the book was adapted into a movie which is to be scheduled release on 7th October 2016.
ABOUT THE AUTHOR PAULA HAWKINS
Paula Hawkins is the author of the book and she was born on 26th August 1972 at Salisbury, Rhodesia, United Kingdom. She studied Philosophy, Politics, and economics at the University of Oxford in England.
Her father was an Economics professor and also financial journalist. She lives in south London and got the award from Goodreads choice awards for best mystery and thriller, Glamour award for a writer.
The Girl on The Train Book Summery / Contents
The girl on the train book consist of 336 pages with ISBN 978-1-59463-366-9 in the United Kingdom and 320 pages' book for the United States. It is a mysterious thriller story and the Rachel leads the main role in the novel. Rachel Watson was a 32 years old lady who drinks very much for a breakup to his husband Tom and it also caused her to lose his job.
She always harasses him by phone and sometimes directly. Tom had a breakup with Rachel and got married to Anna Watson. She was young beautiful women and they had a child with them. Frequently Rachel harasses him by phone and sometimes she took their child with her and they found that she was a threat to their family and kept a complaint on her.
She observes an attractive couple in the house which is near far to Tom's house at every day evening and morning by the train.
One day she found that Megan was kissing with some other person and looks like Abdic, who is a therapist or doctor. At that night, she drink's heavily at forgot that all things what happen that night. The next day morning Megan was disappeared and the policeman came to her house and noticed that Rachel was only one who saw the Megan at last night.
She was questioned by the police but she can't remember anything about last night and she told to them and her husband Scott that Megan has an affair with Kamal and also, they were met before the night.
She consulted the Kamal with her duplicate identity and tried to draw the same situation as she saw and reveal the mystery behind the missing of Megan but doctor suspects nothing. After some days, Megan's body was found and also she had pregnancy and the caused to it is neither Scott nor Kamal. By that, she was proven to be a liar and Rachel got that day what happen is, Megan was getting into Tom's car and this affair was noticed by her wife Anna. And she increases her confidence and found that murder was caused by Tom.
She warned the Anna about the murder Anna got feared about her daughter and came in front of his husband and questioned him about the Megan. He finally accepts about his mistake and told her she ruined him about revealing his affair so he was forced to do like this.
She never told about this to anyone and he tried to kill the Rachel but with the help of Anna, she pushed a corkscrew into his neck. When police arrived they both explained about the situations and how they are self-defended from him and the story ends.