ABOUT THE BOOK: The NIGHTINGALE Novel written by Kristin Hannah, which was published on 3rd February 2015. The publisher of the book was St. Martin's Press. This novel got the 'Best Historical Fiction' Awards.
It was the story about two sisters, living in the France at the time of World War II, and made hard try to handle / prevent the German occupation of France.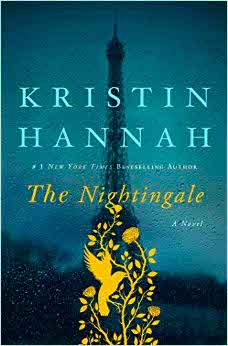 It is a well-sold novel in the year. Here we provided the detailed Summary & Study Guide as well as analysis to help you understand the book. The detailed summary and review also contains topics for Discussion on The NIGHTINGALE Novel Book by Kristin Hannah.
The NIGHTINGALE Novel by Kristin Hannah Details:
Name of the Book: The NIGHTINGALE Novel
Publish Date: 3rd February 2015
Author: Kristin Hannah
Published by: St. Martin's Press
Price: 299.00
Pages: 243
ISBN: ISBN 978-0312577223
ABOUT THE AUTHOR KRISTIN HANNAH
Kristin Hannah was born on 25th September 1960 (aged 55) at Garden Grove, California, USA. She completed her studies with graduation in law from the University of Washington; JD, Seattle University School of Law. Benjamin was the husband of Kristin Hannah and she has a son named Tucker of 23 years old.
She won the RITA Award for best novel. Basically, she was thoroughly in lawyer track when she was in the final year her mother got illness with cancer. From then she spends more time with her mother after her school time.
One day on discussion with her mother a shocking word from her mother is 'don't worry you will become a writer anyway', by the ending of her studies she began the writing of novels.
Her bestselling novels were in Hawaii, where she spends several months in a year. She lives in Bainbridge Island, Washington as a full-time writer.
Other novels written by her are listed below
A Handful of Heaven (July 1991)
The Enchantment (June 1992)
Once in Every Life (December 1992)
If You Believe (December 1993)
When Lightning Strikes (October 1994)
Waiting for the Moon (September 1995)
Home Again (October 1996)
On Mystic Lake (February 1999)
Angel Falls (April 2000)
Summer Island (March 2001)
Distant Shores (July 2002)
Between Sisters (April 2003)
Der Seeder Träume (April 2004)
The Things We Do for Love (June 2004)
Comfort and Joy (October 2005)
Magic Hour (February 2006)
Firefly Lane (2008)
True Colors (2009)
Winter Garden (2010)
Night Road (March 2011)
The Glass Case: A Short Story (November 2011)
Home Front (2012)
Fly Away (2013)
The Nightingale Book Summery / Contents
The 1st edition of the Nightingale book published with 440 pages having ISBN: 978-0312577223 was released in 2015. The main characters involved in the book are Viann, Antoine, Isabelle, Gaetan and some other small characters. Viann fully named as Vianne Mauriac who was living in French with her husband Antoine and a single daughter. Her sister Isabelle of 18 years old lives in Paris.
The mean story of the book is how the both sisters were survived from the terror situation, in Carrivea 1939 Nazis fall on France for war at the time Viann husband went to fight. The place was with full of tanks, trucks, and planes with leaving bombs at innocent.
In meanwhile her sister Isabelle became a resist to her family for surviving at the time she meets Gaetan, a person who believe French, Fight Nazis from within the France. She fell in love with him, but he said to go back to the war for a while with a resist she came front to battle for surviving.
The author was trying to tell these words to the readers with the help of this book. "In love, we find out who we want to be. In war, we find out who we are."
If you have full edition about The NIGHTINGALE Novel by Kristin Hannah buy it on online @ Flipkart, Snapdeal, Amazon, etc. Select from the best online store with quickest shipping facility. Please stay connects with us for fresh updates regarding books & its price.