This is the article Technical Writing Course which provides the complete Course Information about Eligibility, Duration, Fee Structure, Syllabus, Skills, List of Courses, Subjects, Career prospectus, Jobs and Salary etc. Read the complete article to get all the details.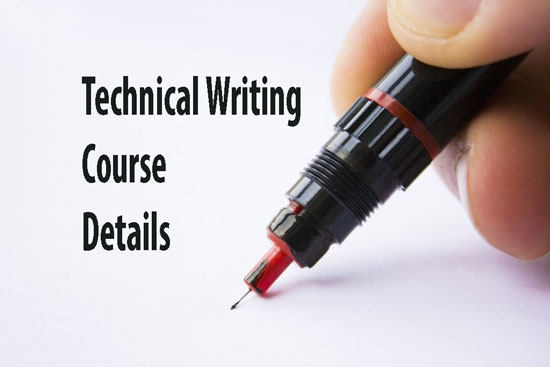 About Technical Writing:
Technical Writing can be defined as a type of writing where the author is writing about a particular subject that requires direction, instruction, or explanation as per wiki. This type of writing has a very different purpose and different characteristics than other writing styles such as creative writing, academic writing or business writing. There are many Courses in Technical writing. They are explained in this article, go through it.
List of Technical Writing Course:  
There are different Types of Courses in Technical Writing. They are:
Post Graduate Courses
Other Short Courses
Courses Online
Let us know about each of them.
Post Graduate Diploma in Technical Writing:
This is shortly termed as PGDTW. Bachelor degree holders or Graduate in any discipline from a recognized University are Eligible to do this Course. The Duration of the Course is 1 year.
Fee: The fee for the Course will be around 23k.
Syllabus:  There are 2 semesters in the Course. The Subjects that are covered are:
Semester 1:
Introduction to Technical Communication
Information Development Life Cycle-I
Information Development Life Cycle-II
Technical Writing style and editing
English Grammar
Semester 2:
Technical Communication Software Tools
Advanced Concepts in Technical Communication
Technical Communication Project Management
Principles and Practices of Management
Project
Mastering Technical Writing Tools: 
The Eligibility for this is Courses is any Graduate and the Duration is 1 week. This is Inline Course.  The Tools which were taught are:
Advanced Ms Word
Frame Maker
RoboHelp
SnagIT
Ms Visio
PowerPoint
Photoshop Basics
Other Courses:
Here are some other Courses and Certifications.
Certificate Course in Technical Writing
Crash Course in Technical Writing
Graphics for Technical Writers
Course in Instructional Designing
Corporate Training – Technical Writing
Full Time Certificate Course in Technical Writing
All these Courses are offered as Courses Online.
Free online Courses:
Some websites provide Free Online Courses. Here we have listed the Free Online Courses. Have a look.
Basics of Technical Writing
Advanced Technical Writings
Technical Correspondence
Intro to Tech Communication
Advanced Workshop in Writing for Science and Engineering (ELS
Professional and Technical Editing etc
Specializations:  
There are some specialized Courses offered. They are listed here:
Creative Writing
Technical Writing
Advanced writing
Resume making etc
Technical Writing Course Syllabus:
Here is the syllabus of basic Technical Writing Course
Lesson 1 – Technical Communication: Definition & Purpose
Lesson 2 – Characteristics of Technical Communication
Lesson 3 – Audience-Centered Communication: Description & Effectiveness
Lesson 4 – Rhetorical Awareness in Technical Communication
Lesson 5 – Legal and Ethical Communication: Description & Importance
Lesson 6 – Implicit and Explicit Rules of Communication: Definitions & Examples
Lesson 7 – Types of Technical Documents
Lesson 8 – Establishing Goals in Technical Writing
Lesson 9 – The Technical Writing Process: Prewriting, Writing & Rewriting
Career:
The career will be good with many Job opportunities and high paid Jobs. The nature of Duties are:
Determine the needs of end users of technical documentation
Organize and write supporting documents for products
Study product samples and talk with product designers and developers
Work with technical staff to make products easier to use and thus need fewer instructions
Also Refer Creative Writing Course Details
Stay connected with us for more and more updates related to entrance exams, courses, events, etc. Book Mark our site www.aiming.in by pressing ctrl+d.