Social Work is considered as one of the social science which is guided by principles of social justice, human rights, collective responsibilities etc. It is mainly concerned with helping individuals, families, communities and groups to enhance their social functioning. It is academic as well as a professional discipline which aims to help the people to develop their skills and ability to use the resources to resolve the problems.
Social work practice is often divided into micro-work and macro-work in which micro-work deals directly with individuals and small groups whereas macro-work deals with working communities to make changes on a larger scale. Now let us learn something about Social Work Courses and its scope.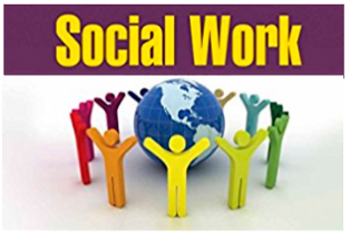 Social Work Courses Details                  
Social Work can be called as Social Welfare in which it works for the welfare of the public.  The course deals with helping the people to solve their problems under various situations i.e. personal issues, family issues, employment issues etc. The Social Work course aims to develop the habit of helping in aspirants. There are many online, offline and certificate courses for Social Work course in India. Some of online and offline (regular) and certificate courses are as follows:
Online Social Work Courses in India
There are some online Social Work courses in India and abroad. Let's view some of the online Social Work courses:
Working courses in India.
Introducing Social Work Practice
Property Rights and Transition
Politics, Pluralism and Drugs
Justice, Citizenship and Culture
Laws, Social Movements and Public Policy etc.
Regular Social Work Courses in India
Some of the offline or regular Social Work courses in India are as follows:
Bachelor of Social Welfare (B. S. W.)
Bachelor of Arts in Social Work (B. A.)
Masters of Labor Welfare (M. L. W.)
Diploma in Social Welfare
Phil. Social Work etc.
Certificate Courses for Social Work
Like online and regular courses, there are some certificate courses for Social Work in India. They are:
Certificate course for Abolition of Child Labor
Certificate in AIDS and Family Management
Certificate in NGO Management
Certificate in Social Work etc.
Colleges for Social Work Courses
There are various colleges that hire Social Work courses in India. Let's look at the colleges for Social Work Courses in India.
Tata Institute of Social Science, Andhra Pradesh
Nirmala Niketan, College for Social Work, Maharashtra
Amritha Department of Social Work, Kerala
Indore School of Social Work, Madhya Pradesh
National Institute of Social Work, Orissa
Indian Social Institute, New Delhi etc.
Now, let's see some important qualities of a Social Worker.
Qualities of Social Worker
The person who person who attains Social Work course in order to serve the public is called as Social Worker. The Social Workers should have some important characteristics to serve the problems of people around them. In the process of problem-solving of some people, they should face some worst situations. In that case, they should be bold enough to face those problems. So the Social Work course explains dealing with those situations for everyone who are willing to pursue the course. Let's see what are essential characteristics needed for Social Worker for serving the people.
The Social Worker is a person who deals with problems of people. So the social should have good communication skills like listening and talking skills.
Time Management is an essential feature of a Social Worker. The Social Worker have their own work and fix appointments with people. They should arrive at the time of appointment otherwise they need to face some adverse situations sometimes.
The Social Workers act as professionals in solving the problems of people. They act as judges while solving the problems keeping in mind the ethics of the people and the country.
The Social Worker need good analytical skills which guide them for making necessary decisions for solving the problem in a logical manner.
Empathetic abilities lead to good Social skills. Empathetic qualities for clients or team members help in making working relations strong. The workers who are empathetic can understand the problems, work effectively and gain trust from clients.
Patience should be the important quality of Social Workers to solve the problems of their clients. Patience helps in understanding the problems of clients and helps to solve their problem in a short period.
Career with Social Work Courses
The working areas for Social workers are many in the world. The people who work in hospitals, educational fields, lawyers and work under various specializations work for people and can be called as service or Social Work. Let's look for the career opportunities under Social Work courses.
Job Titles
Some of the job titles that come under Social Work are furnished hereunder:
Teacher, Lecturer, Professor
Government Servants
Counsellors, Lawyers, Judges
Social Security Officers
Doctors, Nurses
Social Workers, NGO's
Registration Officers Etc.
Employment Areas
A social worker can attain employment in any field which fulfils the objective of serving people. Some of those employment areas are:
Sharp NGO, Uttar Pradesh
Sneha Interventions, Maharashtra
ARZ Corporate Solutions, Madhya Pradesh
Special Police Unit for Women & Children, Tamil Nadu
People's Cultural Center, Orissa
Bengal Network of people living with HIV/AIDS, Kolkata etc.
Salary Packages
The salary package under Social Work of various departments consists of various salary packages and vary according to the organizations. The minimum basic starts with Rs.2,00,000/- to Rs.5,00,000/- per annum.