Optometry: This is a medical profession which deals with testing of eyes and their visual systems. The persons or doctors who are specialized in the field of Optometry are called Optometrists. There is another category of doctors dealing with problems of eyes known as Ophthalmologists. But they deal with performing surgeries on the eye. In the field of Optometry, the primary focus is levied on correcting a refractive error by use of spectacles or opticals.
Recently, education system additionally includes Optometry course with intensive training in the diagnosis of ocular diseases in various countries. Optometrists, who are also known as Doctors of Optometry provide primary eye care by examining the eye through comprehensive techniques to detect and treat different visual abnormalities and eye diseases.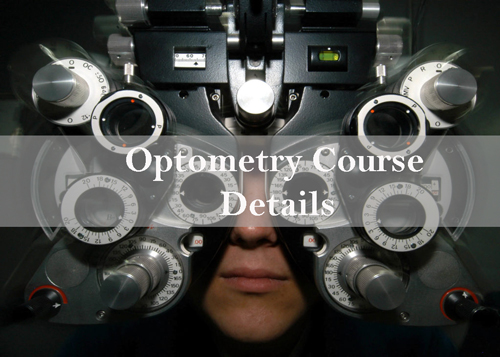 Optometry Courses
The educational field introduced various branches of medical sciences with different specializations like cardiology, gastroenterology, dermatology etc. In the same way recently a new medical course is introduced in medical science courses called Optometry course which deals with the specialization of visual abnormalities of the eye. Let's go through some of the Optometry courses introduced in bachelor degree.
Bachelor of Optometry (B. Optom.)
Bachelor of Sciences in Optometry (B.Sc. Optometry)
Post-Graduate Diploma in Optometry & Vision Sciences
Diploma in Optometry
Masters in Optometry (M. Optom.)
Certificate courses in Optometry etc.
Until now, we knew something about Optometry and various Optometry courses. Now, let's look at the Optometry course details.
Optometry Course Details
There are various courses regarding Optometry under bachelor degree, diploma and certifications. The course details of Optometry are furnished below which includes the duration of the Optometry Course, fees etc.
Course Duration
The duration of various Optometry courses are as follows:
For B. Optom. & B. Sc. Optometry, the duration of the course is 4 years with 3 years of the academic program and 1-year internship.
For D. Optom., the duration of the course is 2 years.
For Certificate courses of Optometry, the course duration may be 1 year.
Course Fees
The fee details regarding Optometry Course can be as follows:
For bachelor degree of Optometry, the fee ranges in between Rs.2,00,000/- to Rs.2,50,000/- per annum.
For Master degree, the fee for Optometry course may be Rs.2,50,000/- per year.
For Diploma courses, fee for Optometry ranges in between Rs.2,00,000/- per year.
Eligibility Criteria
The eligibility criteria for Optometry course may be as follows:
For under-graduation courses, the eligibility criteria are 10+2 with an aggregate of 60%.
One who completed 10+2, should have Physics, Chemistry, Biology and English as a basic stream.
For Diploma courses, one should complete their 10+2 with the aggregate of 70%.
For attaining Master degree, one should complete his bachelor degree course with 65%.
Colleges for Optometry Courses
There are various colleges hiring Optometry courses in and around India. Let's some of the colleges for Optometry courses in India.
Avadh Institute of Medical Technologies, Lucknow
Impact Paramedical & Health Institute, New Delhi
The Lotus College of Optometry, Mumbai
Vasan Institute of Ophthalmology & Research, Bengaluru
S. Institute of Paramedical Sciences & Hospitals, Ghaziabad
Manipal School of Allied Health Sciences, Manipal
NIMS School of Paramedical Sciences & Technology etc.
 Now, let's view the career options under Optometry courses.
Career with Optometry Courses
The career with Optometry gives a satisfying career in medical sciences. It is a challenging course and offers unlimited job opportunities. Let's view the career opportunities of Optometry course.
Job Roles
The job roles related to Optometry course are as follows:
Trainee Optometrist
Optometry Researcher
Vision Consultant
Private Practitioner
Optometrist etc.
Placement Areas
The placement areas where Optometrists can avail employment opportunities are as follows:
Spectrum Placement Consultancy, Kolkata
Vasan Eye care Hospitals, Mumbai
C L Gupta Eye Institute, Moradabad
Beleaf Optics, Pune
Sightsavers International, Jaipur
Rathod Opticians, Bahrain
Giridhar Eye Institute, Cochin etc.
Salary Packages
As it is one of the demanding medical courses, the initial salary packages for a fresh and experienced may be Rs.2,00,000/- to Rs.4,00,000/- per annum respectively.