ABOUT THE SAT EXAM: SAT stands for Scholastic Assessment Test. Initially, it was called as Scholastic Aptitude Test and then changes to Scholastic Assignment Test. SAT is a paper based examination conducted by the College Board Organization in the United States. It is an entrance exam for undergraduate students to get appointed into college or university. SAT score will remain valid for Five years.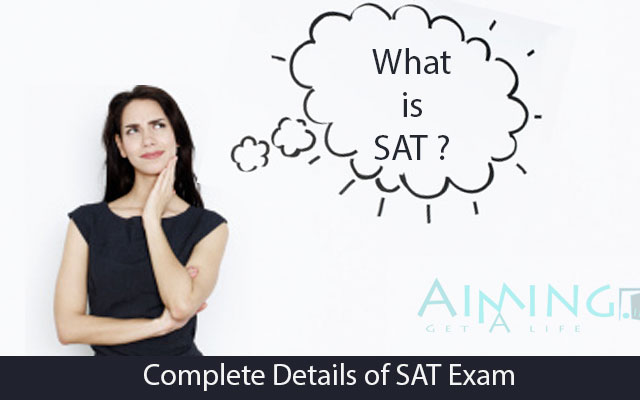 SAT EXAM ADMINISTRATOR
                The administrator of the SAT is College Board and it is an American Non-Profit Private Organization. It was founded on 22nd December 1899 as the College Entrance Examination Board. It was not organizing with a group of colleges but it offers a membership to college for admissions of students. It was located in 250 Vesey Street, New York City, United States. The SAT is one of the two admissions tests often required for admission to US universities and some other countries like Canada or Singapore. SAT 1 is reasoning test and SAT 2 is Subject test.
From 1999, Gaston Caperton was the president of the College Board and he was replaced by David Coleman from 2012 onwards. It includes over 5,700 schools, 23,000 High Schools, 3,800 Colleges, Some Universities, and other educational organizations. It conducts various tests and programs and they are SAT / SAT subjective tests, PSAT/NMSQT, Advance Placement Program, College Level Examination Program, Accuplacer, and Springboard. The College Board pledges to the college that it gives a quality in all of his activities, programs, and services.
When Will the SAT Exam Conduct?
             Mostly the SAT Exam dates and notifications will be released in the month of October, November, December, January, March, May and June. In March the test is available only in the US. For international students, it is better to take some gap between registration and exam. First, you have to register your name and details, providing genuine information will lead you more importance after the result of the exam. You can retake SAT examination if you aren't satisfied with your present SAT score and highest of the both will be taken as a priority.
How many times SAT is held?
SAT 1 and SAT 2 are both held 6 times a year and you cannot take both the exams together
SAT Exam Fees Structure
It is a worldwide exam conducted by the College Board. Basing upon the country the fee structure may vary and registration charges may applicable as per the test.
SAT Registration Fee – $43, with Essay $54.50
Late Registration Fee – additional $28
Phone Registration Fee – additional $1
Waitlist Testing Fee – additional $46
Change Fee – additional $28
Score Report Fee – additional $11.25 per report
The Basic Registration Fee for SAT Test
SAT test – $ 45 + Non – US regional fee.
SAT Test with Essay is – $ 57 + Non – US regional fee.
The International SAT Subject Registration Fee
SAT subject Registration Fee – $ 26
Each SAT subject Test (Except language test for listening) – $ 20 (additional per test)
Language Test for Listening – $ 26 (additional per test)
SAT FEE Details for Indian Students
| | |
| --- | --- |
| SAT Reasoning Test Fee | $ 29.50 |
| International Processing Fee | $ 20.00 |
| Security Surcharge to Test in India  & Pakistan | $ 20.00 |
| Total Amount | $ 69.50 |
Note: A late fee May applicable if you are paying after the registration deadline. It may addition of $20.00 to the total amount.
SAT Subject Test Fee Details
| | |
| --- | --- |
| Registration Fee | $ 17.00 |
| International Processing Fee | $ 20.00 |
| Security surcharge to test in India & Pakistan | $ 20.00 |
| Writing Test (if taken) | $ 17.00 |
| Language Test with Listening (if taken) | $ 18.00 |
| All other Subject tests (per subject) | $ 8.00 (Each) |
Note: A Late fee May applicable if you are paying after the registration deadline and it is additional of $ 20.00.
SAT TEST ELIGIBILITY
               There is no eligibility criterion for SAT Test. It was an entrance exam taken for admissions into the colleges in the United States. The test was advised to take in high school or in India it is equivalent to +12. According to SAT, it is the right time to take the test in the age of intermediate age to admit in a good college or University. In United States, usually students take the exam in their junior or senior years of high school (grades 11th or 12th). These tests are held in different centers according to their country around the world wide.
SAT REGISTRATION
There is a policy in SAT TEST program for providing a fair and good opportunity to the student. There are some requirements while registration to the SAT. The students who are interested in study in famous university or college in the United States then he can take a SAT test. For taking the test initially you have to register you name and details in the College Board website, note that name should be entered as per the same in ID proof. We are requesting you to provide fair information about you and finally you have to provide a photo. If you cannot produce the photo then the registration is not valid.
Click Here for SAT Registration Online 
How to Apply for SAT Test
There are two ways for applying the SAT exam they are
By Mail
Download the registration form from the College Board website and fill the form. After filling the form, get the draft as directed and pack both in the envelope provided with the form. Send the envelope to the mail address: College Board SAT Program, Princeton, NJ 08541, USA.
Online Registration
This is the easy way to apply, Fill up the form online and submit the details. Pay money through the credit card
MODE OF PAYMENTS
SAT registration fees or exam fee can be paid through following modes
Credit card – Credit cards like American Express, Master Card, Visa, Etc.
PayPal – you can pay through Pay Pal account from anywhere from the world.
Check / Money Order – Be sure in Check payments, it must be dawn in US bank as it is drawn in the non-US bank then it will be returned. Make check or money order payable to "The College Board"
Other – It was nothing but Dollar Denominated Bank draft.
REQUIREMENTS:
Students who are appearing for the SAT exam from outside the United States they should have some requirements according to their country. Some of them listed below
COUNTRY
REQUIREMENTS FOR EXAM
Egypt
Following is accepted as with valid id proof to appear SAT Test

1.       Current national ID of the country in which the test center is located.

2.       Current Passport.

No other identification is accepted.

India
Acceptable with Identification with valid passport with your Name, Photo, and Signature
Nigeria
Telephone re-registration, waiting list status request, and change of test center  are not permitted

Acceptable with Valid Passport.
SAT TEST FORMAT
The SAT Test Patterns for SAT Reasoning Test and SAT Subjects Test is as follows. SAT Test has three main topics they are Essential reading, writing, and Mathematics. Number of questions and the time requirement was given below
SUBJECT
QUESTIONS
DURATION
SCORE
READING
1.       Relevant words in context

2.       Command of evidence

Total 52 Questions in this section

65- Minutes
Range: 200-800 (combined with writing section)
WRITING
Tests 'expression of ideas and standard English conventions' through passages related to carriers

All questions from Extended prose (400-450 words)

Total 44 Questions in this section

35- Minutes
Range: 200-800 (combined with writing section)
MATHEMATICS
1.       Problem-Solving and data analysis.

2.       The Heart of Algebra.

3.       Passport to advanced math.

For 37 Questions Calculator is allowed and for 20 Questions Calculator is not allowed.

80- Minutes

(25- Minutes for no calculator and 55- minutes for calculator section).

Range: 200-800
Essay (Optional)
Analyzing a source/  discuss a topic

50 Minutes (optional)

50-Minutes
Not Scored
Total
154 Questions
3 hours *(50 minutes with optional  essay)
1600
SAT SCORES
You can select the colleges of your wish before appearing to the exam, maximum of four Universities you can select as to report your score according to the College Board. In SAT the Total scores range from 400-1600, in which separate score for verbal section (200-800) and a separate score for Mathematical section (200-800). For reporting more than four Universities you can charge additional of $ 6.50 each one. Important thing is you can apply to the universities without the SAT score.
SAT TEST PREPARATION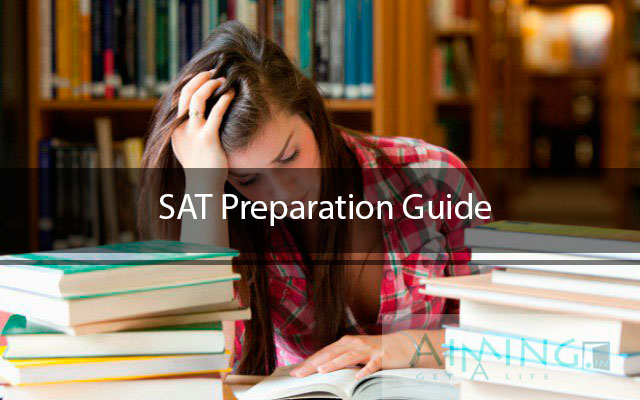 It was so easy to prepare for the SAT test the only thing you have to do is, first just know about the way of preparation. Coming to the SAT test it has three main topics they are
Evidence-based Reading & Writing Section.
Mathematical Section.
Essay section (optional).
Evidence-Based Reading
In this section, you have to focus on reading the passages and choose the answers as applicable. And some figures and tables are provided for typical passages and these passages are from different topics like classic work in the US, social science, chemistry, physics, and like some other topics. Note that some passages are paired with other passages. It is also a part of Evidence-based reading & writing section.
Evidence-based Writing
In this section, we have to concentrate on reading the passage and finding the mistakes in the passage and finally fix them all. The test measures how much knowledge you have in you high school. All questions are multiple choice questions based on respective passages. It was a part of Evidence-based reading and writing section.
The above section measures the topic: Command on Evidence, Words in context, Analysis of history/social studies and science, expression of ideas, and Standard English conventions.
Mathematical Section
The math section will cover all mathematics topics in high school and it has multiple choice questions, Grid-ins. It was mainly divided into two parts one of them is a calculator and another one is without a calculator. This tests mainly focuses on the heart of algebra, a passport to evidence math, problem solving and data analysis. In this, you test you can follow your own shortest procedure to solve the problem and it was useful to your college career.
Essay section
It is an optional section in the SAT exam and if you select the essay option then you can get an extra 50 minutes of time. It includes the topic involvement and argument to the given topic and different logical views presented by you. It was an analysis of reading, analysis, and writing.
Our kind information is made practice before six months of the SAT test and we are not advisable for more attempts of the test. There are some websites you can make practice by SAT previous papers.