About SAT: The full form of SAT is Scholastic Assessment Test. SAT is a general test of verbal and quantitative reasoning accepted for US College Admissions. The test is required for admission to undergraduate programs in the United States and some other countries like Canada or Singapore. Interested ones please go for apply SAT Registration.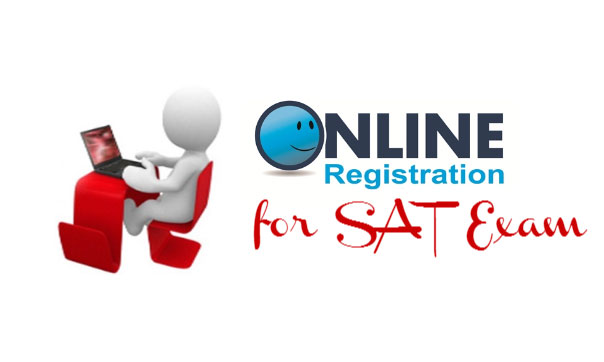 SAT Registration information in U.S.
The Step by Step Guide for SAT Registration will help you to apply SAT Examination. Read the complete article to know the further information of SAT International Registration process. Also we provide the complete information regarding SAT Exam like its Eligibility, Registration fee, application form, syllabus, exam pattern, test dates and Centers, and preparation guide etc.
How to Apply/Register for SAT Exam?
SAT Registration by Mail
SAT Information or application form available free with USEFI offices or from College Board website https://www.collegeboard.com/student/testing/sat/reg.html.
After that fill in the form, get the draft made and use the envelope provided with the application form to mail "College Board SAT Program, Princeton, NJ 08541, USA.
SAT Online Application Form
The easiest method to register for the SAT Test is the online method.
Fill up the SAT International Registration form online and mention your credit card number.
Upload the required photo
Receive immediate registration confirmation
Print your SAT Admission Ticket
Have 24 hour access to registration for printing Admission Tickets
Mode of payment:
Credit Card – Visa, Mastercard or American Express
Bank Draft (Dollar Draft, not Indian Rupees)
Check Drawn on a U.S. Bank
United States Postal Service Money Order
International Money Order
UNESCO Coupon
Postal Reply Coupon
SAT Test Locations
In India, Scholastic Assessment Test (SAT) is conducted at the following cities: Bangalore, Calcutta, Cochin, Chennai, Hyderabad, Kodaikanal, Mumbai, Mussoorie, New Delhi, and Pune.
SAT Registration Dates
To know about registration dates and other SAT Registration Fee details, you may follow the  given below tabular forms.
2016-17 SAT Administration Dates & Deadlines

SAT Date
Registration Deadline
Late Registration Deadline
Deadline for Changes
May 6, 2017
April 7, 2017
18 April 2017 (for mailed registrations)

25 April 2017 (for registrations made online/ by phone)

25 April 2017
June 3, 2017
May 9, 2017
May 16, 2017 (for mailed registrations)

May 24, 2017 (for registrations made online or by phone)

24 May 2017
2016-17 Score Delivery Dates
SAT scores will be available to students beginning on the dates listed below.
6 May Test: June 8 score delivery
3 June Test: July 12 score delivery
2017-18 SAT Administration Dates and Deadlines
SAT Date
Registration Deadline
Late Registration Deadline
Deadline for Changes
26 August 2017
28 July 2017
8 August 2017 (for mailed registrations)

15 August 2017 (for registrations made online or by phone)

15 August 2017
7 October 2017
8 September 2017
19 September 2017 (mailed registrations)

27 September 2017 (registrations made online/by phone)

27 September 2017
4 November 2017
5 October 2017
17 October 2017 ( mailed registrations)

25 October 2017 ( registrations made online/ by phone)

25 October 2017
2 December 2017
2 November 2017
14 November 2017 (mailed registrations)

21 November 2017 (registrations made online/by phone)

21 November 2017
10 March  2018
9 February 2018
20 February 2018 (for mailed registrations)

28 February 2018 (for registrations made online or by phone)

28 February 2018
5 May 2018
6 April 2018
17 April 2018 (for mailed registrations)

25 April 2018 (for registrations made online or by phone)

25 April 2018
2 June 2018
3 May 2018
15 May 2018 (for mailed registrations)

23 May 2018 (for registrations made online or by phone)

23 May 2018

For students in U.S: Click Here
For international students: Click Here