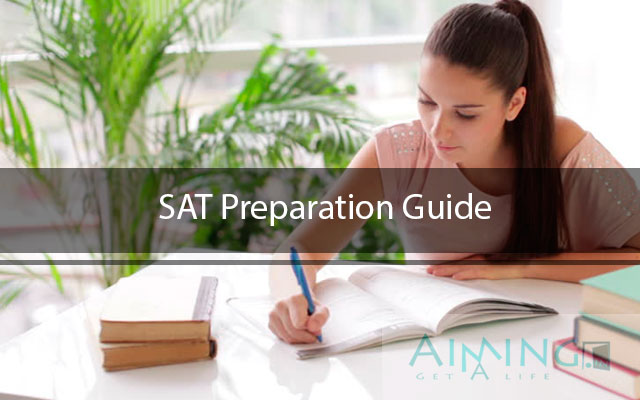 Do you have any doubts regarding SAT preparation? Are you looking for online SAT courses? don't worry. We guide you to how to prepare for SAT exam and provide information of best Sat preparation books. In the last post, we wrote about SAT Exam Details read that post also for more information about sat exam.
SAT is an entrance test for students who are interested in studying in the United States most famous Universities and colleges. The SAT test was conducted by the College Board and it was a Private non-Profit Organization. This test is offered seven times in a year and there is no qualification required for the exam. SAT stands for nothing and simply it was called as SAT Reasoning Test.
SAT PREPARATION BOOK
                Here from our website you can get details of the best sat prep book and you can purchase it from online shopping websites. The Official SAT Study Guide is one of the best SAT preparation books.
SAT PREPARATION COURSES AND CLASSES
There are some private institutions that offer online SAT preparation classes and some websites offer free online sat prep classes. We will update the list shortly.
And also you can make practice by practice tests /online mock test conducted by the khan Academy under the affiliation of College Board.
After taking SAT test there is another test called SAT subject test and it was mainly concentrated on English, history, mathematics, science, and languages.
SAT EXAM SYLLABUS & SUBJECTS
In this SAT Test, we have three SAT preparation topics they are given below.
Essential Reading.
Writing.
Mathematics.
Essay (optional).
Essential Reading: –
It was a subsection of the SAT exam and with the timing of 65 minutes and it consists of Reading comprehensions, Sentence Completions, and critical reading of paragraph. This section consists of 52 questions.
Writing Section:-
This section involves multiple choice questions and essays. This section was combined with essential reading and it contains 44 questions with allotted time 35 minutes. This section will improve the skills in identifying the errors and so on.
Math Section:-
In this section we have two types one, it was allowed calculator and another one is no calculator section. In 80 minutes the test taker has to attempt 57 questions. It questions come from the depth of the algebra, passport to advanced math, problem-solving and data analysis. So you have to prepare and practice well in mathematics because at the end of the section you will have some problems by using the shortest way you have to solve the problem.
Coming to the latest syllabus of SAT 2016 essay was made an optional one so the student may or may not choose it. The total test score also reduced and it ranges from 400-1600.