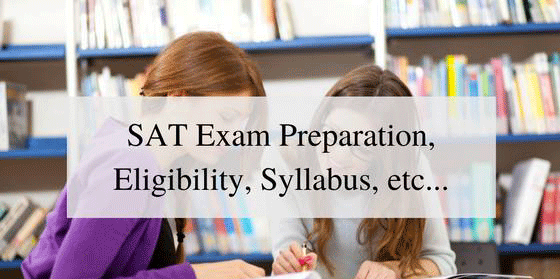 Hello folks we all know about SAT exam conducted all over the world. Many of the accomplished students go for the SAT exam. So for those students here we are providing the complete details regarding the SAT prep techniques. So far applicants think that the examination is very tough and worthy. Of course it is worthy, if you are well trained/prepared for the exam who can stop your victory. So for the candidates who are going to prepare for the SAT exam we are providing the sat test prep tips and tricks. Some of the students may confuse regarding the sat prep courses details. So we are providing the SAT Exam Details, exam syllabus, exam fee and the importance of the test.
Scholastic Aptitude Test Details (SAT Exam Details)
What is SAT? What are the uses? Let us have in-depth view regarding the course details and the structure of the exam. SAT is a standardized test conducted to provide admissions in colleges of United States. It is introduced in the year 1926 with the name as Scholastic Aptitude Test, later it was changed to Scholastic Assessment Test, then SAT I: Reasoning Test and now simply the SAT. The examination was conducted by College Board which is a private, non-profit corporation in the US. The College Board was administrated on behalf of the College Board by the Educational Testing Service. SAT test is proposed to assess a student's fluency in language for college. SAT exam is conducted monthly once in India. The registration fee is 69.50$ i.e. Rs 5000/- approximately.
SAT Test Eligibility
To write the SAT test candidates must complete their 11th/12th from any recognized college. I.e. age of the applicant must be 17 to 18 years to enter the under graduate courses in US and Canada.
SAT Exam Pattern
From the year 2016 the SAT was changed to redesigned SAT, where as SAT exam is conducted for 1600 marks and with 171 questions with in 225 min and in Redesigned SAT the exam is conducted for 153 questions in 180 mins. There is huge variation between the redesigned and normal SAT exam. The sat exam syllabus is provided in this article. Check the SAT prep methods and there will be availability on model papers in online. Practice those sat test prep so that you will have basic idea regarding the pattern of the exam. Let us have a brief overview over the SAT and Redesigned SAT exam
SAT Exam Details
Category
Current SAT
Total Testing Time*

3 hours and 45 minutes
Components
Critical Reading

Writing

Mathematics

Essay

Important Features
Emphasis on general reasoning skills

Emphasis on vocabulary, often in limited contexts

Complex scoring (a point for a correct answer and a deduction for an incorrect answer; blank responses have no impact on scores)

Essay
Required and given at the beginning of the SAT

25 minutes to write the essay

Tests writing skill; students take a position on a presented issue

Score Reporting*

Scale ranging from 600 to 2400

Scale ranging from 200 to 800 for Critical Reading; 200 to 800 for Mathematics; 200 to 800 for Writing

Essay results scaled to multiple-choice Writing

Subscore Reporting
None
Redesigned SAT Exam Details
Category
Redesigned SAT
Total Testing Time*

3 hours (plus 50 minutes for the Essay [optional])
Components
Evidence-Based Reading and Writing

Reading Test

Writing and Language Test

Math

Essay (optional)

Important Features
Continued emphasis on reasoning alongside a clearer, stronger focus on the knowledge, skills, and understandings most important for college and career readiness and success

Greater emphasis on the meaning of words in extended contexts and on how word choice shapes meaning, tone, and impact

Rights-only scoring (a point for a correct answer but no deduction for an incorrect answer; blank responses have no impact on scores)

Essay
Optional and given at the end of the SAT; postsecondary institutions determine whether they will require the Essay for admission

50 minutes to write the essay

Tests reading, analysis, and writing skills; students produce a written analysis of a provided source text

Score Reporting*

Scale ranging from 400 to 1600

Scale ranging from 200 to 800 for Evidence-Based Reading and Writing; 200 to 800 for Math; 2 to 8 on each of three traits for Essay

Essay results reported separately

Subscore Reporting
Sub scores for every test, providing added insight for students, parents, admission officers, educators, and counselors
Here we have discussed the syllabus changes and the pattern of the examination. Now we are providing the examination time varying details.
SAT
Redesigned SAT
SAT
Redesigned SAT
Component
Time Allotted
(minutes)
Time
Allotted (minutes)
Number of
Question/
Tasks
Number of
Questions/
Tasks
Critical Reading
70
65
67
52
Writing
60
35
49
44
Essay
25
50
1
1
Mathematics
70
80
54
57
Total
225
180
(230 with Essay)
171
153
(154 with Essay)
SAT Exam Syllabus
You can see the syllabus details of sat exam in the given url.
https://drive.google.com/file/d/0B3xS30pEt8gWMmw4YjNFTFlFM0k/view?usp=sharing
SAT Prep Tricks
Take practice tests from online:
There will be a good output for every hard work. It is praise worthy and easy to achieve your dream. There will be more online TEST papers accompanied for the students to reach their goal. Struggle hard and practice the papers in certain intervals of time.
Know the test structure:
It is good to know the structure or the pattern for the examination. Students can know the syllabus for the examination and then they can have scope to gain more marks in the examination.
Read: 
Carefully study the passages as there is necessary to choose the correct answers. As the complexity ratio of achieving good marks will be high. Thoroughly follow the Rules and amends stated on the overleaf
Study that vocabulary
SAT is not the Scripps-Howard National Spelling Bee. There is no need to cram every word from the dictionary into your mind. It is strange and time taking process. So study the vocabulary and it will definitely help you if you study smart.
Write as many practice essays as possible 
While practicing test papers for the SAT exam prepare well for essays. They will help you in reducing the time span and helps in providing necessary stuff in the article.
Our Calculators, Ourselves
For SAT exam calculators are allowed for the examination hall. Practice the formulas and the basic subject in using scientific calculator. Take your own calculator to the examination.
Memorize rules and formulas 
SAT will have some geometry formulas at the beginning of the test. So you should memorize all these formulas before test-day. It is better to know the area formulas, Pythagorean Theorem, the average formula, special triangle rules, and exponent rules by heart, among others.
Understand how multiple choices works to your advantage
As there is 70% of objective questions put the scope on multiple choice questions. Be firm and attentive before choosing the answers.
So work hard and dedicatedly for the SAT exam and give the best performance in the exam. All the best…