MSW Course Details: If you are a service oriented person then Master of Social Work (MSW) would be one of your best choices. MSW is hence a Master's program in the field of social work. It is a specialized professional and academic discipline whose area of study is intended for improving the quality of either an individual's life/group/community of weaker sections. This program provides us to overcome problems, by giving mental strength to the person. Graduate with a MSW is trained to help people cope up with the society by positively tuning up their mind.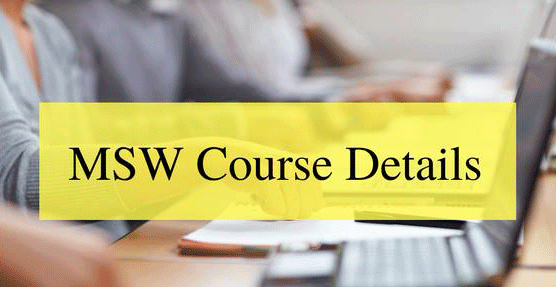 The main motive of MSW program is to train up individuals who are already working or desire to work in the Development and Welfare sectors. MSW enables a candidate to become a Social worker and perform in various capacities. Social workers perform interventions through research, policy, community organizing, direct practice and teaching. The National Council of Professional Social Work in consultation with the universities include IGNOU and NAPSWI ( National Association for Professional Social Workers in India) takes decision for the promotion, maintenance, co-ordination of standards of education, training research and practice.
A social worker is not reluctant to touch the diseased and neither does. HE/SHE feels uneasy when talking about sensitive issues like women's health and sanitation. Apart from this, a social worker needs to be relatively stronger both emotionally and physically in order to confront the challenges that come with standing up for social causes.
MSW Course Details (Eligibility)
To be a student of MSW any candidate needs to satisfy either of the condition which is as follows
Student qualified BSW (Bachelor of Social work)/BA ( Bachelor of Arts) examination from a recognized university.
Graduate in Humanities/ social Sciences/Science/Commerce & Management are also eligible.
Besides this, individuals who have a social responsibility and are concerned about the social welfare of the environment around them/world at large, are specifically selected for the course with greater importance. The work of social worker is self-less and therefore individual can truly excel in this field. If you desire this quality then don't hesitate to apply for the course as the national is in need of the candidates like you.
MSW ENTRANCE EXAM PATTERN:
The examination paper for MSW contains questions of objective category with a total weight-age of 100 marks. Negative marking system will be followed by majority of the institutions. The questions are selected following topics
General Knowledge
Reasoning Ability
Social Work
Verbal Ability
FEE STRUCTURE:
Fee structure of this program varies between the organizations hence an approximation of Rs 27000 will be incurred for the candidate for the complete program which was of 2 years.
ADMISSION PROCEDURE:
Most of the post graduation courses commence from June every year but MSW is quite different from all of them, colleges and universities for this course commence from September/November. Students willing to get admitted in this program are requested to check in your surrounding colleges and universities as this course isn't though in each of them. The eligible candidates are then called for an entrance exam at desired centers. Selection procedure is completely based on entrance exam and candidate selected in the exam are thereby called for group discussion conducted by the university/college.  Well performed candidate meet the final panel of interview, which mainly assess their real interest of candidate towards social work.
PROCEDURE OF FILLING THE ENTRANCE APPLICATION FORM:
Students can submit their application forms Online/Offline; you can view the official website of the university/college wherein the course is available.  An amount of Rs350 is to charged for the application which can be paid online through Debit/Credit card or offline by drawing a Demand Draft in favor of the concerned university/college where the candidate is willing to get educated for this course.
MSW COURSE CURRICULUM:
As said earlier MSW is a Two year program with 4 semesters. Most of the universities follow the procedure explained below.
Foundation course(FC)
Core course( elected subjects are though here)
Extra Disciplinary course
Field work practicum.
Block placements
Research of thesis work
NOTE: Core subjects vary between universities hence students are kindly requested to get into the complete details of the university/college before getting admitted.
WHAT NEXT FOR COMPLETION OF COURSE:
Student after getting qualified in MSW may further apply for higher studies in the same field like DSW( Doctor of Social Work), PhD (Social Work) else work as an social worker under NGO's and may also opt for working in Medical field.MSW holder can either work in  government/public sector. They have the opportunity with international NGO's like UNICEF, WHO etc.
MSW IN INDIA:
It is very difficult for an Indian resident to get qualified for this course in India as there are a very few university/colleges which encourage this program. But if you are interested to get educated in foreign countries like USA,UK etc then it would be quite easy for you to do so as many number of universities support the program.