Who is Nursery Teacher?: Nursery Teachers are also called as pre-primary school teachers who are specialized in dealing with the children of age between 3-5 years. These teachers deal with the children in developing their knowledge, abilities and skills and help them to get prepared for primary school education or schooling. They provide a safe and stimulating environment for the easy learning.
They organize and supervise work or play activities for children like reading, writing, music and dancing etc. They maintain relations with parents or their care-takers and health visitors, maintains records, monitors and records progress. To know more information about Nursery Teachers Training read out our complete article.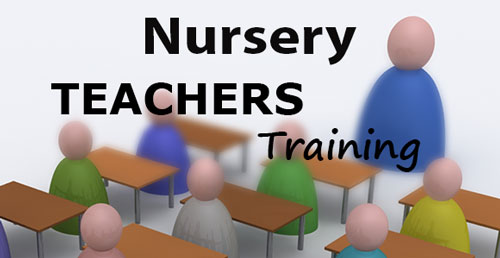 What is Nursery Teacher Training (NTT)?
The training given to the teachers for dealing with children under nursery or pre-primary is called Nursery Teacher Training (NTT) which is also called as Diploma in Nursery Teachers Training. Under this course, the candidates possess training for the process of dealing with children under the age of 3 to 5 years. Under this training, they mainly deal the subject of Psychology which helps the teachers to handle the children of different mentalities and make them habituated to the school environment by conducting various interesting work or play activities.
NTT Details
Nursery Teachers Training consists of the following details:
Course Duration
The duration of this diploma course is obviously one year.
Eligibility
The eligibility criteria to pursue this course is 10+2 under any stream with aggregate of 55%.
Let's look down for the subjects under Nursery Teachers Training.
NTT Syllabus
Syllabus of Diploma Nursery Teacher's Training consists of following subjects:
Theory
Methods & Material of Pre-Primary Education
Basics of Pre-Primary Education
Child care, Health and Nutrition
Nursery School Organization
Teaching Methodology
Child Psychology
Practical:
Now, let's make a look for colleges offering Nursery Teachers Training.
Nursery Teachers Training Colleges
There are various government and private colleges hiring Nursery Teachers Training in India. Let's view some of them.
Integrated Institute of Education Technology, Andhra Pradesh
Delhi Institute of Early Childhood Care & Education, New Delhi
Lady Vailankanni Institute of Education Center, Karnataka
RVS Teacher Training Institute, Tamilnadu
IKON Teachers Training Institute, Kolkata
Patiala College of Education, Punjab
Jaipur National University, Jaipur etc.
NTT Job Types
Jobs under NTT includes the following:
Assistant Pre-Primary Teacher
Nursery / Pre-Primary Teacher
Nursery Teacher Trainer (NTT)
Nursery In-charge
Nursery Helper
Also See: Types of Teaching Jobs