ABOUT THE BOOK:  Me Before You" is a love story & a family story, but above all it is a story of the courage and continued effort needed to convey the path of a life once it's been pushed off course. "Me Before You" book by JoJo Moyes was published on 5th January 2012.
Penguin Books published the book in English at the United Kingdom.
It was a romantic novel and named as no1 in New York by bestseller. It was later adapted into a film in 2014 by MGM. This is a famous book in UK, US, Germany, and …etc.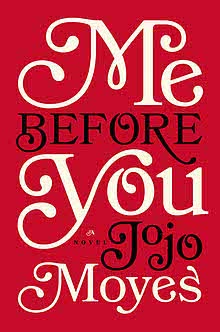 Me Before You by JoJo Moyes Book Details
Name of the Book: Me Before You (romantic novel)
Publish Date: 5th January 2012
Author: JoJo Moyes
Publisher: Viking
Price:  233.00
ABOUT THE AUTHOR JOJO MOYES
Pauline Sara Jo Moyes was the writer who was born on 4th August 1969 (age 46) at London, England, United Kingdom. Her School age was completed at Royal Holloway, University of London and Bedford New College, London University. Charles (Maxwell) Arthur was the spouse of the author.
She was an English journalist and from 2002 onwards she was a romantic novelist. She won the romantic novel of the year award twice by the romantic novelists association. JoJo Moyes got the first award in 2004 for 'Foreign Fruit' and the second one in 2011 for 'The last letter from your lovers'.
Her novels have been translated into 11 different languages.
There are some other novels by this author were given below:
'Sheltering Rain' in 2002.
'Foreign Fruit' in 2003. (published in the US as Windfallen)
'The Peacock Emporium' in 2004.
'The Ship of Brides' in 2005.
'Silver Bay' in 2007.
'Night Music' in 2008.
'The Horse Dancer' in 2009.
'The Last Letter from Your Lover' in 2010.
'Me before You' in 2012.
'Honeymoon in Paris' in 2012.
'The Girl You Left Behind' in 2012.
'The One Plus One' in 2014. (published in the US as One Plus One)
'After You' in 2015.
Me Before You Book Summery / Contents
"Me before you" is a book of 480 pages with ISBN 0-71-815783-4. The story starts with the 26-year-old lady named Louisa Clark who lives with her family and also helps to her family. Suddenly she loses her job at a local café. Later, she tried for several jobs but failed to get success.
Finally, she got an offer as help care or caretaker for Will Traynor, a paralysis person. She was hired by Camilla mother of Will's. And later she meets Nathan, who was a nurse for medical needs.
Initially, she hardly handles the Will after knowing the history of will and dealing with his mother about the end of his life through Dignitas, she started caring him. He was a successful, wealthy and active young man but two years before unfortunately got paralyzed in a motorcycle accident.
At that time they heard about Alicia's marriage to his best friend Rupert. She was an Ex-girlfriend to the Will. Infrequent talks between them, she finds that he was liked to visit his favorite café in Paris. In meanwhile, Louisa father loses the job which leads the most financial problems. Mr. Traynor understood her problem and offers a job to his father to make her happy. They both attend to Alicia's wedding and where they dance and flirt.
She planned to go for a holiday trip with him, but before their starting Will was caused fatal pneumonia. So, she cancels the trip for whirlwind and changes to go for the island of Mauritius. Louisa proposed to Will that she loves him, at night before the return journey to home.
But Will says that the time spent with her has been special to him, but he didn't like to live in a wheelchair so he must follow his deal. Hearing that words she get hurt and anger and does not speak to him, resigns to her job as a caretaker. His parents understood that Will was still interesting to end his life.
She came back to visit Will on the night, where he was leaving by flight to Switzerland towards his plan. They both agree that past six months have been best in their lives. After he dies shortly on the clinic and the Novel ends at a café in Paris, where Louisa reading the last letter from Will, that tell her to 'live well'.
Important characters in this book
Louisa (Lou) Clark – She is a 26 years old women & she also creative.
William (Will) Traynor – He was a 30 years old man with paralysis.
Camilla Traynor – Will's mother.
Steven Traynor – Will's father.
Katrina (Treena) Clark – Youngest sister of the Louisa's.
Patrick – Louisa's boyfriend.
Nathan – Wills nurse and caretaker.
Alicia Dewar – Wills ex-girlfriend.
Georgina Traynor – Wills sister.
Rupert Freshwell – An old friend to will.
Frank – Louisa previous employer.
Thomas – Louisa's young nephew
If you have full edition about Me Before You by JoJo Moyes Book buy it on online @ Flipkart, Snapdeal, Amazon, etc. Select from the best online store with quickest shipping facility. Please stay connects with us for fresh updates regarding books & its price.