ABOUT THE BOOK: Stephen king was the author of the IT book which is the 22nd book published by the author. It was his 18th novel, and the 13th novel written under his own name. The cover artists are – Bob Giusti (illustration) & Amy Hill (Lettering).
This book was published by Viking in English on September 1986.
'IT Book' won the 'British Fantasy Award' in 1987 and received a nomination for the Locus and Fantasy awards.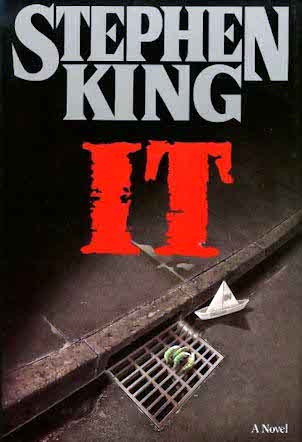 This story was adapted into a film in 1990. This novel alters between two time periods and is largely told in the third person Omniscient mode. The first time period in between 1957-1958 and second one is in-between 1984-1985. 'IT' was very horror feel novel in which it includes murders and feels terror to whole Derry, mine. This book was more popular in the United States.
IT book By Stephen king Details
Name of the Book: IT Book
Publish Date: September 1986
Author: Stephen king
Publisher: Viking
Price:  319.00
ABOUT THE AUTHOR STEPHEN KING
Donald Edwin king was the father of Stephen king who was born in 1913, Peru, Indiana. Nellie Ruth was the mother of author and born on 3rd February 1913 in Scarborough, Maine. King was born on 21st September 1947 (age 68) at Portland, Maine, United States.
His father was a merchant seaman in Indiana. His mother was died on 28th December 1973 due to illness. He was married to Tabitha king in 1971 and they both are having three children named as Naomi, Joe, and Owen.
His school age was completed in Durham elementary school and he was graduated from 'Lisbon Falls' High School in Lisbon falls, Maine. At the school age he started writing for his fun, but now he was a Novelist, Short story writer, screenwriter, columnist, actor, television producer, singer, and musician.
He won the medal for distinguished contribution to American letters, Hugo award, Bram stroke award, World fantasy award, and National medal of arts. Even though all authors are limited to produce a single book for a year, more than one was not acceptable by the people. So, in order to publish many numbers of books king writes them under his pen name or other name and later it was published under his real name.
CONTENT / SUMMARY OF IT BOOK BY STEPHEN KING
This is a book having 1138 number of pages with ISBN 0-670-81302-8. 'IT' was a horror novel containing twenty-three chapters which can be divided into five parts. They are
The Shadow Before.
June of 1958.
July of 1958.
The Ritual of Chud.
This novel starts with a small child, he was following his small paper boat which leads to a drain. At that, he saw a clone offering a balloon but the kid didn't accept it and he again offered his loosed paper boat and drag his hand which leads bleeding and caused him to death. Further to the story includes suspense and the story was altered in two time periods.
Important characters in this novel
THE LOSERS CLUB – This club is formed by the children of eleven years old, who are united by their unhappy lives.
WILLIAM "BILL" DENBROUGH – Bill is considered as the leader of the group and most self-assured member of the club.
BENJAMIN "BEN" HANSCOM – Ben is a highly intelligent boy who, before joining in the losers club. He was also known as "haystack".
BEVERLY "BEV" MARSH – The only female in the group, she was so attractive.
RICHARD "RICHIE" TOZIER – He is the most lighthearted member, he was also known as "Trashmouth".
EDWARD "EDDIE" KASPBRAK – Eddie is a frail and asthmatic hypochondriac, who carries his inhaler with him everywhere.
MICHAEL "MIKE" HANLON – Mike is the last to join the losers. He is only African-American in the group and lives with his parents on a large farm.
STANLEY "STAN" URIS – Stan is the most skeptical member of the club.
PENNYWISE/IT – The main character as evil, it is a monster of unknown origin that kills (like an animal) at Derry. It kills children and humans for every three decades.
GEORGIE DENBROUGH – The first character introduced in the book, he goes out to sail his boat made from a sheet of newspaper. The boat was swept into a storm drain.
HENRY BOWERS – He was the novel's second main antagonist.
VICTOR "VIC" CRISS – He was a bully and henry's sidekicks.
REGINALD "BELCH" HUGGINS – Another friend of henry, he was six feet tall at the age of twelve years old.
PATRICK HOCKSTETTER – A psychopathic and solipsistic bully who is a part of henry's gang and has been friends with him since 1955.
EDWARD "EDDIE" CONCORAN – A boy who lives in Derry.
ADRIAN MELLON – He is a young homosexual man in Derry.
WILLIAM HANLON – Mike Hanlon's father.
KEENE – Mr. Norbert knee was the owner and operator of the center street drug store for 50 years (1925-1975).
TOM ROGAN – The abusive husband of Beverly marsh.
The losers club is a formation of seven members as a group at the child age. All of them are unsatisfied and scared by IT. The story leads that how they get scared by IT and finding the roots of the problem. In the story, the pennywise will offer the balloons that will increase the fearing atmosphere. Coming after some years forward those kids were grown up to young age.
Now they are ready to face the 'IT' the unknown origin and they all of them followed into a cave, here they found the original shape/one of IT. It was a horrific spider and they killed the spider and founded the missing persons. The story feels like realistic and horrible.
If you have full edition about IT book by Stephen king Book buy it on online @ Flipkart, Snapdeal, Amazon, etc. Select from the best online store with quickest shipping facility. Please stay connects with us for fresh updates regarding books & its price.