ABOUT THE BOOK: The book INFERNO was written by DAN BROWN, which was published on 14th May 2013 (English). Doubleday was the publisher of the INFERNO in United Kingdom/ United States.
This novel is a mystery thriller, and it was the fourth book in his Robert Langdon series. Robert Langdon is a fictional character created by the author; he is a Harvard University Professor of religious iconology and symbol.
This book won the award from Good reads choice in 2013 for best mystery and thriller. Inferno Summary & Study Guide includes comprehensive chapter summaries and analysis etc to help you understand the book. Interested ones buy Inferno (Novel) Online at Low Prices in India.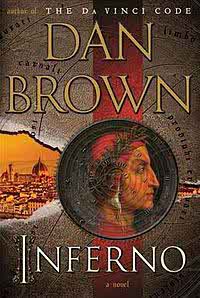 INFERNO by DAN BROWN Book Details:
Name of the Book: INFERNO
Publish Date: 14th May 2013
Author: Dan Brown
Publisher: Doubleday
Price:  525.00
About The Author Dan Brown
Daniel Brown was born on 22nd June 1964 (age 52), Exeter, New Hampshire, United States.
He is graduated from Phillips Exeter, and later he joined in Amherst College from where he completed graduate in 1986.
Brown spent the school year of 1985 in abroad (Seville, Spain).
His father Richard G. Brown was a mathematician teacher, he writes books from 1968 to 1997 till the retirement.
His parents were also singers and musicians. From the young age, he likes puzzles, secrets, after school time he spent more time in crossword puzzles.
Brown and his family participated in an elaborating treasure hunt in occasions. He was a novelist and the known languages by brown were Spanish and English.
He was married in 1997 with Blythe Newlon and had a son named David Chinchilla born on 30th April 1998.
By the inspiration from the Sidney Sheldon's Novel The doomsday conspiracy, he decided to become a writer in a thriller.
In 1996 he leaves teaching to become a full-time writer.
There are some other books/novels by the author is given here: Digital Fortress, Deception Point, Angels & Demons, The Da Vinci Code, The Lost Symbol
Inferno Book Summery / Contents
INFERNO By DAN BROWN is a book of 480 pages with ISBN 978-0-385-53785-8. The most of his novels related to treasure hunt, his books were translated into 52 languages.
The story is a continuation of the series of the book before published, in this Robert Langdon professor of Harvard in Italy. Langdon leads the main role in the novel.
Coming to story, he awakes in the hospital with a head wound after few days of his injury. He remembers that he was in Harvard campus, at last after some time he realized that he was in Florence. From here this story was begun and continued by thrilling and mystery form.
Characters That Play Key Role In The Story
Robert Langdon
Bertrand Zobrist
Sienna Brooks
Elizabeth Sinskey
The Provost
Vayentha
Cristoph Brüder
Marta Alvarez
Ignazio Busoni/il Duomino
Jonathan Ferris
Ettore Vio
Mirsat
The New York Times brought the book as being "Jampacked with tricks" and also say's the Langdon is one of the characters in which Brown creates so energetically. INFERNO initially sold 3,69,000 copies at outlets.
If you have full edition about INFERNO by Dan Brown Book buy it on online @ Flipkart, Snapdeal, Amazon, etc. Select from the best online store with quickest shipping facility