ABOUT THE BOOK: Misery Book is written by Stephen king (Stephen Edwin King) is the bestselling author of more than fifty books. His writing is very popular and his books are in high demand around the world.
The Misery Book was published on 8th June 1987 by Viking in English. This MISERY book won the award "World Fantasy Award for the best Novel" in 1988.
The book was initially released under the fictitious name Richard Bachman and other pen names used by the author was John Swithen. It is a psychological horror novel.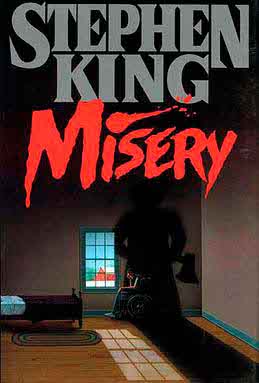 Misery Book by Stephen king Details
Name of the Book: Misery Book
Publish Date: 8th June 1987
Author: Stephen king
Publisher: Viking
Price:  371.00
ABOUT THE AUTHOR STEPHEN KING
Stephen king was born on 21st September 1947 (age 68) at Portland, Maine, United States. He completed his school in Durham Elementary school and graduated from "Lisbon Falls" high school in Lisbon falls, Maine. He started writing stories from school age for fun. His father named Donald Edwin King who was born around 1913 in Peru, Indiana.
He was a merchant seaman in Indiana. Nellie Ruth mother of the author born on 3rd February 1913 in Scarborough, Maine, and Died on 28th December 1973. King was married to Tabitha king in 1971 and having the children named: Naomi, Joe, Owen.
He was a novelist, Short story writer, screenwriter, columnist, actor, television producer, singer, and musician. Stephen king got the Medal for Distinguished contribution to American letters, and even more, awards like Hugo award, Bram stroke award, World Fantasy award, National medal of arts.
Even though authors are limited to a single book publish for a year, more than one publication of the book was unacceptable by people. So, in order to increase the number of books for publish King write under another name. Now he published 25th book "MISERY BY STEPHEN KING", 22nd Novel, the 17th book under his name.
MISERY BOOK SUMMERY / CONTENTS
The book contains 320 pages of ISBN 978-0-670-81364-3. Basically, this book was divided into four parts. Paul and Annie play a key role in the story. Paul Sheldon was the best author in the series of romantic novels surrounding the character Misery Chastain.
At the time completed the manuscript of his new crime novel 'Fast cars' when he was staying at the hotel Boulderado.
While he is getting back to his home New York City in the meanwhile he caught accident by a snowstorm at the mountain.
The car crashed down into the snow beside the road, Paul was rescued from the wreck of the car.
He was injured and fall down; there he was founded by a lady name 'Annie Wilkes' a former nurse. She took him to her own home to give treatment by painkillers. She was the number one fan of him for his novels.
she found the latest novel written by him and took a read of it. And a lot of situations are happening there between them, the story leads to the physiological horror.
Important Characters in Misery Book
The two main characters in the story are
Paul Sheldon and
Annie Wilkes.
If you have full edition about Misery Book by Stephen king buy it on online @ Flipkart, Snapdeal, Amazon, etc. Select from the best online store with quickest shipping facility. Please stay connects with us for fresh updates regarding books & its price.