Everybody have confusion and appear many questions before them in the matter of their higher studies after completing their bachelor's degree. You don't have any clarity about which course is better either MBA or MS, to clear your questions and doubts, this article will help you. Here we providing you some important things about MBA vs MS and which one is best for you.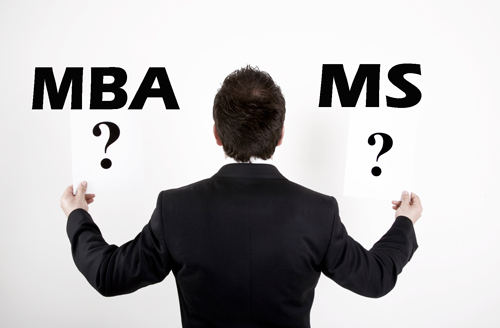 About MBA:
MBA stands for Master of Business Administrator. This MBA program covers the various topics of business such accounting, marketing, finance, human resources, business administration and their operations. It is a globally recognized and famous course of business and management. MBA program is designed for the candidates those who want to develop their skills required for the careers in business. Many candidates choose this master program to establish a well and good career in business management field.
Advantages of MBA:
The MBA course is always demanded course of business field. So the advantages are also more. Let's view some important advantages of MBA.
The first and main important advantage of this course is after completing bachelor degree is you can still in the study mode.
It is useful to a strong theoretical foundation in business management and its related concepts.
The students can learn a wide range of soft skills like communication, motivation etc.
Provides the students practical opportunities through internships, individual projects.
Number of job opportunities always available globally and career growth is increased very quickly.
Disadvantages of MBA:
Apart from advantages, disadvantages are exist in every course. We mention some of the disadvantages below.
The candidates who are related to various field like engineering students, philosophy graduates and accountants and any one can pursue this course.
Many business management concepts are mostly in the form of theory up to the final year. So there is no scope for professional experience
Lack of professional experience of the candidate may influence the internship and placement chances of that candidate.
You can gain only the theory knowledge and there is no scope for to learn any working experience.
About MS:
MS stands for Master of Science. Master of Science includes many areas such as the Information technology, telecom engineering, applied mathematics, software engineering, computer science, statistics and information technology etc. It is a research based and work oriented course which requires that the students write a thesis result on the research. It is related to only one specialization area. The specializations mainly deals with the science stream areas. MS can improve career opportunities in this well-developed corporate world.
Advantages of MS:
Some of the advantages of MS course are as follows:
The students can choose one particular specialization area where they want to prove themselves.
Most of the educational institutions require the MS candidates for the different positions like counselor position, school administrative positions and non-teaching positions etc.
The MS candidates can get the practical work experience through the research processes and internships.
More knowledge can get the MS students and the opportunities of that students is vast across the world.
Disadvantages of MS:
Let's view some disadvantages of MS course:
The payment for the MS courses is high for the students because the expenses for various researches and materials is also include in the payment of the course.
The students have to spend much more time to pursue this course depending upon specialization the student choose.
The opportunities for the MS candidates are related to only some types of fields and their related industries.
MBA vs MS:
The skills and content of MBA course is always good in the large corporate areas. Anyone who want to improve their skills and develop themselves as talented professionals in the field of business, MBA is the best career choice for them.
MS is helps the students to improve their professional skills and research analytical skills through the practical experience and internships mainly in the field of medicine, education and technology. A person who want to become a functional expert and develop technical skills MS course will suitable for that person.
So both MBA and MS courses are good courses when we look these two courses individually. View some more difference between these courses in detail.
Differences between MBA and MS:
| | |
| --- | --- |
| MBA | MS |
| MBA is a general management post graduate program. | MS is a post graduate science stream course. |
| It includes only few specializations of business functions like human resource, finance and marketing. | It includes many specializations like applied math, statistics, computer science and software engineering etc. |
| The students of any stream both arts and science stream can pursue this course after completion of their bachelor's degree. | The candidates who have completed their bachelor's degree with science stream can pursue this course. |
| It is a two years academic course. | The duration is of this program is one to two years depending upon the institution and specialization area that candidate should choose. |
| It is very useful degree program to the candidates who want to become talented professionals and reach the managerial position of the business. | The MS programs are useful to the candidates those who want to become established working professionals and to develop new areas. |
Career after MBA:
Every MBA candidate can get a good job and huge range of salary. After completing MBA, you can work in many places like banking sector, private consultancies and in many more business organizations and MNC companies and government sector also. Some areas which provide employment opportunities to the MBA students are given below.
Banking and Finance:
These jobs includes the security management and investment analysis. Many banks, insurance companies, security firms and various financial organizations need professionals to take right decisions about the investments.
Management Consulting:
A candidate who have problem solving skills are suitable for the jobs of management consulting. These problem solving persons are known as management consultants. The management consultants the organizational related issues.
Entrepreneurship:
A MBA program increases a person's ability to become a successful entrepreneur. To become a good working professional choosing MBA is an excellent career option.
Career after MS:
MS is a research based course and suitable who are looking for the technical career opportunities. There are various specializations available for us in MS program. For every specialization area, number of opportunities are available in many fields such as medical, chemical, IT, petroleum and polymer industries etc. Some employment areas of MS program are given below.
Research Centers
Educational Institutions
Hospitals & Laboratories
Government Sector
Private Sector
Railways
Banks
This is all about MBA vs MS. if you want any more details please do comment. We will try to answer yourqueriess.