This article will be helpful to students who want to Join Indian Army after 12th class. Here we are providing details like about Indian army, entrance exams details, notifications, age limit, training period, eligibility criteria and educational requirements etc details.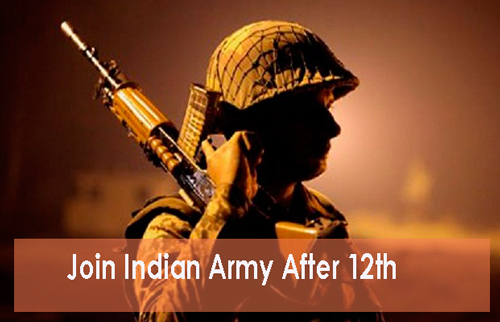 Introduction about Indian Army:
The Indian Army is the largest component of Indian Armed Forces. Indian Army is the second largest standing army in India. The President of India serves as the Supreme Commander of the Indian Army. The Army is commanded by the Chief of Army Staff, Who is a four star General. The Indian Army originated by East India Company ruled by British Indian Army. After getting Independence to our country it became as Indian Army.
How to Join Indian Army after 12th
Usually, some important entry courses and their examinations are conducted by Indian Army commissions for the people who want to Join Indian Army after 12th. Let check out the details about those type of Examinations.
| | | | | | |
| --- | --- | --- | --- | --- | --- |
| S.No | Entry Course | Eligibility | Age limit | Notification Time | SSB Interview Dates |
| 1. | NDA ( National Defense Academy) | 12th class with any Stream subjects | 16 ½ years to 19 years |   March to October |  September to October |
| 2. | IMA ( Indian Military Academy) |  Any graduation course from reorganised college or university | 19-24 Years | March/ April to  September/ October | August- October and February to April |
| 3. | NCC ( National Cadet Crops) SPL for Men And SPL for Women |  Any Graduation and minimum  2Years  service NCC certificate course with 'B' grade | 19-25 Years |  As Notified | January and August For women and November to January foe Men |
| 4. | JAG ( Judge Advocate General's)  For Men | Graduate with LLB registered with Bar council of India | 21-27 years | May | January and August |
| 5. | SSC ( Short Service Commission) For Men and Women | Degree in Engineering as notified discipline | 20-27 Years | April and July for men, January and July for women | December- January for Men, May to July foe Women |
Time Period:
 Generally, the training period of course like NDA, IMA, JAG and SSC is minimum 1 year.
Selection Process:
The first stage of the selection is written exam and the candidates who have qualified in written exams are eligible for interviews conducted by Services Selection Board (SSB).
Tips to face SSB Interviews:
Each year lakhs of people attend for written Army exams like NDA, SSC etc. Thousands make it through and manage to win themselves to win a seat for the SSB interviews. The SBB interview separates the best candidates. They will get good jobs. The candidates who get recommended are assessed from various views and rated by senior army officers, psychologists etc.
You can be selected ones for making it happens we suggested you some tips.
The interview is not a one day process. Many people don't know about SSB procedures they may be failed in the interview. So try to learn about SSB interview procedures.
There will be a series of tests conducted for 5-6 days. Those who can manage for screen test are going to the next level
After the screen test group, the discussion will be conducted by selection broad.
There will be a number of tests and interviews conducted by broad. A personal interview is an important phase.
Some of the tests like WAT (Word Association test), Group task, command task, physical task and conference round.
The board will announce the interviews and tests timings so do homework to prepare for those tests.
It is the best way to go to the coaching classes and follow the study materials.
Good practice is important element for the preparation
But it is difficult for the group task. One person must have clear thinking, analytical skills, decision-making skills and good communication skills so develop those type of skills is necessary.
Collect the information about current affairs. The information is very useful to you in the interview process.
Sometimes you should have knowledge about India, Indian affairs, History of India, Indian Armed force etc.
Improve your technical and Academic knowledge.
Practice the time management process.
Be Simple and honest and just like be yourself.
Maintain good physical fitness.
Job Recruitment:
The job recruitment of the candidates depends on person's presentation of the SBB interviews. There will be number of vacancies are available for the candidates who have a passion about Indian army. Here we show some of the job vacancies for the candidates both after their 10th and 12th.
Jobs after 10th:
| | | |
| --- | --- | --- |
| Job Type | Tradesman Mate |          Fireman |
| Educational Qualification | 10th | 10th |
| Approximate salary | 18,000-56,000 | 19,000-56,000 |
Jobs after 12th:
| | | |
| --- | --- | --- |
| Job Type | LDC Jobs | Pharmacist |
| Educational Qualification | 12th | 12th |
| Approximate salary | 6,000-20,000 | 5,200-29,200 |
Jobs after Graduation:
| | | |
| --- | --- | --- |
| Job Type | Material Assistance jobs | Technical Operator |
| Educational Qualification | Graduation | Graduation |
| Approximate salary | 5,000-25,000 | 6,500- 29,500 |
Apart from above jobs, there are a number of posts like Army officer, Tele operators, Tailors, MTS, Dhobi, General officers etc people are engaged in Indian Army.