ABOUT THE BOOK: Harry Potter and the Cursed Child – Parts I & II (Special Rehearsal Edition) published by J. K. Rowling, Jack Thorne, and John Tiffany. This book was officially published on 31st July 2016.
It is a rehearsal script but not a novel. The book was published by Little Brown and Company in the United Kingdom and Scholastic Company in the United States.
It is the 8th one in the harry potter series, and it was most popular in United Kingdom, United States, India, and many countries. This book has two parts with an exciting new story that is entirely different.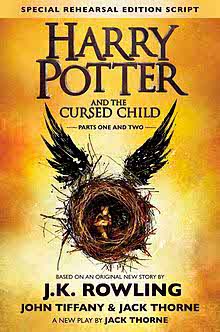 Harry Potter and the Cursed Child Book Details:
Name of the Book: Harry Potter and the Cursed Child – Parts I & II (Special Rehearsal Edition)
Publish Date: 31 July 2016
Author: J. K. Rowling, Jack Thorne, and John Tiffany
Publisher: Little Brown
Price: 449.00
About The Author J. K. ROWLING
J.K. Rowling is the main writer of the story and her real name is Joanne Kathleen Rowling. She was born on 31st July 1965 (age 50) in Yate, Gloucestershire, England. She attends her primary school at St Michael's and secondary School at Wyedean School and college, where her mother works in the science department.
Joanne Kathleen Rowling was graduated as Bachelor of Arts in French and Classics at the University of Exeter in 1986. She received honorary degrees from St Andrews University, The University of Edinburgh, The University of Exeter, The University of Aberdeen, and Harvard University.
Peter James Rowling and Anne Rowling are the parents of J.K. Rowling. Hence they both are Engineer and Science Technician respectively and also she have a sister named Dianne. Her spouses are Jorge Arantes (m. 1992 – 1995) and Neil Murry (m. 2001). She won Nestle Smarties Book Prize in 1997, British Academy Film Awards in 2011, and much more. All other seven series of harry potter was written by Rowling.
Jack Thorne was another sole author of the book and he was born on 6th December 1978. He was a playwriter and screenwriter.
John Tiffany was an English theater director and he was born around 1971 brought up near Huddersfield, England.
Harry Potter and The Cursed Child Book Summery / Contents
Harry Potter and The Cursed Child by J. K. Rowling was a 320 pages book with ISBN 978-1338099133. It was the eighth latest one in the harry potter series.
The first premier of the play will be released in London's West end on 30th July 2016. In this story harry looks like a new overworked employee of the Ministry of Magic.
He was a husband and father of three school-age children. In this, he fights with his past and refuses to stay where it belongs to and his youngest son Albus must struggle with him and learn the truth: Sometimes, Darkness comes from unexpected places.
Important Characters in the story
Albus Potter.
Scorpius Malfoy.
Delphie Diggory.
Harry Potter.
Draco Malfoy.
Ron Weasley.
Hermione Weasley.
Rose Weasley.
Ginny Potter.
Severus Snape.
If you have full edition about Carrie by Stephen king Book buy it on online @ Flipkart, Snapdeal, Amazon, etc. Select from the best online store with quickest shipping facility. Book mark our site for fresh updates.