ABOUT THE BOOK: Fahrenheit 451 is a book by Ray Bradbury and it was illustrated by Joseph Mugnaini. It was published in 1953 by Simon and Schuster.
Fahrenheit 451 won the American Academy of arts and letters Awards in literature in 1954, the commonwealth club of California Gold Medal, Prometheus "Hall of Fame" award in 1984 and "Retro" Hugo award in 1954 (only one of the four best novel retro Hugo's ever given).
It is a dystopian Novel, an imagined state in which everything is in the negative shade or bad. Read Fahrenheit 451 book reviews & author details and more info from here.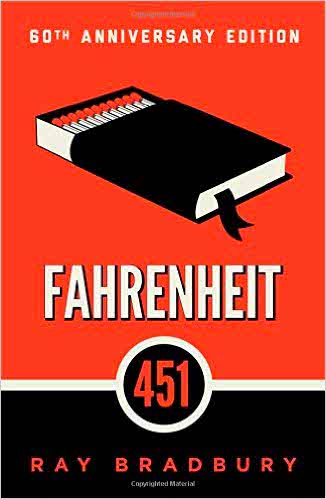 Fahrenheit 451 by Ray Bradbury Book Details:
Book Name: Fahrenheit 451
Publish Date: 1953
Author: Ray Bradbury
Published by: Simon and Schuster
Price: 263
About The Author Ray Bradbury
Ray Douglas Bradbury was born on 22nd August 1920, Waukegan, Illinois, United States. He was died on 5th June 2012 (aged 91) Los Angeles, California, U.S. Ray Bradbury attended Los Angeles High School, and began writing his own stories at the age if eleven in 1931. In 1947 he got married to Marguerite McClure and now she was not alive. He had 4 daughters named Susan, Ramona, Bettina and Alexandra.
The Bradbury family lived in Tucson, Arizona in between the year 1926-1927 and in 1932-33 they come back to the Waukegan and eventually settled in Los Angeles in 1934.
He won many Prizes to his novels some of them are-American Academy of arts and letters (1954), Daytime Emmy award (1994), national medal of arts (2004), Pulitzer Prize (2007). He was a good reader and an American writer, and he began writing a horror story at the age of 12.
There are some other notable books from Bradbury are "The Martian Chronicles", "Something Wicked This way comes". He wrote 27 novels and more than 600 short stories, in which 80 million copies are sold out in 36 languages.
He received many Notable awards some of them are:
American Academy of Arts and Letters (1954)
Daytime Emmy Award (1994)
National Medal of Arts (2004)
Pulitzer Prize (2007)
FAHRENHEIT 451 Book Summery / Contents
The book of FAHRENHEIT 451 contains 159 pages with ISBN 978-0-7432-4722-1. The book is mainly divided into three parts they are "The Hearth and the Salamander", "The Sieve and the Sand", "Burning Bright".
The story begins with a fireman named Montag who was used to burn the books, and they use mechanical hound for tracing the people by their biochemistry. There was mistrial incidents happen there in his house. In this book, the narrator wants to tell the importance of the book that holds greatness of the country, in which the American people was burning them. The title refers to the temperature in which the paper is made and the main concept of the story is to save the books rather than burning them.
There are some important characters in the story they are:
Guy Montag.
Mildred Montag.
Captain Beatty.
Professor Faber.
Clarisse McClellan.
Phelps.
Bowles and Stoneman and Black.
If you have full edition about Fahrenheit 451 by Ray Bradbury Book buy it on online @ Flipkart, Snapdeal, Amazon, etc. Select from the best online store with quickest shipping facility.