ERP Software: ERP stands for Enterprise Resource Planning and is referred to systems and software packages that are used by organizations to manage their day-to-day business transactions or activities like accounting, project management, collection of records and manufacturing etc. These systems are designed with a defined data structure that usually have a common database. ERP software, at its basic level integrates various functions like inventory management, accounting, human resources, customer relationship management and beyond into one complete system to a streamline processes and information across the business organizations.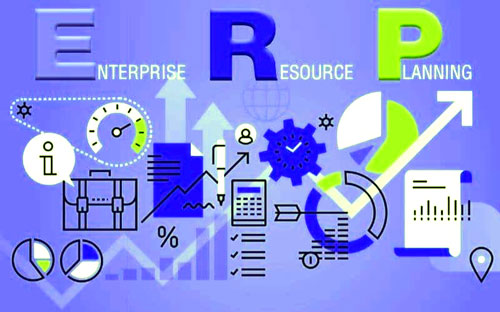 About ERP Software
The term "ERP" was rooted in 1960s and came into existence in 1990 by Gartner. The concept was first applied to inventory management and control in manufacturing sector. Software engineers created programs to monitor inventory, reconcile balances and reports.  In 1970s, this has been evolved into Material Requirements Planning (MRP) and later grew to encompass more manufacturing processes and has been called as Manufacturing Resource Planning in 1980s. And finally by 1990, these systems have expanded beyond inventory control and other operational processes to back-office functions like accounting and human resources for setting a stage for Enterprise Resource Planning (ERP).
ERP acts as a key principle for collection of data for wide distribution instead of several standalone databases with an endless inventory and disconnected spreadsheets. ERP systems bring the order to a commotion so that all the users create, store and use the same data that is derived through common processes. Data integrity is assured for every task that is performed throughout the organization from quarterly financial statement to a single outstanding receivables report without deploying problematic spreadsheets.
ERP Software Characteristics
The characteristics of ERP Software are mentioned below:
The business is changing fast due to changes taken place in laws and amendments in the society. So according to those changes, management of business process is done through the use of ERP systems. Because of being flexible, ERP systems are used by every organization and the users can change the processing system as per their requirements.
ERP systems should be used in a comprehensive way that all the functions of business should be done through these systems. ERP systems have the capacity to cover all the functions of business.
Strategic planning is the primary and important function of business. Under strategic planning, ERP integrates all the sub-part systems for making the business run into success.
The quality of ERP can be measured from its advance automatic functions. By these automatic functions, organizations saves lots of time of users and this automatic functions may be either electronic funds transfer, electronic data interchange or E-Commerce.
One of the finest characteristics of good ERP system is that it has an open architecture. It means that if there is any error occurred in any module, we can open that specific error module and correct it instead of affecting other modules. ERP has the following modules that have the availability to open the modules separately which include Warehouse Management, Customer Relationship Management, Accounting & Finance, Purchase & Sales Management, E-Commerce, Point of Sales, Knowledge of Document Management, Employee Directory and Asset Management etc.
ERP Courses
Some of the software application courses that covers under Enterprise Resource Planning (ERP) are as follows:
| | |
| --- | --- |
| Microsoft Dynamics 365 Operations Financial Reporting, Trade & Logistics | Microsoft Dynamics 365 Operations Retail Applications & Project Management Accounting |
| Development Environment Introduction in Microsoft Dynamics NAV 2016 | Microsoft Dynamics NAV 2015 Core Setup and Finance |
| Oracle E-Business Suite R12 Financial Management Certified Implementation Specialist – Oracle General Ledger | R12* Cash Management Training Course, R12* Oracle EBS Procure to Pay Process Training Course |
| SAP Certified Application Associate -Management Accounting with SAP ERP 6.0 | SAP Certified Development Associate – ABAP with SAP Net Weaver 7.31 |
| R12* Oracle HRMS Work Structure Fundamentals Training Course | Oracle HRMS Payroll Earning & Deductions Training Course etc. |
Also See: SAP Course Details
ERP Software Companies
Companies hiring ERP Software's in India are as follows:
Enterprise Resource Planning Software Corporation, New Delhi
Sonet Microsystems School ERP, Uttar Pradesh
ERP Software Company (GST Ready), Haryana
ACGIL – ERP Software Company, Noida
Strategic ERP, Maharashtra etc.