What are Embedded Systems?– Embedded Systems are combinations of computer hardware and software programming systems which work under specific conditions.  Industrial Machines, automobiles, cameras, vending machines or toys etc. comes under Embedded Systems. The Embedding Systems do not have a user interface and can perform single tasks which include mobiles, LED's, touch-screen systems etc. For these Embedded Systems, microprocessors act as the heart of the products which require addition of other components such as memory chips, microcontrollers etc. Until now, we learnt about Embedded Systems. Now, shall we go through the Embedded Systems Course?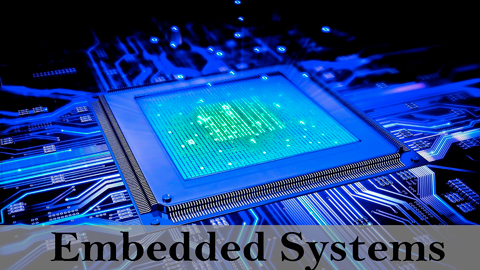 About Embedded Systems Course
The Embedded Systems Course explains the fundamental requirements of Embedded Systems. The courses explain how the interactions are done between hardware and software programming of various systems. The course discusses the hardware designing, introduces the concepts of Application Special Instruction Programmer (ASIP), Application Specified Integrated Circuit (ASIC) and Field Programmable Gate Array (FPGA) etc. Under this course, the students deal with power consumption techniques until the end of the course. Embedded Systems deal with real time operating systems and their constraints followed by various specification models and languages, mapping specification with hardware and software partitioning. At the end of the course, special design verification methods under Embedding Systems are practised. Until now we learnt about Embedded System courses. Now, let's go through the course details of Embedded System course. There are some courses for Embedding Systems in bachelor degree, post-graduation, diploma and certificate courses. Some of the courses are as follows:
B.Tech. Real Time Embedding Systems
B.Sc. Embedded Systems Engineering
M.Sc. Embedded Systems Engineering
Diploma Programs in Embedded Systems etc.
Online Courses for Embedded Systems
The Online courses for Embedded Systems are very low compared to remaining courses. These online courses are also known as 'certification courses' which will have a duration of about 4 to 6 months. The online or certification course provides an introduction to Embedded Systems including hardware and software programming principles. The syllabus for Embedded Systems of online course includes design and exploration of multi-core processors, multi-controllers, sensor architectures etc.
Embedded Systems Course Details
The Embedded Systems course details consist of eligibility, fees, institutes for the course etc. Let's take a look over the course details that are furnished below:
Duration of the Course
The duration of Embedded Systems course are given below:
For B. Tech. Embedded Systems Engineering, the duration is 4 years.
For B.Sc. Embedded Systems Engineering, it is 3 years.
For M. Sc. Embedded Systems Engineering, it is 2 years.
For Diploma Program, it is approximately 4 years.
Syllabus for Embedded Systems Course
The syllabus for Embedded Systems courses may vary according to the type of course and sometimes remains same. For example, let's view any one of the courses for getting a clear idea about the topics of Embedded Systems course.
B.Sc. Embedded Systems Engineering
The syllabus for B.Sc. Embedded Systems Engineering can be furnished as follows:
Experimental Physics, Mathematics
Computer & Electrical Engineering
Embedded Systems Engineering Project
Embedded Systems Engineering Bachelor Thesis
Algorithms & Data Structures, Differential Equations
Embedded Systems Engineering with Hardware/Software practicals etc.
Also See
Electrical and Electronic Engineering Course Details
 Eligibility
The eligibility criteria of Embedded System course can be as follows:
The basic eligibility criteria for B. Sc. & B. Tech. Embedded Systems course is 10+2.
At the same time, the eligibility criteria for diploma & certificate courses of this course is 10+2.
For Master's degree, one should attain bachelor degree under the same specialization i.e. either in B.Sc. Or B.Tech.
Fee Structure
The fee structure for this course may vary according to type of course, duration and according to organizations. Therefore, the fee structure for Embedded Systems course can be given below showing the differences in course types.
The fee for B. Tech in Embedded Systems course may be Rs.20, 000/- per semester.
The fee for B. Sc.in Embedded Systems engineering is Rs.25, 000/- per semester.
The fee for Diploma programs for Embedded Systems course might be Rs.15, 000/- per year.
The fee for Certification courses under Embedded Systems may range between Rs.5, 000 to Rs.7, 000/-
Colleges for Embedded Systems Course
There are various colleges that provide Embedded Systems courses in India and abroad. Some of the colleges that provide Embedded Systems course in India are as follows:
Vector Institute, Bengaluru:
Vector Institute is the first Embedded Systems training certified institute established in Bengaluru, India which have won many appreciations and awards for their exceptional efforts. With extensive research and comprehensive capabilities they became colonel in this field. They provide placement facilities to the candidates by placing right candidate at the right company.
Sigma Solutions, Hyderabad:
Sigma Solutions is an ISO 9001:2008 certified Embedded Systems training institutes in India. They conduct training classes in working of Embedding systems, Linux device drivers, Arm projects etc. in various places in India. Sigma Training Institutes in various places of India provide placement opportunities for their students in various companies according the skills of the candidates.
BICARD Solutions is one of the Embedded Systems training institute in Pune working with development of Embedded Systems, field training and live projects with relation to Embedded Systems with expertise over 12 years. They provide best training in advance courses of Embedding Systems by giving good practical knowledge to the students in-order to provide placement facilities in well-known companies.
Until now, we learnt about Embedded Systems courses and course details. Now, let's go through the career prospects of Embedded System course.
Career 
The career scope for Embedded Systems course is good. The one who attains Embedded Systems course can attain employment opportunities in and around India. Let's see the career scope for Embedded Systems courses.
Job Roles
The candidates who attain Embedded Systems course can avail various job roles like:
Design & Controller System Engineers
Embedded System Engineers
Electronic System Engineers
Application Support Engineers
Firmware Engineers
Lead Advisors etc.
Companies for Embedded System Courses:
There are various companies that provide employment opportunities for Embedded Systems courses. Some of them are as follows:
Metro Jobs Consultancy Pvt. Ltd., New Delhi
Mirafra Technologies, Bengaluru
Beyond Evolution Tech Solutions, Guragaon
My Research Labs, Greater Noida
Redlands Ashlyn Motors, Trichur
Samsung Electronics
Bosch Electronics etc.
Salary Packages:
The companies for Embedded System courses hire different salary packages depending on skills, qualification and experience. The minimum salary package for a fresh candidate is Rs.25, 000/- p.m.