Before going through different Electronics Course, first of all let's know "what is Electronics?" – Electronics is one of the branches of science which controls electrical energy which deals with electrical circuits involving electrical components like vacuum tubes, transistors, integrated circuits, sensors etc. Most of the electronic components use semiconductors to perform control over electrons. Thus the study of semiconductor devices and related technology is considered as a solid-state physics with the design and construction of electronic circuits which is known as Electronic Engineering.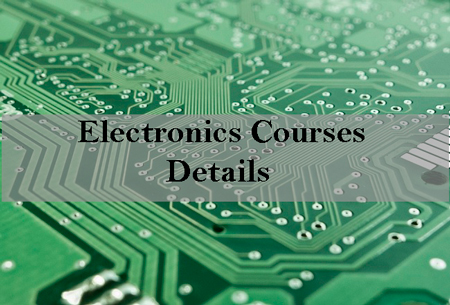 Electronic Courses in India
In the present society, use of Electronic gadgets are very high. Every person uses Electronic gadgets for various purposes. Though the uses of Electronics are very high, the students are interested and are opting the Electronic courses. So the Government introduced various Electronic courses of both online and offline with good career options. Let's see what are different courses introduced in Electronics in India.
B.Tech Electronic Engineering
B.Sc. Industrial Electronics
B.Sc. Electronics
M.Sc. Applied Electronics
M.Sc. Electronics & Telecommunications
Diploma in Electronic Engineering
Diploma in Digital Electronics
Certification courses of Electronics etc.
Let's view some of the Electronic courses with their details.
B.Sc. Electronics is a bachelor degree course in Electronics dealing with the study of Electronics & Electrical appliances like vacuum tubes, transistors, diodes etc. The duration of any bachelor courses of Electronics is obviously 3 years. The eligibility for bachelor degree course of Electronics is 10 + 2 with basic stream of Physics, Chemistry and Biology and aggregate of 60%. The fee may be Rs.30, 000/- per semester.
M.Sc. Applied Electronics:
M.Sc. Applied Electronics is one of the post-graduate courses of Electronics which includes knowledge in depth of principles, applications and instrumentation techniques of Electronics for solving the problems in industries. The duration for master courses in Electronics is two years and the eligibility for the course the bachelor degree under Electronics branch with an aggregate of 65%. The fee for master courses may be Rs.80, 000/- per semester.
Diploma in Digital Electronics:
Diploma in Digital Electronics is one of the programs in a branch of Electronics which deal with digital electronic systems, design and applications etc. The eligibility for diploma courses is 3 years i.e. 6 semesters and the basic eligibility is 10 + 2 under a recognized board of education with an aggregate of 60%. The fee for diploma courses may be Rs.40, 000/- per each semester.
Certification courses of Electronics:
The Electronics Certification courses run on online basis and deals with study of fundamental of Electronics, explains design, manufacturing and applications of Electronic gadgets etc. with practical study. In addition students need to refer another books to attain more knowledge in the course. The duration of the course may be 1year with fee Rs.20, 000/-.
Until now, we have seen various Electronic courses with their details. Now, let's go through various colleges hiring colleges for Electronics Courses in India.
Colleges for Electronics Course:
Though Electronics is a demanding course, there are various colleges hiring Electronics courses in India and abroad. Let's make a look over for those colleges for Electronics courses in India.
Delhi Technological University, New Delhi
Andhra University, Andhra Pradesh
Veermata Jijabai Technological Institute, Maharashtra
Indian Institute of Information Technology, Uttar Pradesh
Maulana Azad National Institute of Technology, Bhopal
Indian Institute of Technology, Uttarakhand
MVJ College of Engineering, Karnataka etc.
Now, let's get through the career prospects of Electronics courses.
Career Prospects
The career with Electronic field is so good as compared to other categories. Electronic Media students can avail several job opportunities as it is a great demanding course. They can avail job opportunities in various sectors with respect to Electronics course. Let's look at the career prospects of Electronic courses.
Also See: 
Electrical and Electronics Engineering Course Details
Employment Areas
Electronic course students can avail job opportunities in various business fields and organizations. Some of the employment areas for Electronics Course are as follows:
Bharat Heavy Electricals Limited (BHEL)
Lockheed Martin Corporation
ISPN Consultancies Pvt. Ltd.
Samsung Electronics Pvt. Ltd.
Jai Bharath Maruthi Ltd.
HNL Systems Pvt. Ltd.
LG Electronics etc.
Job Roles
The persons who are qualified in Electronics Course are called as Electronic engineers. The relevant job roles for Electronic engineers are as follows:
Signal & Telecom Professionals
Physical Design Engineer
Applications Developer
Technical Engineer
Sales Executives
R & D Engineer
Professors Etc.
Salary Packages
The salary packages for Electronic engineers may vary according to qualification, experience, skills and nature of the company or organization. The salary allotted for a fresh candidate may be Rs.30, 000/- per month whereas for an experienced, it is Rs.50, 000/- per month.