Students who are interested to be in a medical field other than doctor profession here is suitable for you. Here is a detailed description of the DMLT course and its duration, eligibility etc., let's get the info.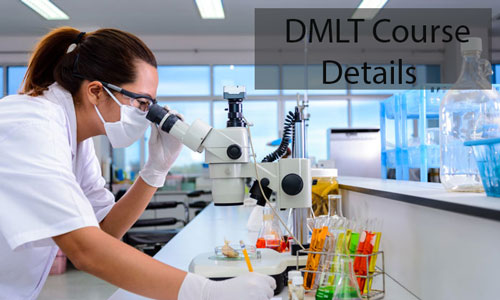 DMLT is nothing but Diploma in Medical Laboratory Technology. Across the globe in health care area, this course is one of the fast-growing fields. This is 2-year diploma course.
The people who are doing this course have to analyze body fluids like blood, urine, sputum, drug level testing, etc. And these people also assist doctors in the treatment of diseases and plays an important role in the prevention of diseases.
The trained technologist has to handle complex electronic equipment like computer, different types of microscopes for the documentation of the reports.
The students would be trained laboratory management, practical and internal assessment and vice-versa. The technologist also carries out complex tests for deadly diseases like diabetics, cancer etc.
DMLT full form is Diploma in Medical Laboratory
Major Highlights of DMLT course
| | |
| --- | --- |
| Course Level | Diploma |
| Duration | 2 years |
| Eligibility | 10+2 with minimum 50% marks in aggregate with Science subjects |
| Admission Process | Direct admission |
| Course Fee | 5,000/-  to 1 lakh |
| Average Starting Salary | 2,00,000 – 5,00,000 rupees |
| Top Recruiting Organizations' | Ranbaxy, Amway, Sun Pharm, etc. |
| Top Recruiting Areas' | Clinical laboratories, biotechnology labs, hospitals, clinics, healthcare, research center, organ banks, medical equipment Companies, such. |
ELIGIBILITY
Intermediate with a minimum of 45%.
Intermediate with Medical Laboratory Technology (vocational background) with a minimum of 45%.
This medical course involves advanced professional learning in
Prevention
Diagnosis
Treatment of diseases in patients through clinical laboratory tests.
Course Duration
DMLT is a 2-year course and below stated list examples some of the Basic core structure approved by various colleges/universities.
DMLT Course Fee Structure
According to different colleges and universities fee may vary. People who want join this course once review about particular college and university fee structure.
List of some colleges providing DMLT Course
Delhi Institute of Technology & Paramedical Sciences, New Delhi
Saifia Hamidia Unani Medical College, Berhampur
NRI Academy of Sciences/NRI medical college,
Guntur Yashvir Memorial Technical Institute,
Jind Manvar Bharathi University,
Solan National Institute of Medical and Management Studies, Bhubaneswar
DMLT Course Suitability
Love to Science
Good communication skills
Ability to work under pressure
Maintain good relationship with others.
Ability to be a team player
Multi-tasking
Have an eye for detail
Curiosity
Willingness to learn
Understanding chemical compositions and interactions
Capability to solve problems.
Prefer work behind the scene.
Course Syllabus
YEAR-1
1 Basics in laboratory equipment and chemistry
2 Basic Haematology
3 Blood banking & Immune Haematology
4 Clinical Pathology (body fluids) and Parasitological
YEAR-2
1 Clinical Biochemistry
2 Microbiology
3 Immunology
4 Histopathology and cytology