DCA Course Details: DCA which means Diploma in Computer Applications. The students who are good at maths and interested in computer technology can do this course named Diploma in Computer Application (DCA).
Demand is always there for a skilled person for handling Computer Applications. It studies various computer applications like MS Office, Internet applications, Operating System, Database Management System, HTML among other subjects.
In this article, you will completely know about DCA Course Details like DCA full form, Eligibility, Duration, Study, Subjects, career Prospects, Salary etc.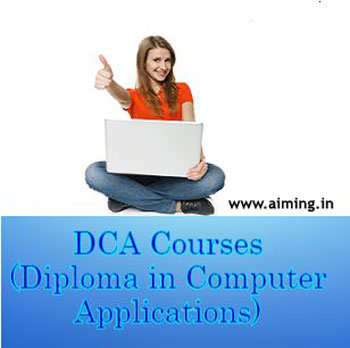 DCA Full Form is Diploma in Computer Applications
Quick Review of DCA Course
Course Level
Graduate
Duration
6-12 months
Type of Examination
Yearly System
Eligibility
10+2 from a recognized University
Admission Process
Direct admission
Course Fee
INR 5,000 – 20,000
Average Starting Salary
INR 2-5 Lacs



Top Recruiting Organizations
Benefactor HR Solutions Pvt Ltd, Fortune hub, Benefactor HR Solutions Pvt Ltd, Shining Star, Blossoms InfoTech, Techno System Pvt Ltd, Zenith IT Solutions Pvt Ltd, Merit Power Consultants, AARDEE Solutions etc.
Top Recruiting Areas
Database Handling,

Accounting, Basic Computer Applications, and etc computer works.

Top Job Profiles
Web Designer, Software Developer, Accountant, Computer Operator, C++ Developer, etc.
Diploma in Computer Application Eligibility
The eligibility for the diploma in computer application course is 10+2.
It is the diploma course which can be done after completing the intermediate.
6 months to one year is the course duration depends on student's interest.
There is no minimum limit of percentage in 10+2 for pursuing DCA Course.
DCA Course Details from IGNOU
There are many institutions which are offering this course with IGNOU certification for DCA Course Details.
One can find the IGNOU certified institutes on the official website.
Eligibility
To apply for this program, you should have cleared 10+2
DCA Course Fee
The fee structure varies with colleges and universities, so you can know the fee structure from the institutional official website. There you can find contact details and all.
Popular Top Colleges Offering this course
University of Mumbai, Mumbai
 Madras University, Chennai
 Allahabad University, Allahabad
Lovely Professional University, Jalandhar
Chhatrapati Shahuji Maharaj University, Kanpur
Maharshi Dayanand University, Rohtak
Career prospects
The below fields are some areas that interested students can learn after the completion of DCA Course.
Database Development & Administration
Programming – Development tools, languages
Technical writing
Software design & engineering
Graphic design and animation
Web/ e-commerce development
Networking & Internetworking.
Salary Offered
A fresher can earn from Rs 8000 to Rs 25000 per monthly basis the job profile and work experience you possess.
| | |
| --- | --- |
| Job | Salary Offered |
| Software Developer | 3-5 lakhs |
| Web Designer | 4-5 lakhs |
| Computer Operator | 2-3 Lakhs |
| C++ Developer | 4-6 Lakhs |
| Accountant | 1-2 lakhs |
Diploma in Computer Application (DCA) Syllabus
DCA Course Syllabus for 1 year varies from college to college.
But now we are displaying the commonly followed specializations
 Internet Basics
 Computer Skills
 PC Troubleshooting
 Software Engineering
 PC Assembly
 MS Office Applications
 E-Business
 ERP Basics
 Software Hacking and IT security
Diploma in Computer Application Course Material
DCA course material varies with an institution.
We cannot display the course material for all the institutions all over India.
The materials can be downloaded from the respective institution's official websites.