Digital marketing is now the top most courses attracting the youth who completed their graduation courses. Now a days Digital marketing courses are being educated in colleges at the stage of post-graduation i.e. MBA. The career after digital marketing course is very great and gives blossoms. A man can work hard and settle in 3 to 5 years via Digital marketing courses. Hard work and commitment gives challenges for the people who are worrying about their future. Many of the digital marketing companies are hiring the graduated students as their employees. Basically there is huge competition in this field as the money earning techniques are being revealed and helping them to lead a peaceful life.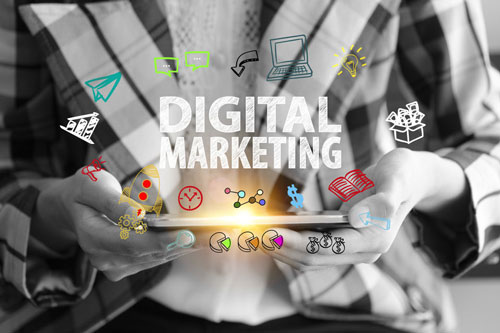 Courses In Digital Marketing
Every topic has its own preferences. Candidates who want to know more information regarding the courses can have a peak look over the topics so far covered in it. Here we are enclosing each and every detail regarding the topics in each module. There are 3 main key topics to be covered compulsorily in Digital marketing courses are
Core modules
Specialisation modules
Expert's plugin
Fees and Certifications
So many of the institutions are providing the Digital marketing courses collect a fess of 30 to 50 thousand rupees. It is highly cost and there will be other certification courses like Google Adsence certification etc.
Experts plugged
It takes years of mastery in digital marketing as it is vast. There are 100 of business channels. Each year Google changes its ad sense accounts options years twice. So it is essential to have a quick view in experts plugged and exchange their views over it.
Core modules
Email marketing.
Search engine optimisation.
Social media marketing.
Inbound marketing.
Search engine marketing.
Web analytics.
Also see: Graphic Designing Course, Web Designing Courses.
Specialisation modules
Entrepreneurs and free lancers
How to Create Unfair Advantage and Exponentially Grow Online Business?
How to Sell Digital Marketing Services?
E-tail (Online Listing) /Website V/s Market Place
Senior Marketing Professionals
Integrated Digital Marketing Strategy
Advanced Topics for Advanced Users
Super Blogging
Display Advertisement
Advanced Google Analytics
Shopping Advertising
Video Advertising
Extra Topics for everyone
Affiliate Marketing
Mobile App Marketing 101
Blogging for Beginners
Website Development using Word Press
Prepare Yourself for Career Opportunities in Digital Marketing