CS Intermediate course is ten months duration course which is the second stage course after clearing the foundation course on the path of becoming a Company Secretary.
The Institute of Company Secretaries of India has released new syllabus for the Company Secretary (CS) Inter-Program. CS Inter Study Materials have been incorporated with all recent amendments, circulars, and notifications.
Below, we are providing the Study Material of CS Intermediate latest editions applicable for exams. Interested students, please download the CS Intermediate Syllabus Pdf from the below-stated links.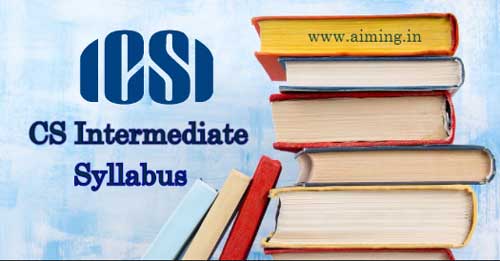 CS Intermediate Syllabus Brief Details

| | |
| --- | --- |
| Organization Name | Institute of Company Secretaries of India (I.C.S.I) |
| Programme Name | CS Intermediate |
| Category | New Exam Pattern and Syllabus |
| Official Site | www.icsi.edu |
Company Secretary Intermediate Course Syllabus
The CS Intermediate syllabus consists of theoretical examinations only. And there are eight papers in the syllabus of CS intermediate course.
The CS inter course syllabus is given below for your ease.
Paper 1: General and Commercial Laws
Paper 2: Company Accounts and Cost and Management Accounting
Paper 3: Tax Laws
Paper 4: Management Information Systems and Corporate Communication
Paper 5: Company law
Paper 6: Company Secretarial Practice
Paper 7: Economic Labour and Industrial Laws
Paper 8: Securities Laws and Regulation of Financial Markets
Syllabus for CS Intermediate Examination
Group I
Paper 1: General and Commercial Laws
Constitution of India
Interpretation of Statutes
Law relating to Specific Relief
Law relating to Arbitration and Conciliation
Law relating to Limitation
Law relating to Transfer of Property
Law relating to Stamps
Law relating to Registration of Documents
Information Technology Law – An Overview
Code of Civil Procedure
Criminal Procedure Code
Law of Evidence
Law relating to Trusts
Law relating to Societies Registration
Paper 2: Company Accounts and Cost and Management Accounting
Part A: Company Accounts
Statutory records to be maintained by a company.
Accounting standards
Accounting for share capital transactions
Issue of debentures
Part B: Cost and Management Accounting
Introduction
Elements of cost
Reconciliation of cost and financial accounts
Methods of costing
Budgetary control
Standard costing and variance analysis
Marginal costing and break-even analysis
Analysis and interpretation of financial statements
Cash flow statements
Accounting for price level changes
Responsibility accounting
Paper 3: Tax Laws
Part A: Direct Tax Laws
The Income-Tax Act.
Wealth-tax Act
Part B: Indirect Tax Laws 
Central Excise Laws
Customs Laws
Central Sales Tax Laws
Paper 4: Management Information Systems and Corporate Communication
Part A: Management Information Systems
System Analysis and Design
Management Information Systems
Computers and Communication
Client/Server Computing
Electronic Commerce and Internet
Contemporary Issues and Developments
Part B: Corporate Communication
Process of communication, barriers and gateways in communication
Effective speaking
Representation and inter-personal skills
Group II
Paper 5: Company law
Introductory
Incorporation and its Consequences
Financial Structure and Membership
Management and Control of Companies
Deposits
Investments and Loans
Corporate Accountability
Sole Selling and Buying Agents
Majority Powers and Minority Rights
Law relating to Co-operatives, Societies and Trusts
Emerging Issues and Concepts in Company Law
Paper 6: Company Secretarial Practice
Incorporations and Conversions of Companies
Alterations, Changes and Modifications
Allotment/Change in Share Capital and Transfer and Transmission
Appointments, Removal and Other Changes
Membership in a Company
Meetings
Preparation of Annual Reports
Creation/Modification/Satisfaction of Charges and Registration thereof
Public Deposits
Inter-corporate Loans, Investments, Guarantee and Security
Declaration and Payment of Dividend
Maintenance of Statutory Books/Registers and Filing of Returns
Drafting of Company Documents
Working and Administration of Company Law
Procedural Requirements
Paper 7: Economic Labour and Industrial Laws
Part A: Economic Laws 
Industries Development and Regulation
Restrictive and Anti-competitive Practices and Procedures
Regulation and Management of Foreign Exchange
Management and Regulation of Foreign Contributions and Hospitality
Money Laundering
Consumer Protection and Corporate Responsibility
Pollution Control and Environmental Protection
Intellectual Property Laws
Part B: Labour and Industrial Laws 
An Overview of Law
Paper 8: Securities Laws and Regulation of Financial Markets
An Overview of Financial System
Capital Market
Securities and Exchange Board of India (SEBI)
Financial Instruments
Primary Market
Issue of Capital
Secondary Market
Secondary Market Institutions
Credit Rating and Evaluation of Risk
Mutual Funds
Non-banking Finance Companies
Depositories
Instruments Issued outside India
Regulation of Money Market
Investor Protection
Contemporary Issues and Developments