Company Secretary or CS course is provided by the Institute of Company Secretaries of India (I.C.S.I). CS Final course is ten months duration course which is the final stage course after clearing the foundation course on the path of becoming a Company Secretary. The Institute of Company Secretaries of India has released new syllabus for the Company Secretary (CS) Final Programme. CS Final Study Materials have been incorporated with all recent amendments, circulars, and notifications. Below, we are providing the Study Material of CS Final latest editions applicable for 2017 exams. Interested students, please download the CS Final Syllabus Pdf from the below-stated links.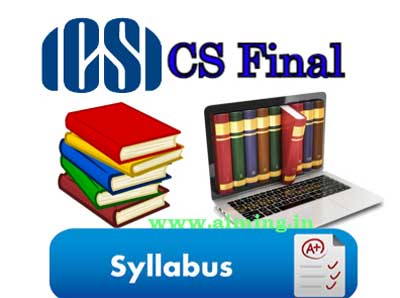 CS Final Syllabus Brief Details

| | |
| --- | --- |
| Organization Name | Institute of Company Secretaries of India (I.C.S.I) |
| Programme Name | CS Final / CS Professional |
| CS  Full Form | Company Secretary |
| Category | New Exam Pattern and Syllabus |
| Official Site | www.icsi.edu |
Company Secretary Final Course Syllabus
Every stage of course is a mixture of postal tuition and optional coaching classes. The CS final syllabus consists of theoretical examinations only, and total nine papers are there. Each paper contains 100 marks.
The syllabus of CS final course includes topics like business communication, basic economics, company law, financial accounting, management accounting, banking & insurance, general and communication law, world trade organization and international trade etc.
The subjects of the CS Final course is given below.
Paper 1: Advanced Company Law & Practice
Paper 2: Secretarial Practice Relating to Economic Laws and Drafting & Conveyancing
Paper 3: Secretarial, Management and Systems Audit
Paper 4: Financial, Treasury and Forex management
Paper 5: Corporate restructuring – Law, and Practice
Paper 6: Banking and Insurance – Law and Practice
Paper 7: World Trade Organization – International Trade, Joint Ventures & Foreign Collaborations
Paper 8: Direct and Indirect Taxation – Law and Practice
Paper 9: Human resources management and industrial relations
Syllabus for CS Final Examination
Group I
Paper 1: Advanced Company Law & Practice
Petitions, Applications and Appearances before Company Law Board
Applications to the Central Government
Petitions to the Court
Inspection and Investigation
Corporate Collapse
Receivers and Managers
Choosing the Appropriate Form
Buy-back of Shares
Insider Trading
Investor Relations
Contemporary Practices and Emerging Perspective on Corporate Governance
Reports of Various Committees on Corporate Governance
International Dimensions of Company Law
Other Emerging and Contemporary Issues and Practices in Company Law
Paper 2: Secretarial Practice Relating to Economic Laws and Drafting & Conveyancing
Part A: Secretarial Practice Relating to Economic Laws 
Industrial Policy and Development
Foreign Exchange Management and Regulation
Competition Law and Procedure
Laws relating to Infrastructure Development
Environmental Policy and Legislations
Part B: Drafting & Conveyancing
General Principles of Drafting
General Principles of Conveyancing
Drafting of Orders
Drafting of Contracts
Awards and Reports
Deeds of Sale of Land, Building
Deeds of Mortgages and Charges
Deeds of Pledge
License and Lease Deeds
Deeds for Hire-purchase of Machinery, Plant and Other Chattels
Trust Deeds
Deed of Exchange and Gift Deeds
Deed of Assignment
Partnership Deeds
Deeds of Power of Attorney
Drafting of Other Documents, Petitions and Applications
Paper 3: Secretarial, Management and Systems Audit
Part A: Secretarial Audit 
Company Secretary in Practice
Areas of Practice
Setting up of Professional Practice
Secretarial Audit and Auditors
Certification, Due Diligence, and Signing
Pre-certification of Documents
Search/Status Reports
Securities Audit
Due Diligence of Pre-capital Issues Work
Due Diligence of Post-capital Issue Work
Share Transfer Audit
Internal Audit of Depository Participants
Compliance Certificate
Part B: Management Audit
Management Audit
Operational Audit
Internal Audit
Internal Control
Review of Internal Control
Cost Audit
Part C: Systems Audit
Systems Audit
Group II
Paper 4: Financial, Treasury and Forex management
Nature and Scope of Financial Management
Capital Budgeting Decisions
Capital Structure Decisions
Sources of Company Finance
Dividend Policy
Working Capital Management and Control
Security Analysis and Portfolio Management
Financial Services
Project Planning and Control
Derivatives
Treasury Management
Forex Management
Recent Developments in Financial, Treasury and Forex Management
Case Studies
Paper 5: Corporate restructuring – Law, and Practice
Introduction
Strategies
Mergers and Amalgamations
Takeovers
Revival and Restructuring of Sick Companies
Funding of Mergers and Takeovers
Valuation of Shares and Business
Corporate Demergers/Splits and Divisions
Post-Merger Re-organization
Financial Restructuring
Alliances
Legal Documentation
Case Studies
Paper 6: Banking and Insurance – Law and Practice
Part A: Banking Law and Practice 
Introduction to banking
Relationship between banker and customer
Law and procedure governing banking instruments
Management of assets
Lending policies
Development banking
Part B: Insurance Law and Practice
Insurance
Life insurance
General insurance
Accident and motor insurance
Deposit and credit insurance
Marine insurance
Risk management
Insurance surveyorship
Paper 7: World Trade Organization – International Trade, Joint Ventures & Foreign Collaborations 
International Trade and Trading Blocks
World Trade Organization (WTO)
Anti-dumping Duties
Subsidies and Countervailing Duties
Competition Law and International Trade
Intellectual Property
Foreign Collaborations and Joint Ventures
Export-Import Policy and Procedures
Settlement of Disputes under WTO
International Commercial Arbitration
Paper 8: Direct and Indirect Taxation – Law and Practice
Part A: Direct Taxation – Law and Practice
General Framework of Direct Taxation in India
Companies under Income-tax Laws
Tax Planning
Advance Rulings
Tax Management
Part B: Indirect Taxation – Law and Practice 
Introduction
Central Excise Laws
Service Tax
Customs Laws
Central Sales-tax Laws
Central Sales-tax Laws
Promissory Estoppel in Fiscal Laws
Tax Planning and Management
Paper 9: Human resources management and industrial relations 
Part A: Human Resource Management 
Introduction to Human Resource Management
Structure and Role of Human Resource management
Human Resource Planning and Procurement
Human Resource Training and Development
Compensation Management
Performance Appraisal
Human Resource Organization
Part B: Industrial Relations
Industrial Relations
Anatomy of Industrial Relations
Industrial Relations Policy
Industrial Disputes
Collective Bargaining
Dispute Settlement Mechanism
Industrial Adjudication
Industrial Relations Related Laws
Union Negotiations
Voluntary Retirement Schemes