Company Secretary or CS course is provided by the Institute of Company Secretaries of India (I.C.S.I). CS foundation course is an eight months duration course which is the first level study on the path of becoming a Company Secretary.
The Institute of Company Secretaries of India has released new syllabus for the Company Secretary (CS) Foundation Program. CS Foundation Study Materials have been incorporated with all recent amendments, circulars, and notifications.
Below, we are providing the Study Material of CS Foundation latest editions applicable for Dec 2017 exams. Interested students, please download the CS Foundation Syllabus Pdf from the below-stated links.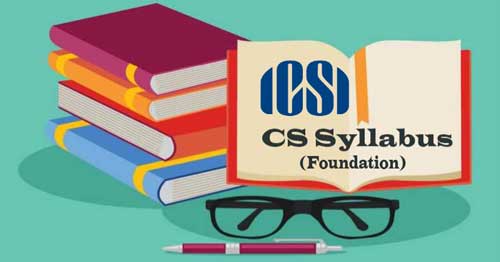 CS Foundation Syllabus 2017 Brief Details

| | |
| --- | --- |
| Organization Name | Institute of Company Secretaries of India (I.C.S.I) |
| Programme Name | CS Foundation |
| Category | New Exam Pattern and Syllabus |
| Official Site | www.icsi.edu |
Company Secretary Foundation Course Syllabus
The CS Foundation Syllabus contains four subjects and covers the study of subjects and topics such as, labour laws, legal aspects of taxation accounting, corporate law, auditing or financial analysis etc.
The following are the subjects of CS foundation course.
Business Environment & Entrepreneurship
Business Management, Ethics and Communication
Business Economics
Fundamentals of Accounting and Auditing
Syllabus for CS Foundation Examination
Following are the subjects in different stages of cs course. see the company secretary course subjects below.
Paper 1: Business Environment and Entrepreneurship
Part A: Business Environment
Business Environment
Forms of Business Organization
Scales of Business
Emerging Trends in Business Concepts, Advantages and Limitations
Business Functions
Part B: Business Laws
Elements of Company Law
Elements of Law relating to Partnership
Elements of Law relating to Contract
Elements of Law relating to Sale of Goods
Elements of Law relating to Negotiable Instruments
Part C: Entrepreneurship
Entrepreneurship
Entrepreneurship
Growth & Challenges of Entrepreneurial Venture
Paper 2: Business Management, Ethics and Communication
Part A: Business Management 
Nature of Management and its Process
Planning
Organization
Human Resource Management
Direction and Coordination
Controlling
Recent Trends in Management
Part B: Business Ethics
Business Ethics
Part C: Business Communication 
Business Communication
Essentials of Good English
Business Correspondence
Administration
Interdepartmental Communication
Preparation of Press Releases
E-Correspondence
Paper 3: Business Economics
Part A: Economics
Nature and Scope of Economics
Theory of Demand and Supply
Theory of Production, Costs and Revenue
Forms of Markets and its Equilibrium
Money and Banking
Basic Characteristics of Indian Economy
Selected Areas of Indian Economy
Part B: Elementary Statistics
Statistics: An Overview
Collection and Presentation of Statistical Data
Measures of Central Tendency
Mathematics of Finance
Probability
Index Numbers and Time Series Analysis
Paper 4: Fundamentals of Accounting and Auditing
Part A: Fundamentals of Accounting
Theoretical Framework
Accounting Process
Bank Reconciliation Statement
Depreciation Accounting
Preparation of Final Accounts for Sole Proprietors
Partnership Accounts
Introduction to Company Accounts
Part B: Fundamentals of Auditing
Auditing
Audits and Auditor's Reports