This is the article named Clinical Research Courses Details. This is to provide the complete details about the course such as Requirements, Courses, Scope, and Salary etc. Read the complete article to get the required information.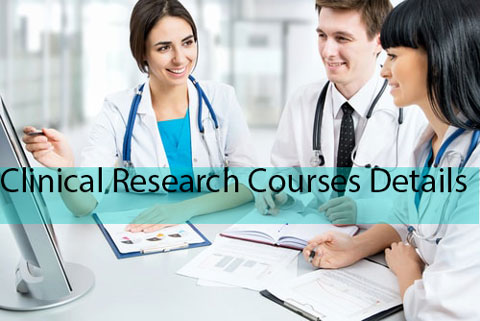 About Clinical Research:
Clinical research, it is the branch of healthcare science that determines the safety and effectiveness of medications, devices, diagnostic products and treatment regimens intended for human use. According to Wiki, These may be used for prevention, treatment, diagnosis or for relieving symptoms of a disease. Clinical research is different from clinical practice. In clinical practice established treatments are used, while in clinical research evidence is collected to establish a treatment.
Clinical Research Courses List:
There are various Types of Courses in Clinical Research Courses. They are:
Under Graduate Courses
Post Graduate Courses
Certification Courses
Some of the Popular Courses are:
SC in Clinical Research
SC in Clinical Research
Post Graduate Diploma in Clinical Research
Certification In Clinical Research
M.SC in Clinical Research:
This can be expanded as Master of Science in Clinical Research. The Eligibility for this course is Bachelors Degree such as Bachelor in Physiotherapy, Pharmacists etc. The Duration of this Course is 2 years. This comes under Post Graduate Level.
Duration: 2 years
Level: Post Graduate Level
Syllabus:
The syllabus of M.Sc covers many Subjects. Some of them are:
Semester 1:
Fundamentals of Clinical operations
Clinical Data management
Statistics in Clinical Reaserch
Basics of Pharmacy, drugs Discovery and development.
Labs
Semester 2:   The Subjects that are covered in semester 2 are:
IPR& Data Exclusivity, Bio ethics in Clinical Research
Pre Clinical Studies
Pharmaceutical Bio Technology
Basics of Molecular Biology and Bio technology
Labs III and IV
Career:
After the completion M.Sc one can go into Job career. Various Job roles after M.Sc in clinical research are:
Programmer- Clinical Research
Clinical Research Associate
Project Manager- Clinical Research
Clinical Research coordinator
Clinical Research physician
Clinical Research Analyst etc.
Post Graduate Diploma in Clinical Research:
This course comes under diploma After Graduation. The Course Duration is about 1 year. The Eligibility for this course is Graduation.
Requirement:
Those who are Eligible for these Courses are those who have completed the following:
Graduate & Post Graduate of Ayurevd
Graduate & Post Graduate of Allopathy
Graduate & Post Graduate of Homeopathy
Graduate & Post Graduate of Unani and Siddha.
Graduate & Post Graduate in Biological sciences/ Life sciences.
Graduate in Nursing.
Fees:
The fee structure differs for each course. The fee will be around 70,000/-
Syllabus Structure:
Here is the brief of the course Syllabus.
Module 1:
Introduction & Ethics
Getting started in Research
Effective Literature Search
Drug development process and phases of CT
Introduction to different clinical guidelines (Schedule Y, ICMR, ICH-GCP)
Funding schemes
Ethics in clinical research
EC-constitution, roles & responsibilities, Communication with EC
Informed Consent Documentation
Module 2:
Methodology
Planning a protocol: an overview
Elimination of bias and study designs
Parameter selection, measurement and recording (End Point)
Clinical trials on procedures and concepts (SOPs)
A./B.E. Studies
CRA- Roles and responsibilities.
Monitoring- When, What, How?
Module 3:
Pharmacovilgilance
Basics of Pharmacovigilance
Methods of Pharmacovigilance(ADR reporting,Forms,Submission,Processing)
Pharmacovigilance – Industry Pespective
Pharmacovigilance of ASU Drugs.
Career:
The career will be good after the completion of Course. Various employment areas for PG are:
Colleges and Universities
Medical Labs
Government and private Hospitals
Research labs
Medical Writings
Job Roles:
Various Job Roles offered for Post Graduates are:
Project Manager
Drug Safety officer
Lecturer or professor
Clinical research Investigator
Research Associate
Certification Courses:
Apart from the Academic Courses. There are some Certification Courses.
Certificate in clinical Research
Duration: 6 months
Type: Certification
Subjects:  Clinical research essentials
Research Conduct
Clinical research Design etc.
Best Institutes for Clinical Research Courses:
Before taking up the course. It is important to choose the Best Institute. Here is the list of Top Colleges in Hyderabad.
IDDCR -(International Drug Discovery And Clinical Research) , Jubilee Hills, Hyderabad
CLINI India , Somajiguda, Hyderabad
Stay Connected with us for more and more updates.