If you have only one month away for the CA IPCC exams? Then this is the best place and right time to know some handy tips to keep you fully prepared and get good marks in the examinations. You can refer our webpage for guidance how to plan for your study followed by you and how to improve your existing technique and How to get 50 marks easily in CA IPCC Accounts Papers November etc.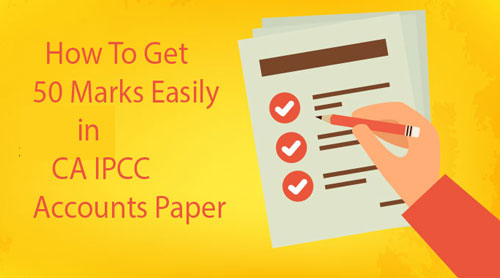 With the help of this guidance you will definitely adopt methods and techniques with which you feel comfortable. Many CA IPCC students feels that getting Pass marks in CA IPCC Group 1 Accounts exams is very hard. But by following the given tips any students can get 50 marks easily.
CA IPCC Accounts Preparation Tips
Revision of RTPs and Study Material before the examination
Practice of a full length paper
Strategies for questions appearing in the exam
Check CA-IPCC/IPC Syllabus
First you need to go through the CA IPCC Accounts syllabus carefully.
The CA-IPCC Accounts has been divided into 15 chapters based on the syllabus.
You have to understand the linkages between chapters in depth levels.
The Main topics are as follows. This table gives you best information CA IPCC Accounts paper marks.
| | | |
| --- | --- | --- |
| Chapter Number | Topic Name | Marks |
| 1 | Accounting Standards | 20 |
| 2 | Financial Statements of Companies: Unit 1 Preparation of Financial statements Unit 2 Cash Flow Statements | 5,8,16 |
| 3 | Profits or Losses Prior to Incorporation | 4,8 |
| 4 | Accounting for Bonus Issue | 4,8 |
| 5 | Internal Reconstruction | 8,16 |
| 6 | Amalgamation | 8,16 |
| 7 | Unit 1 Average Due Date Unit 2 Account Current | 5,8 |
| 8 | Self-Balancing Ledgers | 8 |
| 9 | Financial Statements of Not for Profit Organisations | 8,16 |
| 10 | Accounts from Incomplete Records | 8,16 |
| 11 | Hire Purchase and Installment Sale Transactions | 5,8 |
| 12 | Investment Accounts | 5,8 |
| 13 | Insurance Claims for Loss of Stock and Loss of Profit | 5,8 |
| 14 | Issues in Partnership Accounts | 4,8,16 |
| 15 | Accounting in Computerized Environment | 4 |
Take a Look on the given table to know How to get 50 Marks Easily in CA-IPCC Accounts.
| | |
| --- | --- |
| Chapters Names | Weightage Marks |
| Accounting Standards | 20 |
| Cash Flow / Funds Flow | 8,16 |
| Amalgamation | 8,16 |
| Internal Reconstruction | 8,16 |
| Self-Balancing Ledgers | 8 |
| Financial Statements of Not for Profit Organisations | 8 |
| Accounts from Incomplete Records | 8 |
| Partnership Accounts | 8 |
| Accounting in Computerized Environment | 4 |
In above given table Accounting Standards and Accounting in Computerized Environment are the most Chapters, by preparing these two Chapters you will get 24 Marks.
Then you need to allocate time for Cash Flow Statement chapter and it is important both in Financial Accounting and Cost Accounting. Only the Institute of Chartered Accountants of India Examination Board gives Cash Flow Statement's Question in either Accounts or Financial Management vice versa.
And Cash/funds Flow Question is also frequently asked a question in the examination so it is another 8 marks important question in the CA IPCC Accounts paper.
You will be asked one question very frequently and that question will be asked from Amalgamation/Internal Reconstruction also. Through this topics we can get 16 Marks in the examinations.
And you will get 32 marks from the given below chapters.  .
Self-Balancing Ledgers
Financial Statements of Not for Profit Organisations
Accounts from Incomplete Records
Partnership Accounts
How To Present CA IPCC Accounts Paper in Exam to Get 50 Marks
Handling of Paper
In the CA IPCC Accounts papers some chapters requires the solution or financial statements to be presented in particular format. So for that you need practice to adopt the prescribed formats while solving and presenting the accounts of particular topics.
State the assumption clearly
For making an assumption In case a question leaves room and there is a possibility of more than one assumption and it is important to clearly state the assumption you have taken and solve the question accordingly.
Use of proper formats
Some statutes prescribe specific formats for presentation of the accounts. At the time of solving the questions in the exam you have to take care of the same. This will help you in scoring due marks.
Adequate Working Notes
Your solution for the questions is generally divided in two parts one main solution and another one is working notes in accounts.
And it is very important advice to the students that calculations made on your calculator should also be written in your answer sheet as working note neatly wherever required.
Other Presentation Tips
Correct answer is important more than Length of the Answer.
At first attempt the easy and small questions.
After completion of small answers you can write lengthy answers and Lengthy calculations.
It is better to not to be mentioned wrong A/c Standards and numbers in the Accounts paper.
Do not write unnecessary Topics and write only the relevant answer.
Maintain Good Hand Writing.
Try to attempt all the questions.
Don't forget to mention the Question number.
We hope this information may helpful in your CA IPCC Accounts examination. Stay tuned to our site for getting more information about the CA Career and How to Pass the CMA Exam etc.