Chartered Accountant (CA) Career Details: If you are considering becoming an accountant, Chartered Accountancy provides you with the ability to choose an exciting career path towards the industry of your choice, anywhere across the world. Then you are reached to right destination. The Chartered Accountancy filed provides to a wide range of best career opportunities, in every sector.
These sectors include mainly business and finance. Chartered Accountants have a hug demand constantly both in home country and abroad also, and they are recognized by their professional standards, technical competence and veracity.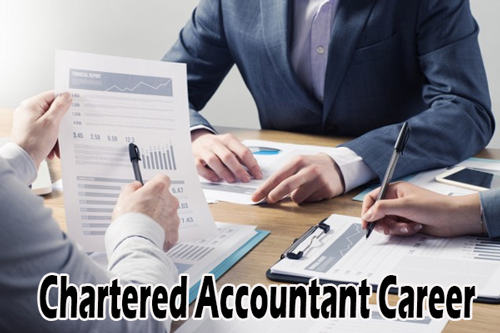 Becoming a Chartered Accountant includes innovative education with mentored work experience, to produce accountants who have a greater ability to analyze and interpret business problems and develop dynamic solutions to those problems. And the Chartered Accountants developed faster and played important roles in various business organizations. You can check out our page to know the complete regarding the Chartered Accountant Career Information and also view other details like About Chartered accountant role, responsibilities, job details and salary etc.
Check Here CA Course Details
 About Chartered Accountant
The professional Chartered Accountants deal with the management of money and provide financial advice to the various organizations. They maintain financial transactions records which every organization is required to keep by law and these reports are also carry out company audits. These are members of the Institute of Chartered Accountants of India and work in private practice or in the accounts department of firms and organizations.
The Chartered Accountants may be involved in any of the following tasks:
Financial Accounting
Auditing
Cost Accounting
Tax Management
Management Accounting
Consultancy
Job Description
The main aim of Chartered Accountants is to collect, analyze organize, and show that data in the form of financial records of a particular corporation or company. Their profession includes the range of auditing, financial reporting, forensic accounting, creating and maintaining accounting systems and even corporate finance. Many chartered accountants specialize in taxation mainly.
A chartered accountant may work for a practice firm, or else they may work in the finance division of any organization. They provide various services to a wide variety of companies that seek assistance from the practice firm if they choose to work for the former. Some persons those who want to work for a particular firm find themselves specializing in the finances of that firm.
Required Skills
Necessary skills in applying theoretical knowledge to practical situations
Numerical ability
Attentive to detail
Business acumen
Good understanding of socio-economic environment in which organizations operate.
Logical and methodical
Ethical values
A disciplined attitude for hard work
Patient and industrious
Analytical mind
Role & Responsibilities of Chartered Accountant
A Chartered Accountant is preparing the financial reports of the organization and analyze the reports as well as present them to the higher management of the organization. A chartered accountant will give advice, audit accounts and provide trustworthy information about financial records. This work involve financial reporting, forensic accounting, taxation, auditing, business recovery and insolvency, corporate finance, or accounting systems and processes.
 Let's discuss some of the responsibilities of Chartered Accountants which are given below.
Provide financial advice
Manage financial systems and budgets
Review the company's systems and analyze risk
Advise on tax and treasury issues
Perform tests to check financial information and systems
Manage junior colleagues
Advise clients on business transactions, such as mergers and acquisitions
Chartered Accountant Career Information
The degree of Chartered accountant enables the individual to practice accountancy at the highest level. If a person qualified in the degree of chartered then that person can get a chance to enter a career among the various fields of accountancy like the financial accountancy, the cost accountancy, the management accountancy, the tax accountancy and the most sought and latest after field of accountancy that is called forensic accountancy.
A Chartered Accountant works a business advisor to various organization and he/she makes high-level strategic decisions, increasing market share and improving profit margins for their clients. To Become highly successful entrepreneurs, many Chartered Accountants also use their expertise to form their own businesses.
Careers Related to Chartered Accountants
Cost Estimators
Budget Analysts
Cost Estimators
Personal Financial Advisors
Financial Managers
Tax Examiners and Collectors, and Revenue Agents
Bookkeeping, Accounting, and Auditing Clerks
Top Executives
Financial Analysts
Salary Details
The Chartered accountant's salary is very high even they are beginning their careers. Along with their experience, the remuneration for them also increases. After gaining four years of experience in the field of Chartered Accountancy, the person can hope to earn a five figure monthly income easily.
The starting salaries for Chartered Accountants depending on the location, sector, size, and type of organization or firm. Graduates entering the career can expect to earn salaries of up to RS. 25,000/-
The average salary of chartered accountants with two to four post-qualification years of experience is around Rs.56, 000/- The average annual salary for a chartered accountant in business rises to Rs. 90,200/- After 5 or more years.