We all know that science plays an important role in the world as well as in our routine life. We all know that there are various branches of science like physical sciences, life sciences and earth dealing with various concepts that are helpful to attain knowledge in their sub-branches like physics, chemistry, botany, zoology etc. Let us see some important details about BSc Chemistry Course like Admission, Eligibility, Fees, Syllabus, Top Colleges, Career, etc.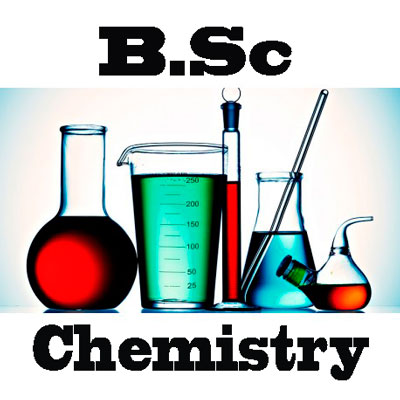 About Chemistry:
When we ask anyone about chemistry, they will first say the terms atoms, molecules etc. but they don't give a clear explanation about it. Only a few who have an idea about them can explain to some extent. Now let's know "what is chemistry?" – Chemistry is a branch of physical sciences dealing with properties and characteristics of atoms, molecules, electrons which we combine called as matter. It explains the working and those substances, interactions between them, bonding and mixtures to form a new substance.
Branches of Chemistry:
There are various branches in chemistry. Some of them are as follows:
Physical Chemistry
Bio-Chemistry
Organic Chemistry
Inorganic Chemistry
Analytical Chemistry
Explanations of branches in Chemistry:
Let's know something about the five branches of chemistry in brief.
Physical Chemistry:- It explains that how a new substance is formed with the interaction or mixture of two substances physically.
Bio-Chemistry:- Bio-Chemistry is a study of chemical processes of living organisms.
Organic Chemistry:- It deals with structure, properties & reactions formed by mixture of various elements and hydrocarbons with various compounds like hydrogen, oxygen, nitrogen, Sulphur, etc.
Inorganic Chemistry: – It explains about the structure, properties, reactions and chemical process of various compounds and elements.
Analytical Chemistry:- It is a study of separating matter by using various analytical methods for qualifying the matter.
Bachelor of Science (B.Sc) Chemistry:
Bachelor of Sciences deals not only with some prescribed groups, but also with various science groups such as physics, chemistry and life sciences. Among them B.Sc. with Chemistry is a course having a prominent role in the society.
Various combinations with BSc Chemistry:-       
Bachelor of Sciences with Chemistry deals with various combinations. Some of them are:
B.Sc. Chemistry with Mathematics
B.Sc, Chemistry with Biological & Medical Sciences
B.Sc. Chemistry with Microbiology
B.Sc. Chemistry with Zoology & Botany
B.Sc. Chemistry with Microbiology & Botany etc.
Eligibility Criteria:          
The eligibility criteria for this course is 10+2 having sciences as basic subjects.
Duration of this course:
The duration of this course is three consecutive years.
BSc Chemistry Syllabus:
The subjects for this BSc Chemistry Course along with practicals are covered following areas:
Organic Chemistry
Inorganic Chemistry
Physical Chemistry
Fee Structure: 
The fees for this course ranges between Rs.10,000/- to Rs.20,000/- for three consecutive years.
Top colleges List:            
The top colleges for this course are as follows:
Jamia Millia Islamia, Delhi
University of Pune, Pune
Madhurai Kamaraj University, Madurai
Kalinga Institute of Information Technology, Bhubaneshwar
Devi Ahilya ViswaVidyalaya, Indore
P.R.Patil College of Engineering and Technology, Amaravathi
Jawaharlal Nehru Technological Universities, Hyderabad
Banaras Hindu University, Varnasi
Birla Institute of Technologies Mesra, Ranchi
Guru Nanak Dev University, Amritsar
Advanced Courses:  
The advanced courses related to this course are as follows:
M.Sc. Chemistry
M.Phil. with Chemistry
Ph.D. with Chemistry
Jobs allocations:             
The jobs for this course are as follows:
Professor/Lecturer
Scientific Data Entry Specialist
Content Developer
Research Lab Scientist etc.
Placement Companies:
The placements can be hired in the companies like:
Defence Research and Development Organisation
Central Institute for Mining & Fuel Research
IRCON International Ltd.
National Small Industries Corporation Ltd.
GAIL Ltd, etc
Salary Packages:              
The salary packages may start from Rs.2,00,000/- to Rs.5,00,000/-