BCA is nothing but the Bachelor of Computer Applications. BCA is an undergraduate Information technology course. It is quite similar to the traditional B.SC program. And this BCA course is most popular course among students who want to settle their career in IT field.
Nowadays IT industry is increasing day by day in India. More and more opportunities are created for computer background students by theses IT industries. BCA is a 3-year graduation degree course after 10+2. Here in this posting, you will come to know BCA Course Details about Eligibility, Fee, Duration, Syllabus, Colleges, Salary and etc.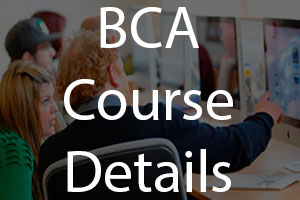 BCA is nothing but the Bachelor of Computer Applications
BCA Course Details
Eligibility
We can say that students who are having 18 years minimum are eligible for this BCA course.
The academic qualification is 10+2 which students have to complete their intermediate in background subjects of physics, chemistry, and maths with a minimum percentage of 55.
17 is the minimum age to apply and 22-25 is the maximum age for doing BCA course.
BCA Course Duration
After the successful completion of 10+2 students have to undergo 3years to complete this BCA course.
BCA Course Fee
The BCA course fee varies from colleges to colleges and universities to universities. Usually, the BCA course fee ranges from 1.5 Lakh INR to 6 Lakh INR for total 3years (6 semesters).
BCA Job types
Software Architect
System Security Officer
Software Tester
Project Manager
Information Management professional
System Administrator
Associate Software Engineer
Project Manager
System Security Officer
Database Management professional
Information Security professional
Salary
In a big MNC, a computer professional can easily get an initial package of Rs. 25,000 to Rs. 40,000 per month.
The average monthly salary for a fresher student offered to a BCA graduate ranges between 20,000 to 25,000 INR.
Let us know about the subjects
Semester-1 Subjects
Mathematics I
Computer Fundamentals
Programming using C
Communication and Soft Skills
Principles of Management
Semester-1 Practicals
Programming in 'C' Lab
Computer Fundamentals and Information Technology Lab
Semester-2 Subjects
Data Structures
Environmental Studies
Discrete Mathematics
Digital Electronics
Business Accounting
Object-Oriented Programming and UML with C++
Semester- 2 Practicals
Data Structures Lab
Object-Oriented Programming and UML using C++  Lab
Semester-3 Subjects
Computer Networks (Cisco Track)
Operating Systems
Database Management System & Data Modelling (Oracle track)
Business Communication
Computer Organization and Architecture
Semester- 3 Practicals
Operating Systems Lab
Computer Networks Lab (Cisco Track)
Database Management System & Data Modelling Lab( Oracle track)
Semester-4 Subjects
Python Scripting
Open Elective 1
Agile Systems
Program Elective 1
Web Technology with PHP
Semester-4 Practicals
Python Scripting Lab
Program Elective Lab I
Web Technology with PHP Lab
Semester-5 Subjects
Digital Marketing
Open Elective II
Program Elective II
Android Development
Computer Graphics and Animation
Semester-5 Practicals
Minor Project-I
Android Development lab
Digital Marketing lab
Program Elective lab II
Semester-6 Subjects
Information Security
Program Elective III
Program Elective IV
Semester-6 Practicals
Program Elective Lab III
Information Security Lab
Seminar
Major Project
Hope this article is helpful for the interested candidates to study BCA course and to know about this BCA course.
Best of Luck!!!!!!