B.ED full form is Bachelor of Education. Students who want to join this course can refer this article for complete information. In this article, you can know about the B.ED Course Details like B.ED Full Form, Eligibility, Duration, Course Fee, Jobs, and Salary etc.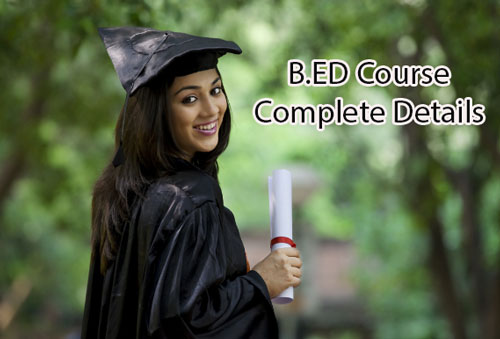 B.ED full form is Bachelor of Education
Quick Review of B.ED Course Details:
Course Name
B.ED
Full Form
Bachelor of Education
Course Level
Graduation
Duration
2 years
Eligibility
Graduation degree
Admission Process
Entrance Exam
Examination Type
Semester System
Course Fee
INR 30,000 to 60,000
Average Starting Salary
INR 3 to 6 Lakhs
Top Recruiting organizations
Eastern Public School, Sanskar Valley School, Delhi Public School, Billabong High etc.
Top Recruiting areas
Education, Home Tuitions, Departments, Coaching Centres, Publishing Houses, Private Tuitions,

Education Consultants, Schools & Colleges, Research and Development Agencies

Top Job Profiles
Administrator, Content Writer, Assistant Dean, Teacher, Counsellor, Teacher, Education Researcher.
Eligibility:
B.A, B.COM, B.SC graduates are eligible for doing B.ED with the minimum percentage of 55.
Students who are interested to join in this B.ED course have to appear for the entrance exam conducted by various states and Independent educational bodies and universities.
Duration of B.ED Course:
The duration of this course is 2years which is 4 semesters.
Students who cannot go on the regular basis can go for the distance education in some open universities with duration minimum of 2years and up to 5years.
B.ED Course Fee:
The candidates who take admission of B.ED course have to pay the fee of 20,000/- for the total programme.
B.ED Offering Colleges:
Bachelor of Education [B.Ed.] in Haryana
Bachelor of Education [B.Ed.] in Gujarat
Bachelor of Education [B.Ed.] in Tamilnadu
Bachelor of Education [B.Ed.] in Rajasthan
Bachelor of Education [B.Ed.] in Uttar Pradesh
Annamalai University, Cuddalore
Indira Gandhi National Open University, IGNOU, New Delhi.
Bangalore University, Bangalore
Punjab University, PU, Punjab
Amity Institute of Education, New Delhi.
B.ED Specializations:
English
Physics
Chemistry
Tamil
Natural Science
Biological Science
Special Education
Hindi
Hindi
Geography
Commerce

 

Hearing Impaired
Economics
Physical Education
Computer Science

 

Political Science
Physical Science
Mathematics
Subjects Studied in B.ED:
Educational Evaluation and Assessment
Guidance and Counselling
Philosophy of Education
Educational Psychology
Education, Culture, and Human Values
Holistic Education
B.ED Syllabus:
Subjects to study:
Paper-I   Philosophical and Sociological Basis of Education
Paper-II The   Learner – Nature and Development
Paper-III   Teaching and Learning Process
Paper-IV   (PART-A) School Management

(PART-B) Computer Education
Paper-V   (PART-A) Guidance and Counselling

(PART-B) Any One of the following options

1.    School Library Services

2.    Comparative Education

3.    Adult and Continuing Education

4.    Health and Physical Education

5.    Education of Children with special needs

6.    Population Education

7.    Distance Education and Open Learning

8.    Environmental Education

9.    Yoga Education

10.   Value Education

11.   Educational Technology

12.   Elementary Education

13.    Women Education & Indian Society

14.     Co-Curricular Activities in Schools

15.     E-Education Resource Development
1.2 PAPERS-VI & VII: Methodology of Teaching of any two of the following:
| | |
| --- | --- |
| Hindi | Fine arts |
| Geography | Music |
| History | Agriculture |
| Commerce | Physical Education |
| Social studies | Computer Education |
| Sanskrit | Home Science |
| English | Life science |
| Punjabi | Physical Science |
| Economics | Sociology |
| Social Studies | Political Science |
| Commerce | Public Administrator |
B.ED Course Jobs:
Teacher
Administrator
Content Writer
Counselor
Instructor
Assistant Dean
Principle
Librarian
Syllabus Designer
Military Trainer
Education Researcher
Salary:
The initial salary offered to B.ED fresher is 5000/-.
All the B.ED Course Details are providing here in this article. Interested students have a look and go ahead.